Tom Cotton Stands By Claim That Drug Cartels Might Send Terrorists Across The Border
"If the price is right for them I think we need to be worried that they'll collaborate with terrorists," the senator-elect says.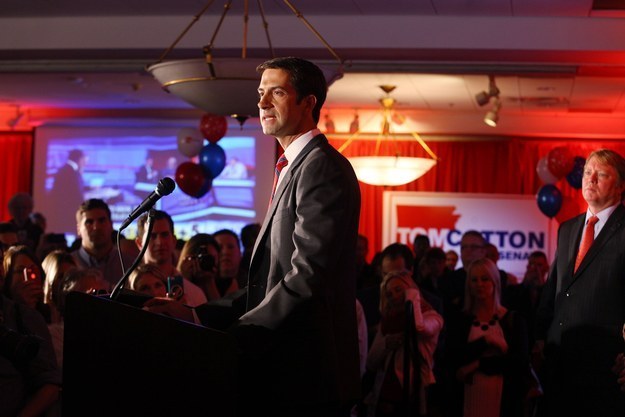 WASHINGTON — Republican Senator-elect Tom Cotton maintained twice this week that Islamic terrorists could be collaborating with Mexican drug cartels to gain entry into the United States, a claim that he was first reported to have made during the election.
In response to a BuzzFeed News question at a roundtable discussion outside the Foreign Policy Initiative's annual forum, Cotton said, "They could collaborate, and our southern border, because it's so porous and defenseless, could easily be used by terrorists to infiltrate our country and attack us."
"There's a federal indictment against Iranian-linked operatives who were trying to blow people up in Café Milano just a couple blocks away from here, so it's obvious that anyone could penetrate our southern border to attack us in the United States," Cotton said.
Drug cartels have "morphed into human-trafficking organizations," he said, and, "It's clear what they care about is making money and expanding their own power. And if the price is right for them I think we need to be worried that they'll collaborate with terrorists. Not just Sunni terrorists like the Islamic State, but Shia terrorists like Hezbollah, backed by Iran."
The statement was a slight alteration of what Cotton, who defeated Sen. Mark Pryor in this year's midterm election, said on "Meet the Press" on Sunday, when he claimed that Hezbollah had planned the aborted plot to kill the Saudi ambassador at Café Milano, a restaurant in Georgetown. In fact, an Iranian-American man from Texas who was recruited by Iran's Quds Force was convicted for plotting the attack.
Cotton was first recorded making the border claim at a town hall in Arkansas during the election, when he said that "groups like the Islamic State collaborate with drug cartels in Mexico who have clearly shown they're willing to expand outside the drug trade into human trafficking and potentially even terrorism."
In the fall, DHS officials denied claims that foreign nationals with connections to ISIS had been apprehended at the border, as well as claims there was evidence ISIS militants were planning to cross the border.
A spokesperson for Cotton did not immediately respond to a follow-up query about whether Cotton believes that the collaboration between cartels and terrorists is currently taking place.