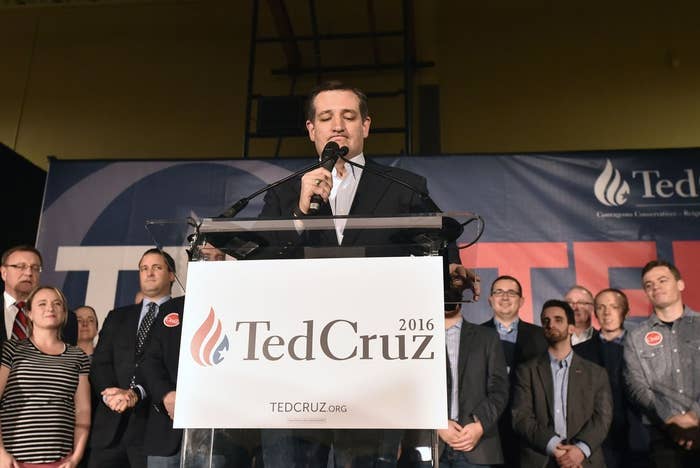 LAS VEGAS — For Ted Cruz, it has been a long three weeks since winning the Iowa caucuses.
And on Tuesday night, after the Nevada race was called for Trump within minutes of the caucuses ending, after an alarm went off at Cruz's event, and after surrogates spoke, a tired-looking Cruz took the stage at his election night party inside a YMCA here. Though the Cruz campaign wasn't projecting a win in Nevada, Trump's victory is making it more and more obvious that he's the likely nominee — and that a strong showing for Cruz on Super Tuesday is more important than ever.
Cruz himself repeatedly mentioned March 1 in his speech, raising expectations for a day for which the expectations are already high.
"One week from today will be the most important night of this campaign," Cruz said.
"I cannot wait to get home to the great state of Texas," Cruz said, referring to the March 1 Texas primary where he is ahead in the polls — and where a loss to Trump would be devastating to his campaign.
Cruz has had a difficult week; his third-place finish in South Carolina cast doubt on his March 1 strategy, and he has been pulled off-message in Nevada by a lengthy dispute with Marco Rubio over allegations of dirty tricks — culminating in firing his communications director Rick Tyler on Monday, a move which dominated the Cruz-related news cycle in the day before the caucuses. While Cruz and Rubio have intensified the flame war between them, Trump continues to coast in the lead. This has led some Cruz surrogates to publicly call for Cruz to turn his energies to Trump, the actual frontrunner.
Cruz does attack Donald Trump as well, and he made the case again on Tuesday that he is the only candidate who can beat the frontrunner head-to-head, given that he already did beat him in Iowa.
"The only campaign that has beaten Donald Trump and the only campaign that can beat Donald Trump is this campaign," Cruz said.
Speaking to reporters after Cruz spoke, Texas Lieutenant Governor Dan Patrick, who has endorsed Cruz and acts as a surrogate for him on the trail, emphasized Texas as an opportunity for Cruz, pointing out that early voting had already started there.
"By Friday night, half the votes will be in," he said. "There's not gonna be any last-minute reprieve for the Trumpster."
Asked about the expectations-raising for next Tuesday, Patrick replied, "I think what he said is March 1 or Super Tuesday is the most important night of the campaign, that's an accurate statement."
"Texas has 155 delegates, he's going to win Texas," Patrick said.
"Marco Rubio is not going to win a state next Tuesday," Patrick said. "It's a two-man race."
The venue for Cruz's event was smaller than his campaign has used at past election night parties, and though the supporters there were enthusiastic, they couldn't beat back the deflated vibe of the event. Cruz was relatively well-organized in Nevada, though his organization here didn't match what his campaign had in Iowa and South Carolina. He cannily made appeals to libertarians, but many Ron and Rand Paul loyalists did not come to his cause. In the end, it wasn't enough to put a dent in Trump's decisive margin of victory, and Cruz is again finding himself in a battle for second place with Rubio.
Supporters here said they were hopeful still, if a bit disappointed.
"I'm disappointed but I'm still gonna support him," said Francine Sanchez, 38, of North Las Vegas. "I definitely think it could have been better, but it could have been worse," she said of the atmosphere at his event.
Dan McConkey, 60, drove all the way from San Diego and said he isn't worried about Cruz's performance.
"I think it's early yet, and I believe that America is misled by a lot of what we see in the media," McConkey said. "The whole picture could change" on Super Tuesday, he said.