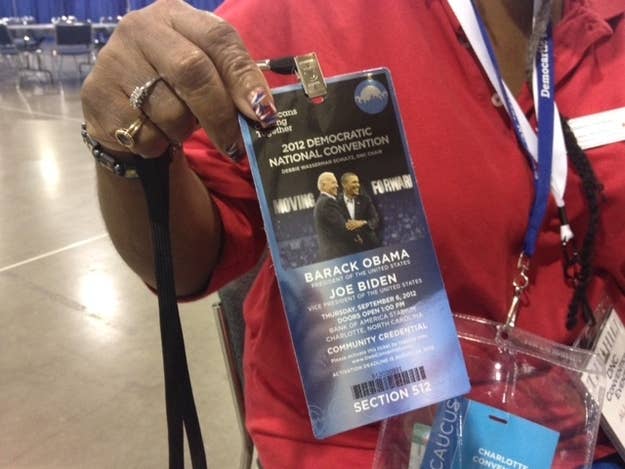 CHARLOTTE, N.C. — Obama supporters who had tickets to see the president speak on Thursday night are disappointed with a lack of communication and information from Democratic National Convention organizers, who have given only vague instructions.
"I found out about it via Twitter which sort of annoyed me," said Teresa Kopec, a teacher in Spartanburg, South Carolina. "I thought they should contact the ticket holders earlier than that."
"I called my local Democrat office which is where I got my tickets and my husband's and they said 'Yeah, we don't know what's going on yet but that's the word,'" Kopec said.
Convention organizers announced today that the President's speech would be moved from the open-air Bank of America Stadium to the much smaller Time Warner Cable Arena, where the other speeches have been held. The Bank of America Stadium has a capacity of 75,000 while the other arena holds 20,000.
That means a lot of people, many of whom traveled from other states to get here, are no longer seeing the President speak — and they haven't been given much information otherwise. The consolation prize, a convention official said: A conference call with the president.
"We're all disappointed because we had 65,000 ticket holders, plus 19,000 people who were on the waiting list ready and excited and fired up to hear the President deliver his speech tomorrow night," Obama campaign spokeswoman Jen Psaki said Wednesday.
"They haven't sent out an official email but there's something about a conference call," said Stephanie Newell of Newnan, Georgia. "I guess I'm just going to watch it from a bar."
Newell said she found out officially from an email from the political director of the Georgia Young Democrats, which came after BuzzFeed had emailed her for comment.
Kopec also said she received an official confirmation later in the day, hers from the local party chairman.
"That there was some suggestion there was going to be some kind of conference call but no instructions on how to engage on that at all," Kopec said. "They may have some kind of event for people who were supposed to come, to see the president between now and Election Day. "And in some way our tickets would be transferable."
When Kopec asked if she could refund the tickets, she was asked if she would turn them into a donation to the DNC, she said.
Felecisa Halton Thomas, of Savannah, Georgia, drove all the way to North Carolina after her local party cancelled buses that had been scheduled to bring attendees up for Obama's speech.
"A lot of people in Savannah really wanted to come," Thomas said. "Thousands of people signed up. Senior citizens. My whole church singed up to come to this."
Allbrein Murray, Thomas' friend in the party office in Savannah, said that over 200 people were supposed to take the buses to Charlotte.
"We got the word this morning," Murray said. "We were told to cancel the bus, cancel the trip because of the weather."
"The only information they gave us was the information that was given to everyone on the Internet saying that the president would do a conference call tomorrow afternoon, and that we would get to see him in between now and election day," Murray said.
She said that a lot of people were going up to Charlotte anyway.
"We have people who are already there and they decided to go even if they had to stand outside or whatever," Murray said. "People are still going tomorrow even though they can't get in."
Thomas spent part of this afternoon on the phone, trying to find out what to do with her now-defunct ticket.
"It's disorganized," she said. "I could organize this thing better than some of these people did."