Three Reporters Who Will Cover Newt Gingrich Until The Body Is Cold
The former speaker has dropped out, but his three network embeds are still here. A picture on Facebook features Gingrich posing with the three of them. Is this goodbye?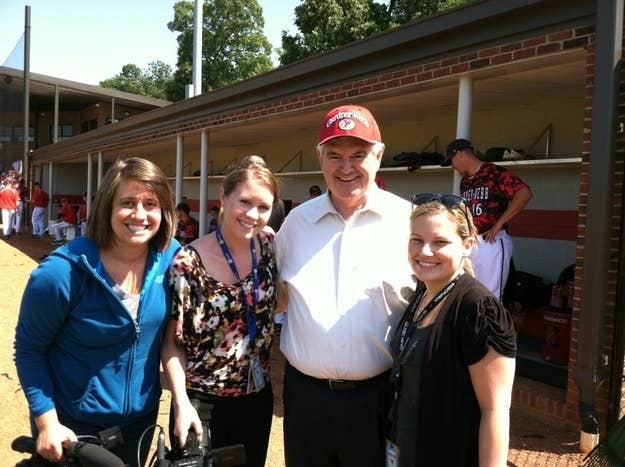 A source sends over this photo of Newt Gingrich with his three remaining network embeds, from CBS/National Journal, ABC News, and NBC News — the last sign of life from the remnants of Gingrich's presidential campaign.
Now that Gingrich has announced his imminent departure from the race, the photo — posted, the source said, to an embed's Facebook page — begs the question of how long will Newt Gingrich continue to have reporters covering his campaign, and why.
"As the coverage demands," said an ABC News spokesman. "But that's a decision that we'll make when we need to make it." The Gingrich embeds were at one point criticized for palling around with his staff, but the spokesman added that "the idea of an embed being in a picture with a candidate that they're covering is not a problem for me."
A source at NBC News told BuzzFeed that their embed would continue with the campaign until May 1st, when Gingrich will formally announce that he is withdrawing. A spokeswoman for CBS News did not respond to a request for comment.
Gingrich's last print reporters, from Politico and the Atlanta Journal-Constitution, left the trail a month ago.