They Still Love Dennis Kucinich In Cleveland
The liberal congressman is making his last stand today. If he loses, will he decamp to Washington State and run again? He won't say. "But if it got me a job, I'd go to Washington too," shrugs a supporter.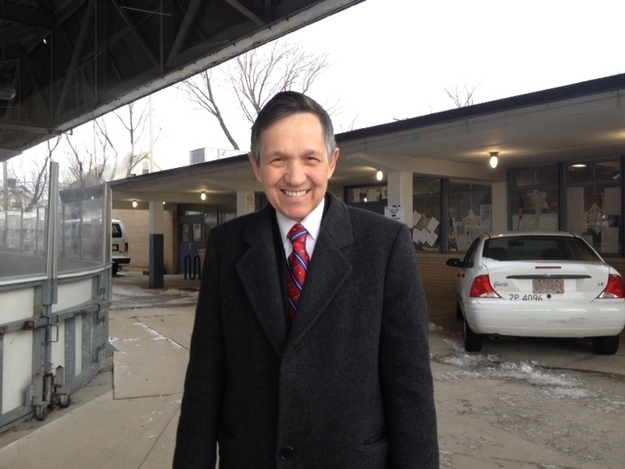 CLEVELAND, Ohio — Dennis Kucinich, 65, began the day that could be the beginning of the end of his long, eccentric public career by casting a ballot at the Halloran Ice Skating rink in his hometown.
"We've run a very good campaign, a clean campaign," he told the four reporters who turned up to see him vote this morning. "Let's save this congressional seat for our area. If we get a strong turnout in Cuyahoga County we'll keep the congressional seat here."
Thirty-five years ago, the elven liberal champion was briefly the "boy mayor" of Cleveland, run out of the job after misplaying the poor hand that was dealt most mayors of the era. He went on to wander for years through failed political runs and talk radio gigs before re-emerging in the Ohio State Senate and then, in 1997, winning a campaign for Congress, where he emerged as a last voice of the old left. With his high voice, his undeniable debating chops, and his towering, younger wife, he cut an unmissable figure in the 2004 and 2008 campaigns, but failed to build a meaningful movement behind him.
Now Kucinich's Cleveland district has been joined to the Toledo seat held by Rep. Marcy Kaptur, a more traditional Democrat, and the champion of the Department of Peace is trapped in a difficult ground war with an Ohio Democratic Party that disdains him. The district is inhospitable, and he's widely expected to lose.
His secret weapon, he hopes: The deep, personal affection he commands from, and returns to, a core of longtime Cleveland allies.
"I love this community," he said.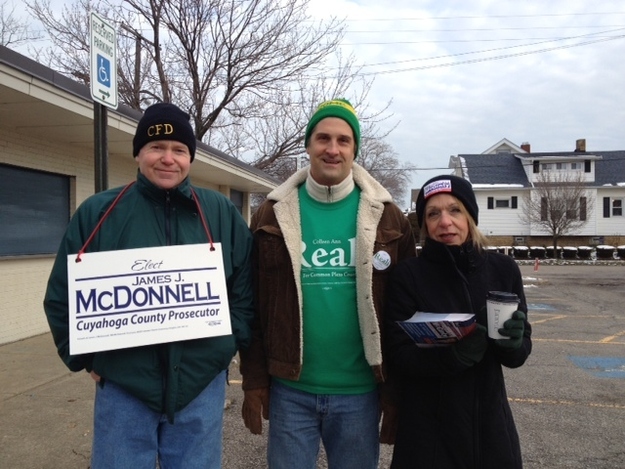 Jim, Mike and Roz (nobody wanted their last names used), all former or current city workers from Cleveland — Jim and Mike shared a firehouse locker — all campaigned for their friends running for local offices today. All three think Kucinich has a good shot at keeping his seat.
"He's got a big following, don't count him out," said Jim. "I wouldn't bet a nickel against him today."
Even if he doesn't win, Jim said, he should stay in public life in some capacity.
"I would hope that Dennis, if he did lose, I think he could really do the area a whole lot of good because of his influence and all the support he has, that he could stay in the area and volunteer and really be a big asset," he said.
But Kucinich might not stay. He's hinted that he if he loses the race against Kaptur, he might move to Washington state and run for Congress there. Kucinich wouldn't comment on this to BuzzFeed ("Questions like that are not appropriate until we see what the outcome is," he said), but his constituents aren't fans of the idea, which would come as a betrayal.
Mike the fireman, who described Kucinich affectionately as a "goofball," said "I thought that was very weird."
"I think it would be bad for him," said Homer Clark, a longtime Kucinich supporter from Cleveland. "He's known here. He's been mayor here. It would look like a last-ditch effort to stay in politics."
"But if it got me a job, I'd go to Washington too," said Clark, who's currently unemployed.
Kucinich is spending the day visiting voting stations in Cleveland, accompanied by his campaign manager, Andy Juniewicz. The pair have done a lot of traveling over the new district lately — "I know because of all the toll tickets," Juniewicz told BuzzFeed — and the campaign opened offices in Lorain and Toledo, Kaptur territory, as well as one in Cleveland.
Juniewicz noted the string of big endorsements recently: Robert Kennedy Jr., Luis Guitierrez, and rap mogul Russell Simmons (though he wasn't there for the Simmons endorsement, because "I don't like to be part of an entourage.").
Juniewicz thinks they'll come out on top in Cleveland, at least: Kaptur's "spent time here recently, but he's spent a lot of time here all the way along."
Cleveland is papered with yellow signs that say "Dennis!" like these ones that cover the campaign office there: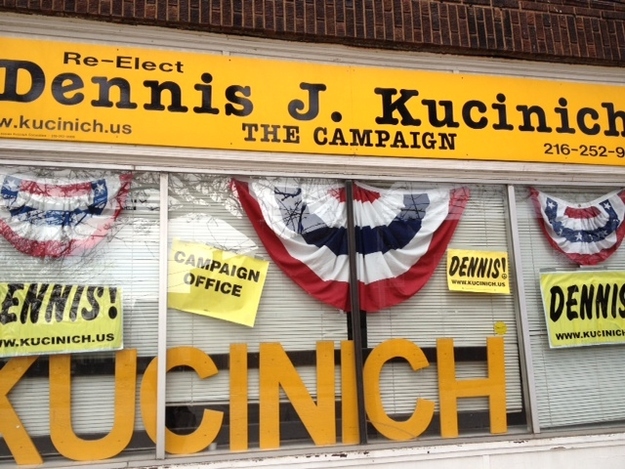 Hardly any of the campaign signs in Lorain, where the Kucinich campaign office is right across the street from Kaptur's, say "Dennis!" Instead, they read "Kucinich." He's not on a first-name basis in Kaptur country.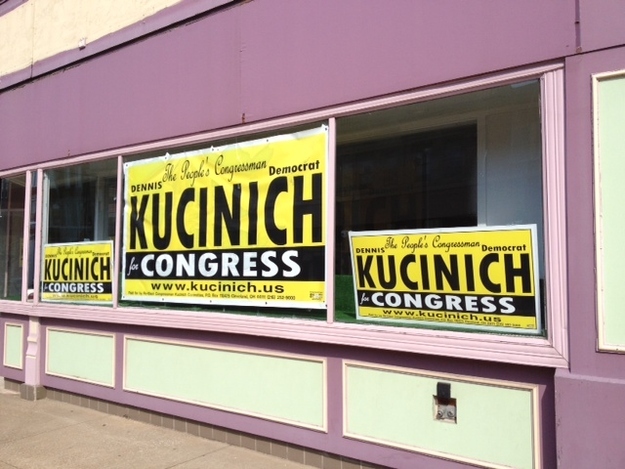 For his supporters in Cleveland, there's no substitute for "Dennis."
"He goes back a long way with me," said Homer Clark. "He's got a pretty strong following here."
As for Kaptur: "It's like, who is she?"