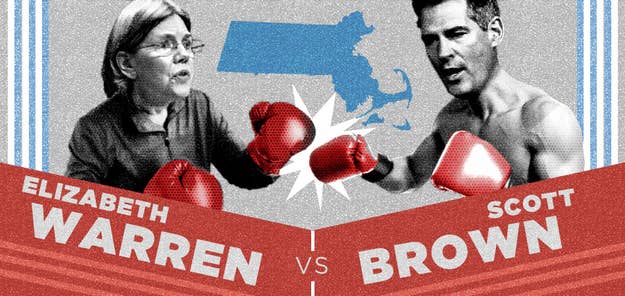 LOWELL, Mass. — The poison that runs through this state's Senate race seemed to spill over into the traffic Tuesday night: Everyone was paralyzed, furious, and headed to the same place, the University of Massachusetts-Lowell's Tsongas Center.
Hundreds of people, their ranks deepened by union activists, held blue signs along the road for Democratic challenger Elizabeth Warren. A small band played for her, and Warren arrived in a blue SUV to enthusiastic cheers from her public.
But they had a problem: a smaller, but equally vocal group of Scott Brown diehards with enormous signs bearing the name of their candidate. Warren and Brown supporters tried to stand in front of each other with their signs. An older woman with one of the massive Brown signs snapped at a young man with a Warren sign who was trying to break up her visual. More than one Brown supporter did a taunting war whoop — mockery of Warren's claimed Native American heritage — that some of the senator's staffers were caught on tape doing a couple weeks ago.
A crew of young men circled a row of Warren supporters with their signs, yelling "Brown Town! Brown Town!" as police watched from the sidelines.
A man with a Warren sign elbowed through them, grumbling. "Fucking assholes."
The debate itself was, if anything, even uglier.
The Massachusetts Senate Campaign, between a moderate Republican and a liberal hero, began with a pledge that was meant to keep things clean. The campaigns promised not to let outside groups run radio and television advertisements on their behalves. That agreement appears to have accomplished roughly the opposite of its goal: Now, instead of letting outsiders do the dirty work for them, Warren and Brown have had to do it themselves. And a race that was always going to be tough has reached an unusual depth of personal nastiness
Half the debate, staged, incongruously, "Meet The Press"-style and moderated by NBC's David Gregory, focused on character — the Native American question, Brown's comments that he had regular meetings with "kings and queens." Brown told Warren he wouldn't be "a student in your classroom," and Warren snickered openly when her opponent said his favorite Supreme Court justice was Antonin Scalia.
This tone defined the campaign, which has played out in the Boston Herald's tabloid voice and been driven by opposition research from both sides, carried by the strong undertone of personal distaste between the candidates. And it shows no signs of doing anything but getting even nastier before election day.
"It's personal now," said Mary Anne Marsh, a Boston democratic strategist. "Everyone was under the illusion when they came up with that no-outside-groups agreement that this was going to be a nicey-nice campaign. But it forces the candidates to own what they're saying and doing in these campaigns."
The friction between the two sides is evident in conversations with enthusiastic voters.
Outside the debate, Daniela, a Lowell resident and Warren supporter who didn't want her last name used, held a sign that said, "Scott Brown is a Republican pretending to be an Independent! Don't vote to be the turkey at your own Thanksgiving!" in crooked letters.
"What he's done is he's appealing to Republicans' underlying fear of Democrats who want to give your money to the government and things like that," Daniela said, referring to Brown. She called the Native American debacle "utterly absurd."
"What it is is Karl Rove and co. — this is how they try to run campaigns," she said. (Rove's group Crossroads has done robocalls in the state, but hasn't been able to participate more than that because of the pledge.)
Above all, Daniela believed it wasn't Warren who was playing dirty.
"She's not running a campaign based on the fact that he and his wife met when they were porn stars!" she said. (Brown was once a model, a fact made much of in his 2010 campaign against Massachusetts Attorney General Martha Coakley.)
"To the degree that it's negative it's too negative," said Massachusetts Democratic Party chairman John Walsh.
And the crowd couldn't stick to the ground rules — no applauding, no booing. You almost expected the candidates to put on boxing gloves.
Brown kept at the Native American attacks, but was much more precise; no accusations that Warren couldn't be Native American because she doesn't look like one. He may have been compensating for a tough couple weeks — he's polling slightly behind Warren and his first debate performance was interpreted by some in the press as flustered.
"When he turned and said 'look at her, she can't be Native American,'" Marsh said, "You could see the shift in the polls that came after that."
But it's been effective enough that Warren has had to release a direct-to-camera ad that features her talking to the audience about her background — an indication that the attacks worry the Warren side more than they let on. Really, it's also a sign of the anything-goes nature of the campaign. Both sides are throwing everything against the wall and seeing what sticks. And the flurry of responses from those attacks has been just as overwhelming. Listen to the radio in Boston or watch TV and every few minutes and you're bombarded with ads. Here's one featuring people with thick accents talking about how Warren "got caught in a lie"; here's one accusing Brown of being on the side of the "big money guys," featuring Micky Ward's trainer Art Ramalho.
The race has such a high national profile that the candidates tend to talk about each other in national terms. Warren is trying hard to paint Brown as a right-wing ideologue who simply follows the other Republicans in the Senate, while Brown is casting her as an elitist and the progenitor of President Obama's policies. It can feel oppressive, but the candidates' supporters have been inured.
At a Scott Brown event the next day in Worcester, Boylston resident Bonnie Johnson said she was unfazed by the campaign's negativity.
"Unfortunately that's the way campaigns seem to be today," she said.
But she confessed shock with the way the debate, which she had attended, had gone.
"I was very disappointed in the audience that didn't play by the rules," she said. She blamed Warren supporters for breaking the no-cheering rule.
"So after the break, some of the Brown supporters had to start cheering back," Johnson said. "I didn't want to break the rules, and it was very uncomfortable."
"Elizabeth Warren says she's for families — I don't know," Johnson said. "I'm certainly not a rich millionaire or billionaire, and she hasn't done anything for me."
Scott Brown's event that day was sports-themed, true to his regular-guy persona. Former Celtics coach Bob Cousy, who told reporters he's a life-long independent who voted for Barack Obama in 2008 because "my wife and I wanted to see a black president before we die," endorsed him outside the gym at Holy Cross, a Catholic college on a hilltop overlooking Worcester. Warren, meanwhile, held no events that day.
Brown stood with his wife Gail Huff , daughter Ayla, and Cousy in front of a statue of Cousy as a college basketball player. Brown wore a shirt with the top button undone and arrived in his trademark green pickup truck.
Brown took the microphone first, addressing a small audience of Holy Cross students and local fans, but mostly reporters.
"I just wanted to talk about the debate," he said. "It was fun. It was like an away game."
"But there's real distinctions between Professor Warren and me," Brown continued. He listed a couple of these, including how Warren says she champions "the little guy," but, according to Brown, does not do so. He handed over the mic to Cousy for a while before taking it back to answer questions.
Brown referred to Warren as a "hired gun" three times in his answers to reporters about Warren's law clients, which have included LTV Steel and Travelers Insurance and which have become a campaign issue.
And he defended his "I'm not a student in your classroom" dig, accusing Warren of "badgering."
"I felt like I had to let her know that the constant interruption and the badgering, it didn't feel like a debate should have felt," Brown said.
Holy Cross junior Joe Lepera, a political science major and "huge Scott Brown fan," told BuzzFeed later that this kind of badgering is just why he wouldn't vote for Warren.
"My issue with professors in Congress is that they tend to only see things their way because they've gone so far down a line of thinking," Lepera said.
Afterwards, Brown went into the gym. Someone had produced a basketball and he spun it on his finger, Harlem Globetrotter-style.
He shot from the free-throw line, missing a few. "I'm throwing bricks today!" he said.
Then he tried the half-court shot that he made during a visit to Cape Cod earlier this year, the video of which went viral. He didn't make it. Brown tossed the ball to his daughter, who swished it through the net as Brown hammed it up, making pretend choking noises. The family shook a few more hands and then rolled out of the parking lot in their truck, unaccompanied by aides, momentarily clear of the toxic campaign.