The Subtle, But Hugely Significant Shift In The Republican Response To The Marriage Ruling
Top contenders quickly shift the focus to religious freedom.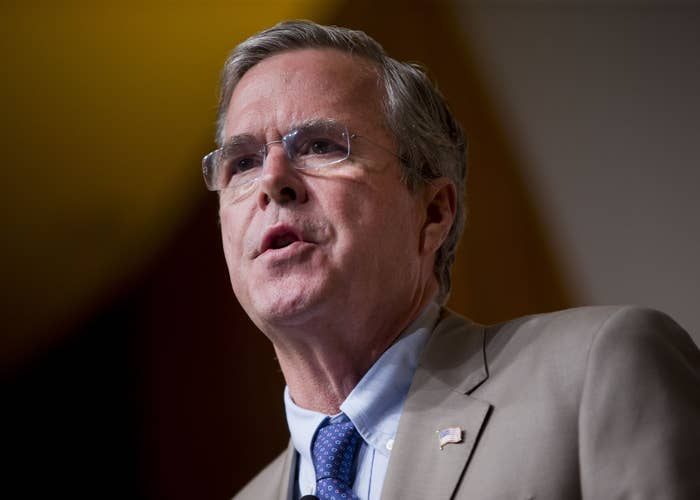 Two of the leading Republican presidential contenders responded nearly in lockstep on Friday to the Supreme Court ruling that has legalized same-sex marriage nationwide: by waving a white flag in the fight over marriage — and promising to take up arms in a new culture war battle over religious freedom.
"While I disagree with this decision, we live in a republic and must abide by the law," Marco Rubio said in a statement, then called for officials to "protect the First Amendment rights of religious institutions and millions of Americans whose faiths hold a traditional view of marriage."
"It is my hope that each side will respect the dignity of the other," Rubio said.
Jeb Bush cited his Catholic faith to explain his personal belief in "traditional marriage," but added, "I also believe we should love our neighbor and respect others, including those making lifetime commitments." He then pivoted to the need to "protect religious freedom and the right of conscience and also not discriminate."
No one said they agreed with the court, but a number of the candidates signaled the desire to cut their political losses on the losing issue of marriage — and instead reframe their party's social agenda in terms of protecting the viewpoints of the dissenting. The distinction may seem like mere semantics, but it represents a profound shift in the culture wars, in which Republicans are deliberately moving from offense to defense.
For decades, Republicans rallied the religious right by championing "family values," and pressing for policies meant to infuse American society with Judeo-Christian morals — from anti-sodomy laws to crackdowns on pornography and keeping condoms out of schools. Social conservatives presented themselves as the country's "moral majority" — the banner under which Jerry Falwell mobilized millions of Christian voters in the '70s and '80s — and their mission was to defeat the disproportionately powerful secular elites in media and government.
The populist disavowal of Washington elite has remained, but as the GOP's agenda on gay issues has fallen out of favor in recent years, party leaders are no longer claiming to be in the majority. Instead, they are making appeals to pluralism — which are much more popular — arguing that while society has changed where LGBT issues are concerned, religious conservatives should be able to object when they believe their principles have been infringed.
Not all of the 2016 candidates on Friday followed the example of Bush, Rubio, and also dark-horse candidate Lindsey Graham, who said in a statement that he opposes a marriage amendment to the Constitution: "Rather than pursuing a divisive effort that would be doomed to fail, I am committing myself to ensuring the protection of religious liberties of all Americans." Conservative culture warriors like Rick Santorum, Mike Huckabee, and Bobby Jindal all quickly released statements harshly condemning the court, signaling that they still have an appetite to fight the marriage movement on the merits.
And, more importantly, Scott Walker — considered a top-tier candidate — took a sharper tone on Friday's ruling. Walker argued in favor of a marriage amendment to the Constitution and called the court's decision a "grave mistake." Walker is expected to make a serious bid to win the Iowa caucuses next year; his response seems aimed at the conservative Iowa voters who can help him do that.
But those candidates signaling surrender in the marriage fight are no doubt hoping that an emphasis on religious freedom will be enough to placate the still-influential conservative Christian primary voters in states like Iowa and South Carolina. It remains to be seen whether those voters are ready to embrace the same political pragmatism that their prospective standard-bearers are exhibiting.