The Ron Paul-Mitt Romney Deal Isn't As Simple As "They Like Each Other"
The two camps may not have signed a deal, but there's something in it for Paul.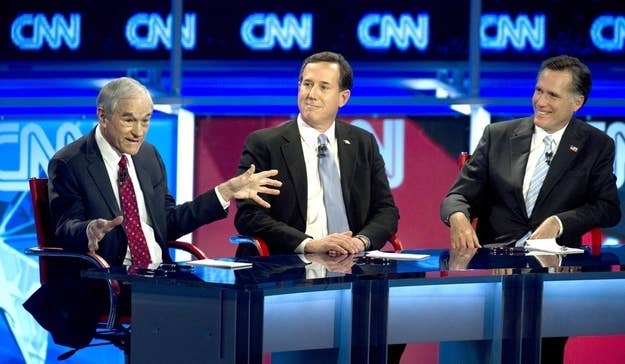 Ron Paul's campaign has spent the last few weeks airing attack ads against Rick Santorum in must-win states for Romney, like Michigan; teaming up with Romney to take Santorum down in debates; and expressing interest in securing Rand Paul the number-two slot on Romney's ticket.
The unusual alliance of moderate and libertarian provoked Santorum to accuse the two of colluding, and everyone else to ask: Have Ron Paul and Mitt Romney cut a deal? Or are they just pals.
The answer appears to be somewhere in between.
"If all things are somewhat equal, I'm probably going with the person who's treated me with respect. And if I'm going to make a deal, which I haven't, but I would go with the decent person instead of the one who called me 'disgusting.' Who would you cut a deal with?" asked a strategist familiar with the conversatoins between the campaigns, who also denied any explicit "quid pro quo."
There's no indication of an deal involving — as the speculation has run — honoring Rand Paul with a slot on Romney's vice presidential "short list." But while officials of both campaigns say publicly that this is simply a matter of friendship and respect, they acknowledge privately that at its center is political interest.
The Paul campaign knows that their candidate is vanishingly unlikely to be the nominee, so the focus is on pushing Paul's issues onto the main Republican platform before he retires. As of right now, Romney is the best vehicle for that — and for pulling Rand closer to the center of power. For Romney, meanwhile, keeping Paul happy could mean the modest but real votes of his independent-minded supporters, and it will likely discourage a damaging third-party run.
None of this really contradicts the campaigns' official line is that there's no deal at all in a relationship based purely on mutual admiration and respect. Romney and Paul are "two people who genuinely like each other," said a senior Republican strategist familiar with both campaigns, a perspective reflected by the Washington Post's Jennifer Rubin this morning. "Just because there's a friendly relationship, it doesn't mean there's any sort of collusion.
"At the end of the day the simple part of it is big part of it. It's not going to be me, I said from outset I want my issues incorporated and I want my people to be viewed as part of the Republican coalition," said a strategist close to the Paul campaign. Gingrich thinks they're drug users, Santorum thinks they're disgusting."