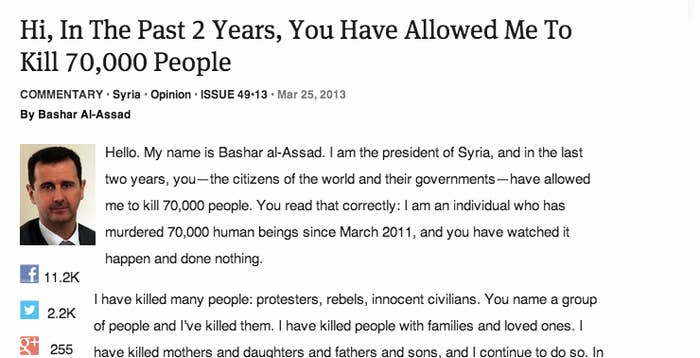 WASHINGTON — Though The Onion is a satirical newspaper, its Syria coverage in the past few months has been anything but: a series of articles have slammed President Barack Obama for his inaction on Syria, making The Onion a remarkably consistent voice for intervention on the left.
The Onion's content has begun to attract notice for its ideological consistency and frequency, while also puzzling those who view the publication as a lighthearted satire outlet (which it usually is). Most famously, it inspired the Syrian Electronic Army to hack it, putting it in the company of the New York Times and Twitter.
A few examples from recent months include "'Help Has To Be On The Way Now,' Thinks Syrian Man Currently Being Gassed"; "Obama Deeply Concerned After Syrians Gassed To Death On White House Lawn"; "'Syrians' Lives Are Worthless,' Obama Tells Daughters Before Kissing Them Goodnight"; "Obama Weighing His Syria Option"; "Nation Currently More Sympathetic To Demise Of Planet Krypton Than Plight Of Syria"; and "Hi, In The Past 2 Years, You Have Allowed Me To Kill 70,000 People," by "Bashar al-Assad."
Satire exists in part to lampoon and challenge popular opinion. But the sum total of The Onion's Syria content adds up to something resembling a serious issue campaign, though recent moves toward a bombing campaign in Syria on the part of the U.S. government appear to have shaken the publication's resolve. The Onion has published two stories critical of the plans this week. One, "Experts Point To Long, Glorious History Of Successful U.S. Bombing Campaigns," mocks U.S. officials for suggesting that bombing Syria will produce the desired effect. In the latest Syria piece, "So, What's It Going To Be?", "Bashar al-Assad" explains to the U.S. that it has no good options. The piece, as some have pointed out on Twitter, makes little effort to be funny.
"If you don't do anything about it, thousands of Syrians are going to die," "Assad" writes. "If you do something about it, thousands of Syrians are going to die. Morally speaking, you're on the hook for those deaths no matter how you look at it."
"Any bombing campaign capable of being truly devastating to my regime would also end up killing a ton of innocent civilians, as such things always do, which I imagine is the kind of outcome you people would feel very guilty about," he continues.
The Onion's editor-in-chief, Will Tracy, said in an email to BuzzFeed that the paper has not staked out a position on what the U.S. should do in Syria.
"I wouldn't say we've staked out an editorial line so much as we've chosen to acknowledge two equally valid points of view at once," Tracy said. "Specifically, we want to support the rebels because of our own strong financial ties to the jihadist movement, but we also want to support Bashar al-Assad because he's been a close and dear friend of the paper for nearly two decades."