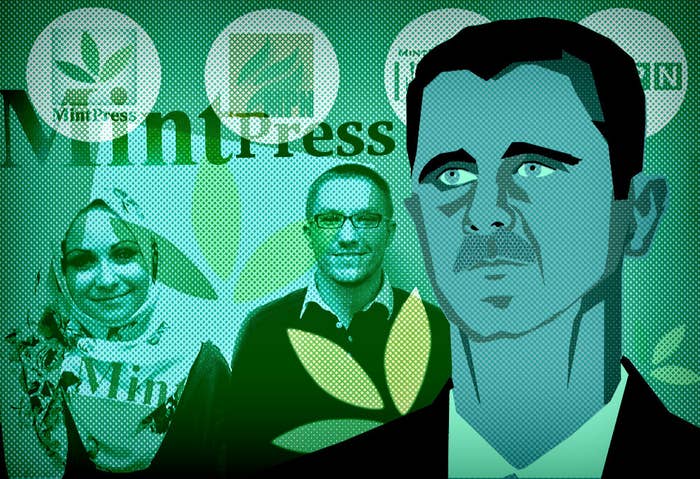 As Mnar Muhawesh prepared to publish a scoop from longtime Associated Press stringer Dale Gavlak, she dashed off an email to her staff with the typical glee of an editor with a huge story.
"MintPress News, Associated Press and NPR correspondent Dale Gavlak, based in Amman, Jordan, who has been the Associated Press correspondent based in that region for over 25 years and still going, has broken a very important story in regards to the Syrian chemical weapons attack that occurred last week, and I wanted to give you the opportunity to be the first to hear," Muhawesh, the 26-year-old editor of Mint Press News, wrote on Aug. 29 in an internal email obtained by BuzzFeed. "Witnesses on the ground in Goutha, Syria (location of recent chemical attack), including family members of rebels and even Jordanian officials have told Dale and her colleague Yahya Abaneh that the chemical weapons were provided to the rebels by Saudi Arabia, specifically through Prince Bandar Bin Sultan."
The story was the biggest scoop Mint Press had landed in its short existence, gaining international attention and a public citation by Russia's foreign minister, Sergey Lavrov. Syrian and Iranian state media cited it. It landed at the height of international outrage over an Aug. 21 chemical attack that killed more than 1,400 people in a Damascus suburb and of efforts by the Obama administration to win support for a punishing strike.
The problem: Its explosive allegations — that the rebels, and not the regime of Bashar al-Assad, had used chemical weapons — were unverified, and its authorship was unclear. As the story went viral, the journalist whom Muhawesh presented in her email as the story's author demanded that her byline be pulled — first privately, and then publicly, taking her complaint to the well-regarded Brown Moses blog of Syria researcher Eliot Higgins. Muhawesh refused.
The incident obsessed Syria watchers as it unfolded on Twitter last month. Today, the story, "Syrians In Ghouta Claim Saudi-Supplied Rebels Behind Chemical Attack," is still up on Mint Press, but several key questions remain. How did the story come about and who really wrote it? Who stands behind Mint Press, a small Minneapolis-based site with a progressive bent that hides its funding even from employees and has mysterious connections to the Middle East? And, more broadly, how does one separate truth from propaganda in a conflict marked by deep divisions — ethnic, religious, and ideological?
Interviews with former employees and people familiar with the inner workings of Mint Press, and an examination of public records, paint a portrait of a dysfunctional outlet where employees are left in the dark about the site's sources of funding and are alienated from the Muhawesh family that runs it: Mnar, the editor-in-chief, her brother-in-law and managing editor Muhammad Muhawesh, and her father-in-law Odeh Muhawesh, 54, a Minneapolis businessman born in Jordan. They also reveal an agenda that lines up, from its sympathy with the Syrian regime to its hostility to Sunni Saudi Arabia, with that of the Islamic Republic of Iran, where Odeh Muhawesh studied under an ayatollah for five years after the Islamic Revolution, and where he visited as recently as this summer.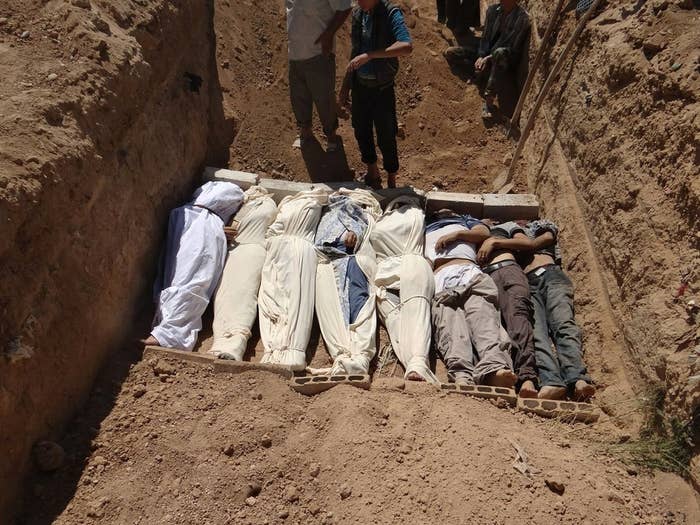 In September 2011, Mnar Muhawesh posted her first call for reporters on journalismjobs.com. She had registered Mint Press News as a limited liability company three months earlier, filing with the state of Minnesota under her name. The email address and phone number on the filing form, however, were those of her father-in-law, Odeh Muhawesh — the first inkling that the man whose name appears nowhere on Mint Press' masthead may play a greater role than he claims. (Odeh Muhawesh declined to comment on why his email was used.)
"Be a part of something groundbreaking and meaningful," one job ad read. "[Join] Mint Press in our journey to bring back the true meaning of news as we break political stories and ask the real tough questions which are often overlooked."
Joey LeMay, a copy editor at a Gannett-owned paper at the time, said he eagerly replied and, aged 25 at the time, was hired to cover national politics, education, and social justice for the website. "It was almost a too-good-to-be-true venture," he said, calling Mint Press a "dream job."
LeMay's new boss was his former classmate at St. Cloud State, a Minnesota university. He didn't know Muhawesh well at the time, but he knew that she was a big scholarship winner. Muhawesh had also gained some recognition around campus for becoming the first reporter to wear a hijab on the school's TV news program.
"My first impression was that she's a go-getter, determined, and incredibly knowledgeable," LeMay said. "She prided herself on being calm, cool, and collected."
LeMay was excited to work with like-minded people in a startup environment — it helped that his annual salary at Mint Press was $14,000 higher than it was at Gannett. His new newsroom routine was fairly standard: Every morning, the staff would pitch three to four items, usually based on stories that were already reported by major outlets, but with a "Mint Press spin," LeMay said.
"We weren't out gathering the stories. There was very little backpack journalism involved in this," he said. "We were at a desk. If we did a story about private prisons, we would call the ACLU for comment. This was not objective, straight, traditional journalism. They were passion topics."
Flooding journalismjobs.com with listings didn't just catch the attention of young, progressive-leaning journalists like LeMay. David Brauer, a media reporter with MinnPost, profiled Muhawesh in January 2012, after seeing Mint Press News pop up repeatedly on local job boards.
"I had never heard of them, and no one I knew had ever heard of them," Brauer told BuzzFeed. (Even after the Gavlak scandal, Mint Press has failed to make waves in the local media, perhaps because the outlet has little interest in local reporting; "People in my circle, the chattering-class media circle, are absolutely not aware of them," Brauer said.)
When he met Muhawesh, Brauer found her to be a "very, very serious young journalist, perhaps overly serious. I don't know if I saw any flashes of a sense of humor, but I saw someone who was determined and motivated."
Muhawesh firmly emphasized to Brauer that even though she was a devout Muslim, Mint Press would not have a religious slant.
"It was clear to me she was about much more than any sort of Muslim identity," said Brauer, who had visited the Mint Press offices in Plymouth, an upscale Twin Cities suburb. "I did get the sense of her being more of a lefty Occupy Wall Street activist then someone with a 'giant Muslim agenda.'"
When Brauer asked Muhawesh where the money for the venture was coming from, she would only identify her investors as "retired businesspeople." Brauer was curious, though not necessarily suspicious.
"She wasn't the first journalism entrepreneur to not say where her money was coming from," Brauer said. "I don't have any evidence to say that there's anything wrong there, but I think there are some natural questions about how she's able to finance it at her age."
Muhawesh wasn't just ambiguous about her funding with Brauer. She wouldn't disclose any details to her first hire, LeMay, who said he started "second-guessing things" a few months into the job.
"It was incredibly secretive," LeMay said. There were barely any ads on the website, and whenever LeMay asked about where they got their money, "it was brushed off as a nonissue."
"I would go home feeling not squeaky clean," he said.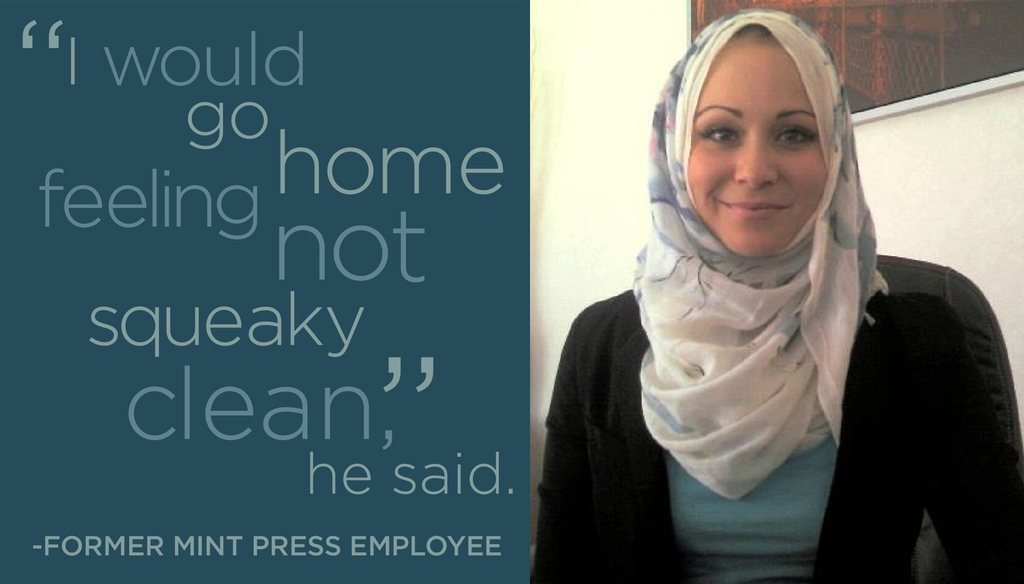 A source familiar with the workings of Mint Press told BuzzFeed that employees were given the "retired businessmen" line at the beginning, but are now told the company is being financed through private loans, though Muhawesh won't specify who the creditors are.
In an email to BuzzFeed, Muhawesh claimed that she is financing Mint Press alone.
"MintPress was originally funded by angel investors when I was first putting the company together over a year ago, but that route fell through last year as I restructured the business plan," Muhawesh said. "I am the sole investor of MintPress."
One former employee who asked to remain anonymous out of fear of legal repercussions was skeptical, saying that employees often speculated that funding came from "retired businesspeople" with political agendas in the Middle East.
"I don't think there are a lot of people in Minneapolis who look at that website and think, 'Oh that seems like a sound local investment,'" the former employee said.
Muhawesh's editorial direction didn't do much to ease staff suspicions. She was progressive, but shied away from some important stories, including LGBT issues.
"For the longest time we really didn't write about same-sex marriage legalization," the former employee said. "There might have been an AP story published, but we were discouraged from pitching these stories for a while."
According to the source familiar with Mint Press' operations, stories about Saudi Arabia and Israel would in particular be edited a certain way. Saudi Arabia-related stories would almost always be edited to include a line about Saudi financing of terrorist groups, the source said. One writer was forced by Muhawesh to refer to the Palestinian territories as an "open-air prison" in a news piece.
"They're super anti-Israel," the source said. The company had one Jewish employee, Martin Michaels, until the week before last when Michaels was fired with no explanation. Michaels did not return requests for comment.
It was more than murky funding sources that raised concern among staff. LeMay also thought it strange that Muhawesh would only meet with reporters one-on-one, and rarely as a whole staff. He recalled just one rare all-hands meeting, led by Odeh Muhawesh this spring and devoted to events in Syria.
"It was an hour of him just filling us in on his predictions for what was gonna happen overseas in Syria — all this convoluted political strategy," LeMay said. "I don't know if it was right or wrong, but looking back at it, it seems awfully manipulative the way he did it. I felt like it was kind of a mind-mold: 'Please think this way, let's try to report this way, and what will be will be.'"
The staff questioned who was really in charge, LeMay said. Muhawesh was the executive director and read every story before it was published on the website, but "didn't have a whole lot to say about the daily operations," he said. She was, instead, "a workplace bully who likes to throw her weight around," he said. Employees wondered if there wasn't someone else running the show.
As with its funding, questions about how Mint Press operates always seem to circle back to one person: Odeh Muhawesh, Mnar Muhawesh's father-in-law, who visited the office once a week, according to LeMay, despite having no official title beyond adviser.
Odeh Muhawesh is originally from Jordan, born in Amman in 1959, according to his personal website, where he describes himself as a "well-known theologian and successful business leader." He moved to the United States after finishing high school and appears to have devoted himself largely to business. Several companies, mainly in software development, are registered to his name in Minneapolis. In 2003, the Minneapolis Middle East Trading Company, of which he was president, opened an office in Amman, Jordan, as "Minnesota's Gateway to Iraq," according to a press release from June of that year.
"Our contribution," Muhawesh says in the release, "is that we know the right people and we know how to get business done in this part of the world."
One of his companies, an app development firm called Stratika, had former Minnesota governor and Republican presidential candidate Tim Pawlenty on its board when he was still in the statehouse in the early 2000s. In 2001, Pawlenty introduced a bill that prohibited foods that weren't halal from being falsely packaged as such. A press release by the Council on American-Islamic Relations notes that the bill "was introduced by Representative Tim Pawlenty at the suggestion of Odeh Muhawesh, a Muslim businessman who resides in Plymouth, Minnesota." The bill passed.
In addition to his business interests, Muhawesh is also an adjunct professor in the theology department at St. Thomas University in Minnesota.
Muhawesh got much of his training in Iran, which has a deep stake in supporting the regime of Assad. In 1982, three years after the country's Islamic Revolution, Muhawesh traveled to Qom, Iran's religious center, to study for five years under the prominent Iranian cleric Jafar Sobhani, a grand ayatollah, according to Muhawesh's personal site.
Sobhani spoke out on Syria in August, when he was quoted as criticizing Sunni clerics for issuing a fatwa that called on Muslims to fight the Syrian regime when "these scholars have never announced a public mobilization against the Zionist regime who is a more apparent enemy of Muslims."
"Although there are many wise and intellectual figures among Sunni community, some Sunni scholars summon the people to fight against Syrian troops and this is a war of Muslims against Muslims," Sobhani was quoted as saying by Ahlul Bayt, a news agency focused on Shiite news.
The elder Muhawesh, too, was publicly against intervention in Syria. A since-deleted Facebook post written before the controversial Mint Press story was published describes his stance in detail, including his opinion that the Assad regime did not use chemical weapons: "Yet another war is upon us. A war based on yet another lie." He followed up by including a series of "facts on Syria."
"There is absolutely no evidence or confirmation that the Assad government carried out the alleged chemical attack," Muhawesh wrote. "Videos of the alleged attack were posted on the internet by allies of the Syrian rebels, BEFORE the attack took place." He added that, in the videos, "the victims are not displaying the proper symptoms of having been struck by a Sarin nerve gas."
In 1994, an Odeh Muhawesh from Jordan sent an email to an online Listserv espousing even more extreme views, responding to a dispute that had taken place on the list.
"Arab, Iranian, or whatsoever makes absolutely no difference," Muhawesh wrote in idiosyncratic English. "You
munafiq and Saddam, who is an Arab are both in Hell. And my
HezboLLah brothers in Lebanon(who are Arabs) together with my
Baseeje and Basdar brothers who die fighting the likes of you are in
Paradise. See it makes no difference what your nationality is."
"You simply are too stupid to realize the difference between Islam and
Arabs. What the great leaders of the IRI [Islamic Republic of Iran] and the Islamic world are trying
to do is make every aspect of Iran, and hopefully the world, Islamic not
Arab mr. munafiq," he continued. "You munafiq referred to Ayatollah Aluzma Khamanie as hujjat AlIslam,
as if you were trying to discredit his position in the Hawzeh. hear me
well
munafiq. As you raved about you worldly degrees, be aware that you
are in no position to judge people in Hawzeh. I spent five years in
Hawzeh, and I personally knew students of The great Ayatollah
Khamanie who themselves are mujtahids."
Muhawesh would not comment on whether he was the Odeh Muhawesh who wrote that email.
Muhawesh traveled to Iran as recently as this summer for a Muslim-Christian Dialogue with three other theology professors from St. Thomas. They met with clerics from Al-Mustafa University in Qom. A university press release notes that the group "visited sacred sites in Iran; had official meetings with a number of religious, governmental, and educational leaders; and had several chance meetings with people on the street." Jim Winterer, a spokesperson for St. Thomas University, said that the university paid for Muhawesh's three colleagues to fly to Iran. "Odeh Muhawesh, an adjunct faculty member, covered the majority of his airfare through a contribution to the Muslim Christian Dialogue Center," Winterer said.
Muhawesh declined to speak to BuzzFeed for this story or to answer any questions about Mint Press' funding, his time in Iran, his connections in Iran and elsewhere in the Middle East, his businesses in Minnesota, or his role in the operations of Mint Press.
"I have no ownership interest nor any editorial or journalistic involvement in Mint Press so I imagine BuzzFeed readers would agree that all other questions are irrelevant," Muhawesh said.
But Muhawesh has taken an active role in formulating Mint Press' response to the Gavlak controversy.
On Sept. 21, a Mint Press employee named Patrick Strickland emailed Mnar and Muhammad:
I hate to bother the two of you, as I know you're both busy. I just would like an update on the accusations made against MPN by Dale Gavlak and others. Are they true?

It puts me in a rough place and I'm getting flack from people who are already constantly scrutinizing journalists in Palestine/Israel. I'd like to know how to respond in such cases, considering it is a very serious accusations and it could damage everyone's credibility. I was waiting for an official comment on it, but I decided to go ahead and ask.

Please let me know ASAP.
Mnar replied to Strickland and copied the rest of the staff:
I'm so sorry you and a lot of our writers are getting caught up in this accusation by a blogger that Dale did not write the Ghouta article.
We will be releasing an official statement on Monday to the public, and possibly the email exchanges that we had with Dale where she tells us she confirmed the information with colleagues and Jordanian government officials and the fact that she she co-authored it, as Yahya does not write not speak English fluently.
We have received even more support from readers who forwarded us email exchanges between them and Dale discussing the article the day after it was published where she stated she wrote the article to get the story out and she even goes on to explain that she pitched the story to Mint Press because we are advocacy journalism.
So, there is no doubt that Dale was a co-author and we have been very clear about that aspect from the very beginning, we also made it very clear from the very beginning that Yahya was the reporter on the ground in Syria. She did ask us to make that clarification and we did the day after the article ess[sic] originally published.
The day after the article was published, Dale notified us that she was under tremendous amounts of pressure and even threatened by third parties over writing the article.
This is however not about Dale, the article has been attacked because as you know it could have detailed a US strike on Syria.
Dale is under tremendous amounts of pressure over it by third parties, which she has told us, so its clear she might be trying to distance herself from it IF she indeed did provide that blogger with that statement, which we find it strange considering it had been three weeks since the article has been published, and why would she contact a blogger and not make any official statements? Those statements to the blogger have not even been confirmed.
Lawyers are now involved in this matter, so please only respond saying that the editors at Mint Press will be responding on Monday.
Don't worry about anything, we will handle the rest.
This is a storm that will pass, and the truth will shine.
Strickland replied: "Thanks for the prompt and detailed response, Mnar. I highly suggest going public with the emails, particularly since her emails with accusations against MPN are already public."
Odeh Muhawesh then jumped into the thread to advise the team on how to respond:
Mnar, Patrick, et al,

Remember the rule which states that no publicity is bad publicity! I don't believe it always applies but it certainly does here. In every story, each side will have advocates. In this story MPN and every one its current staff will have the world on their side, while the other side will look like the bullies they are.

At this point, if the lawyers agree, I concur with Patrick that MPN needs to go on the offensive.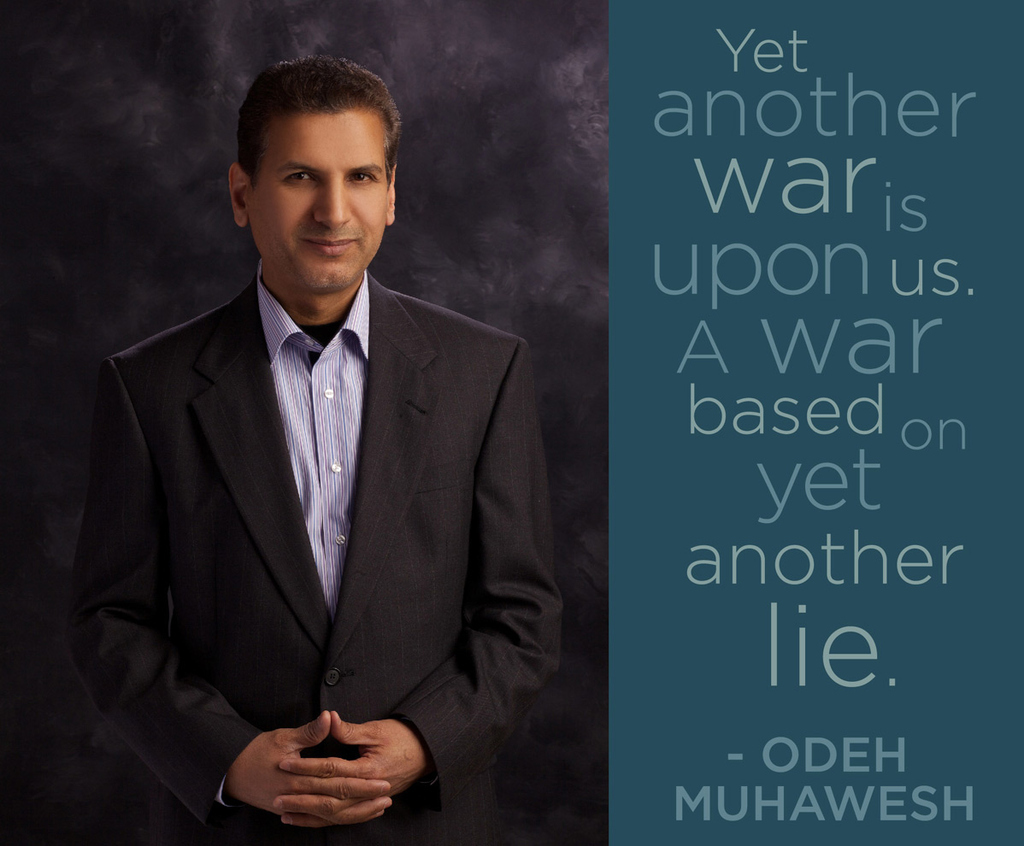 The final mystery comes with Yahya Ababneh, the Jordanian man who shares a byline for the Ghouta story. Ababneh told BuzzFeed he reported the piece himself and merely asked Gavlak, a longtime and well-respected Middle East correspondent whom he has known for three years after meeting through a friend at a party, to help him translate and pitch the story. It was she who chose Mint Press, he said.
"I just needed her to correct my English," Ababneh said. "Nobody wants to buy it in Arabic."
Gavlak has denied having any part in reporting the story, though she told Brown Moses that she had helped Ababneh "write up" the piece. Gavlak did not respond to repeated requests for comment.
Ababneh is a mysterious figure who also uses the name "Yan Barakat" and who claims on his now-deleted LinkedIn to have done assignments "in Jordan, Syria, Lebanon, Saudi Arabia, Russia, and Libya for clients such as Al-Jazeera, Al-Quds Al-Arabi, Amman Net, and other publications."
He uses the name to maintain a presence on the Russian social networking site Vkontakte. "I don't publish my true name all times," Ababneh said. Asked about his time in Russia, he said that he had only been there for a week to visit a friend. His VKontakte account says he is from St. Petersburg.
"He works fucking hard to be honest," said a friend of Ababneh's who wished to remain anonymous. "He's a 20-hour-a-day kind of guy."
The friend provided a copy of an essay Ababneh had written to the United States embassy in Amman urging the U.S. to curb Saudi influence in the region.
"I don't want to say my opinions," Ababneh said when asked for his stance on Syria. "I'm just a simple journalist."
In subsequent emails, Ababneh revealed that he was currently in Iran: "I am really busy with my master study because that I am in Tehran ( just Try to write my paper in master to see their media and their opinion about Arab spring), also since 3 months try to get this visa for vacation."
He refused to elaborate further on what exactly he was doing there.
"All what can I say for you : I wrote to many media organisations who they will write about me soon," Ababneh wrote. "I did not writ [sic] my name before because I had a good connect between the regimes and rebels in libya and syria. Now after my name were every where I think I must find another job."
As for Gavlak, her status at AP is up in the air. An AP spokesperson declined to comment on whether the agency would continue to accept Gavlak's copy, except to say: "Dale has not been an AP staffer but has contributed stories to AP from her base in Jordan. AP did not assign, edit, or distribute the website post in question that bears her co-byline."
Meanwhile, Mint Press is preparing for its next round of battle. Mnar Muhawesh refused to answer an extensive list of questions from BuzzFeed and rebuffed several interview attempts, citing "legal events."
"Mint Press continues to stand by the courageous reporting of Dale Gavlak, Yahya Ababneh, and all of our journalists and is certainly disappointed in the direction some are choosing to take this important international story," Muhawesh said. "In the meantime, I hope BuzzFeed readers will judge the integrity and credibility of Mint Press from the independent, nonpartisan journalism found on our site."
Yet many of its journalists are clearly uneasy, prompting an exodus from Mint Press, already a small publication. Steve Horn, an investigative journalist based in Wisconsin who was a regular freelancer for the site, decided to end his relationship with Mint Press after the Ghouta story. Patrick Strickland, a reporter for the site who covers Israel and the Palestinian territories, told BuzzFeed he has also decided to leave this week.
"I stopped writing for Mint Press because I felt deeply uncomfortable that its financiers are hidden from both writers and the public," Horn said. "Whether this dark money influenced the mess that happened with the Syria chemical weapons piece remains to be seen. But given the gravity of the ongoing Syrian humanitarian quagmire, the public deserves to know who's funding not only Mint Press, but everyone else who's weighed in on Syria, as well."