Newt Gingrich Is The Happiest Also-Ran Ever
His rag-tag campaign straggles cheerfully through Louisiana. All roads, they believe, lead to Tampa, the White House, and other grandiose things.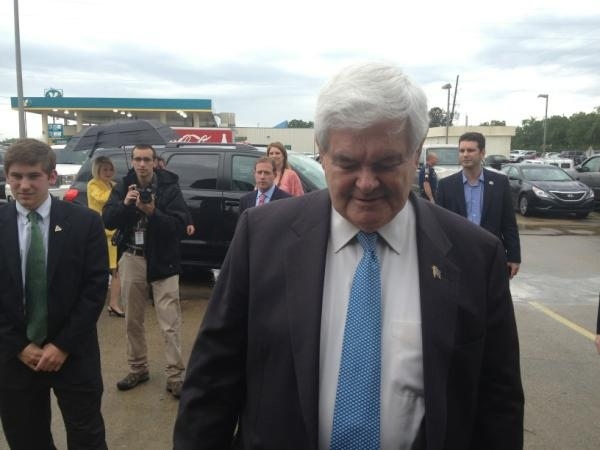 BATON ROUGE, Louisiana — Newt Gingrich is still here.
The candidate, who hasn't won outside his native Georgia since South Carolina, spent his Thursday before the primary by leisurely campaigning in southern Louisiana, where voters are receptive to his loose style and Southern roots. From the looks of Gingrich, you'd never know his campaign is running out of money, nor that the press corps is fed up. He's the happiest also-ran ever.
Gingrich began the day with an appearance at Big Al's Seafood Restaurant in the bayou town of Houma, where he gestured with a pink Etch-a-Sketch and talked to the crowd about his newest signature issue, gas prices, which plays especially well in this oil-producing state.
"It's the bread and butter of our community," said one voter, Michelle Hanson of Houma.
After that noon event — where the campaign and the traveling press got into an ugly confrontation over a press conference that was restricted to local media — Gingrich handed over the reins to his wife, Callista, who greeted children at an arts school in Baton Rouge for about 30 minutes, accompanied by her mascot, Ellis the Elephant (a young staffer in an elephant suit). The day was capped with a speech at Louisiana State University, where Gingrich addressed a Tea Party crowd, again focusing on energy policy.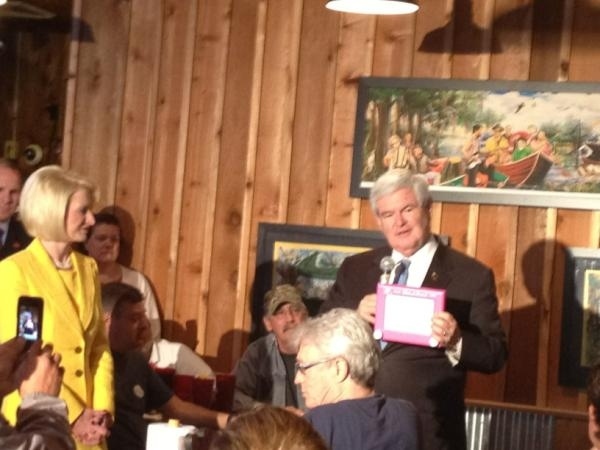 Obama "cannot buy enough ads to convince you that gasoline is cheap," Gingrich told the crowd, to applause.
He pandered lightly, wearing a tie with LSU colors and explaining, "You'll notice that I'm not wearing a Tulane tie." When the moderator of the event asked him whether he preferred "Speaker" or "Mister" as an honorific, he said, "Newt works."
He's still enjoying himself, and in Gingrichland, that seems to be all that matters.
Though signs of trouble are apparent, the campaign is committed to hanging in the race — press secretary R.C. Hammond reiterated to BuzzFeed that the campaign would continue on to the convention in Tampa, because Gingrich has decreed it.
From Gingrich's perspective, the enthusiastic crowds he encounters down South could only seem like an endorsement of this plan.
Mark Holmes, a Baton Rouge Tea Party official, said voters in Louisiana like Gingrich because he "doesn't bite his tongue" and "he's less of a politician." He noted that the local Tea Party appreciates Newt's focus on oil, an important local issue.
However, Gingrich isn't likely to win here, as Rick Santorum is leading in the polls with 43 percent to his 16. It doesn't seem as though he cares. The former speaker's campaign operates in a different reality, one where no matter what, the road inevitably leads to Tampa.