The Cruz Vs. Trump War Is Finally Here
Cruz came ready to fight. "I guess the bromance is over, because he hit me."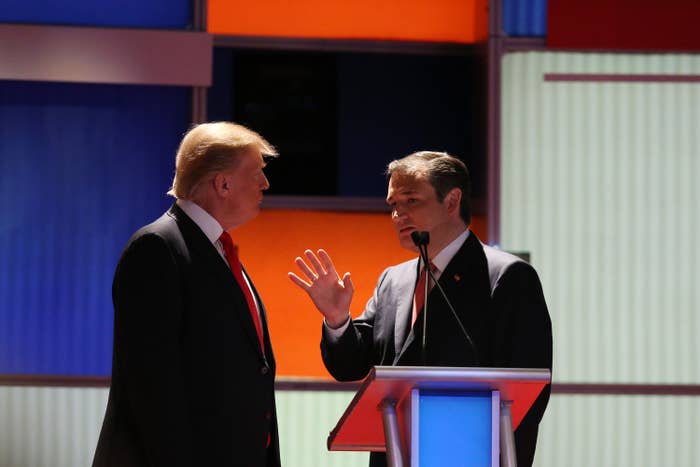 NORTH CHARLESTON, S.C. — After weeks of buildup, the brewing conflict between Ted Cruz and Donald Trump finally spilled into the open at Thursday night's Republican primary debate — and it left Cruz looking strong and Trump looking flustered.

Cruz had up to this point taken pains to avoid responding to Trump's baiting him on his Canadian birth. For more than a week, Trump has gone from hinting to stating outright that Cruz isn't a natural-born citizen. Cruz at first shrugged off the attacks — as he had every time before that Trump had attacked him — then began responding when the issue reached a critical mass. But Thursday night represented the first time Cruz has aggressively taken on Trump to his face, a risky move for a candidate who has tried to stay out of the kind of Trumpian brawls that have so damaged candidates like Jeb Bush. The exchange signals a new phase in the race as the competition in both the establishment and outsider lanes intensifies.
Cruz's pedigree as a national championship debater at Princeton came through on Thursday, especially in the onstage clashes with Trump. He was unflappable and quick on his feet, firing off a rat-a-tat of shareable one-liners at his opponent.
Some were clearly prepared beforehand, since Cruz had already used them: "I've spent my entire life defending the Constitution before the U.S. Supreme Court. And I'll tell you, I'm not going to be taking legal advice from Donald Trump." ("We came prepared," Cruz spokesman Rick Tyler told reporters after the debate.)
Others appeared to be improvised. After Trump mused that the eligibility issue would make it difficult for him to pick Cruz as his running mate, the senator grinned and replied, "I'll tell you what. If this all works out, I'm happy to consider naming you as VP. So if you happen to be right, you could get the job at the end of the day."
In both cases, Cruz deftly landed the lines, drawing loud applause from the audience while Trump, looking agitated and annoyed, attempted semi-coherent comebacks. (At one point, the crowd even booed Trump during an exchange with Cruz.)
And when asked why he was raising these attacks now, Trump acknowledged flat-out that it's because of Cruz's rise in the polls; "because now he's doing a little bit better," he said.
But Trump had one very strong moment — perhaps his strongest of any debate this year in the most traditional sense — when he forcefully challenged Cruz's criticism that he embodied "New York values."
"New York is a great place. It's got great people, it's got loving people, wonderful people. When the World Trade Center came down, I saw something that no place on Earth could have handled more beautifully, more humanely than New York," Trump said. As he went on to recount how his fellow New Yorkers "rebuilt downtown Manhattan" as the world watched in awe, Trump was interrupted with applause several times — including, even, from Cruz, who otherwise had no response.
"I have to tell you," Trump concluded, "that was a very insulting statement that Ted made."
Trump is at his best when he has room for performances like this. Cruz may triumph in the fast-paced back-and-forth of the debate stage, but it's unclear how well he will fare once Trump is back to performing for the cameras — and he is able to really get going on stage and tear into the senator.
But it's clear that the Trump-Cruz War is finally, officially on with just 17 days to go until the Iowa caucuses. Cruz spokesman Rick Tyler described the exchange as a natural consequence of this stage in the race, when candidates differentiate themselves.
"I thought you'd be so happy," Tyler told reporters. "You've wanted this fight for so long."
Tyler said he thinks Cruz's response in the debate settled the birther question.
"I thought with the American people he put it to rest, maybe Donald Trump might not think it's to rest," Tyler said. "He should put it to rest, it's not a strategic decision, because it hasn't moved a single number. So he can persist in it, but all of our numbers show it hasn't worked at all."
Tyler insisted that the conflict "wasn't nasty. It just was a contrast" and said he didn't think it would intensify, saying "they respect and admire each other."
Trump, on the other hand, seemed ready for open warfare.
"I guess the bromance is over, because he hit me, I didn't hit him… There was no reason for him to be that aggressive," Trump told reporters.