The @CoryBooker Guide To Twitter
The social media mayor explains the strategy behind his hyperactive Twitter feed. He regrets just one tweet, and he can't think of another politician who gets it.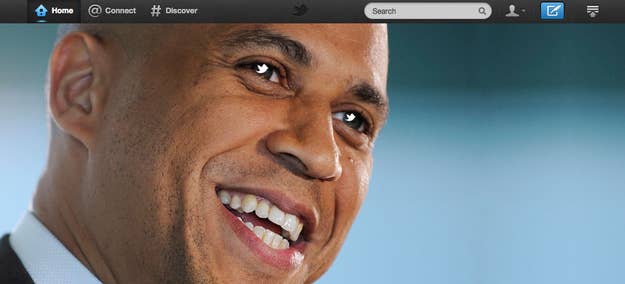 Politicians' Twitter accounts come in three varieties: There are the plain-vanilla feeds run by a staffer terrified of doing anything interesting; the one-way, sometimes compelling, streams of consciousness maintained by Senator Chuck Grassley and a few others.
And then there's Cory Booker's Twitter feed, a singular glimpse at the future of political life on the social web.
Booker, the 42-year old former Rhodes Scholar and current Mayor of Newark, has won fame for his total personal commitment to his job — he recently pulled a woman out of a burning building — which is embodied by his hyperactive Twitter feed, run solely by Booker himself. Booker tweets at all hours, his feed a mix of responses to constituents complaining about broken traffic lights, self-help aphorisms, and the occasional song lyric or words of encouragement for the New Jersey Devils. He has posted 15,305 tweets since signing up for the service as a first-term mayor in 2010.
In an interview with BuzzFeed in his City Hall office Thursday, Booker outlined his approach to Twitter, and offered advice for a generation of politicians who might want to wrest control of their accounts from staff.
Twitter as a faster 311

Booker says Twitter isn't the main way he interacts with his constituents.
"People tweet me about issues all the time and I'm one step ahead of where my department heads are," he said. "It still seems strange that people will tweet quicker than they'll call our version of the 311 line. So it's a very powerful tool for me to cull from my constituents issues and concerns, have a back and forth, clarify things."
"A rightful criticism I once read about our Twitter feed is – is it replicable for other cities? Is it the right structured way to manage? What I say is that my Twitter feed reflects my walking around. Today I was just driving around the city. People yell at me, I need a job, I'll stop and talk to them."
Booker follows 60,000 people and is followed by 1.2 million and says he's inundated with at-replies and DM's every day. He said he gets crazy direct messages "all the time" and does respond to the occasional direct message.
He only regrets one tweet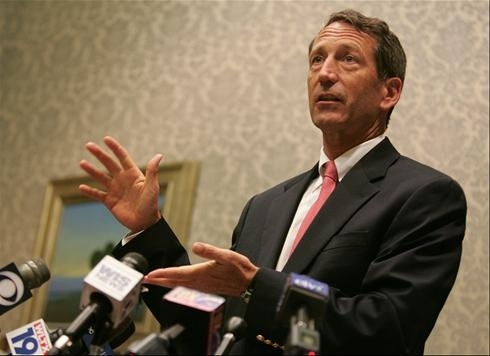 The one tweet Booker wishes he could have back is a joke about Mark Sanford, the former South Carolina governor who disappeared for a week purportedly hiking on the Appalachian trail, but was actually with his Argentinian mistress. Booker tweeted a joke to the effect of "if anyone's looking for me I'm not on the Appalachian trail, I'm with a hot sweet Colombian blend," he said (a coffee reference). A staffer took it down. Booker reprimanded him.
"Nobody edits my tweets."
Booker says his philosophy is "never ever delete a tweet," even if it is a "butt tweet."
The new opposition research will feed on politicians' social media activity

Booker said he doubts his active Internet persona could prove to be a liability if he runs for higher office.
"While I'm viewed as new, politicians younger than me—their whole life is on Facebook and Twitter, these millennial people who are starting to get into politics," Booker said. "It's going to be standard for oppo research people to go back and look at five years of Twitter." (A recent example of this would be the case of former Romney spokesman Richard Grenell, who deleted more than 800 controversial tweets under scrutiny in a flap that ultimately contributed to his resignation.)
"There's going to be people tweeting with more authenticity than they did before because, imagine I'm in grad school now I have my private Twitter account, I'm probably going to use that same Twitter account when I get into politics and now all that stuff is on there."
If he ascends to higher office, Booker said, he doesn't plan to change his Twitter style, predicting that "People will follow me into a different world."
Controlling the media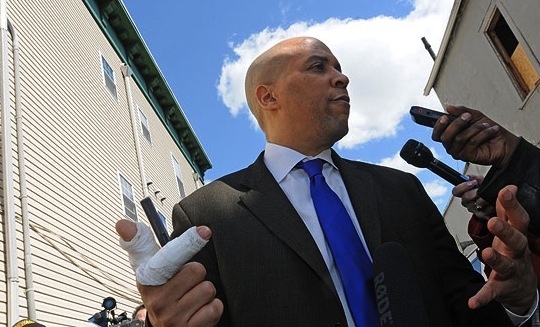 A benefit of his giant social channel, according to Booker: he can keep the untrustworthy media in check: "I now have much more control over my media than I did before, because I've got traditional media that's following my tweets. I can break news on my Twitter account. I can shape news on my Twitter account. Just by having that level of having over one-whatever million people following me is a bigger audience than many traditional media outlets."
Booker also claims that mentions of Newark in the larger media have jumped "dramatically" since he started tweeting.
Politicians can't go half way

"Politicians have to make a decision, and they should not go in between," Booker said. "It should be binary. Are they just going to have this as a pronouncing device, for your staff to tell people what you're doing and when you're doing it. Or are you going to make this a feed that you're doing yourself ant really reflects what's going on in the totality of your life to the extent that you feel comfortable?"
The danger, he says, is when a politician with a staffer-led feed occasionally jumps in and tweets something personal. "Politicians will just have that feed and occasionally they'll make a comment that's discordant to what their feed is and the people that are following it," he said.
Booker couldn't think of any other politicians' Twitter feed he's a particular fan of.
"Politicians just seem when you see them from afar, they really seem like not human beings," he said. "There's something about Twitter, if you have the courage to do it – I looked at some other politician's Twitter page and I was like ugh – because it was just them robotically saying I will be here, I will be announcing this."