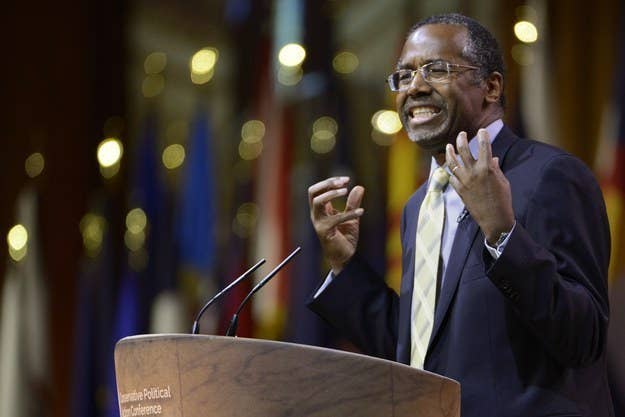 WASHINGTON — The super PAC that has been formed to draft tea party star Dr. Ben Carson to run for president has attracted a lot of attention for its massive fundraising capability, which has raked in more cash than the similar effort to draft Hillary Clinton.
But the National Draft Ben Carson for President Committee is spending as much as it's taking in: $10,757,609, to be exact, according to Federal Election Commission data. The money is mostly being spent on fundraising efforts and for a digital campaign that the group's campaign director told BuzzFeed News is modeled on the vaunted Obama operation. It's also providing a salary for Vernon Robinson, the campaign director, who has made nearly $236,000 from his work so far for the PAC, according to FEC filings.
It's not unusual for people running a campaign of some kind to make money. But the committee only categorizes a small percentage of its disbursements as salary payments. The payments in this case haven't been listed as going directly to Robinson, and have been classified as fundraising expenses. The recipient is listed as "Tzu Mahan" — in some cases, "Mahan, Tzu."
Tzu Mahan is Vernon Robinson's consulting and strategy firm. It has one full-time employee: Vernon Robinson. The firm also has "various subcontractors," he said in an interview on Wednesday.
Asked why he didn't just list his own name on the FEC documents as a payroll expense, Robinson said, "When Dr. Carson wins the presidency, we want everybody to know that Tzu Mahan is running the strategy."
"People get paid to do politics," Robinson said.
Tzu Mahan's name used to be Tzu Mahan Lee Mitchell, named after several military strategists whom Robinson admires: Sun Tzu, the 19th century Navy admiral Alfred Thayer Mahan, the Confederate Army General Robert E. Lee, and Billy Mitchell, a 19th century Army general regarded as a forefather of the modern-day Air Force. Robinson, an Air Force veteran, decided to drop the last two names. Tzu Mahan does not come up in search results for businesses owned by Robinson in North Carolina, where he lives (and where he ran for Congress twice, once as the self-described "black Jesse Helms.") Robinson does appear under his own name in the FEC filings as having had travel expenses reimbursed.
John Philip Sousa IV, the PAC's chairman and a descendant of the composer John Philip Sousa, said he was fine with the amount of money Robinson is making from the PAC. Sousa himself has made close to $100,000 from it so far.
"Is Vernon making a lot of money?" Sousa said. "Yeah, he is. But I will tell you that Vernon works 24/7 and he does a good job for us. And therefore I think he's worth it."
The fact that the payments go to a firm that is really just Robinson himself instead of to Robinson is "between him and his accountant and his attorneys and is not an area that is any of my damn business, so long as it's legal," Sousa said.
The PAC is also growing its political operation. It has between seven and 10 people on staff now, Sousa said, and has regional directors spread out throughout the country. It signed a lease on an office in New Hampshire this week and plans to do the same in other early primary states. According to FEC filings, it has been paying several activists in Iowa and South Carolina for grassroots organizing work. The PAC did not play a role in creating the recent high-profile Carson documentary, Sousa said, and does not collaborate with Armstrong Williams, the conservative activist whose production company produced it.
Sousa, who has questioned where Obama was born and was behind the Americans for Sheriff Joe super PAC that supported anti-immigration Arizona Sheriff Joe Arpaio, has employed other conservative activists in the fight to get Carson in the race, including Allen Brandstater, who is doing advertising work, and Bill Saracino, who is the western regional director.
"Allen has not been involved with this effort," Sousa said. When told that Brandstater's firm is listed as having received over $34,000 from the PAC, Sousa said "he has bought some media for us, but that's the extent of it."
The campaign has also spent $250,000 on advertising work from conservative consultant Rebecca Hagelin, who Sousa says bought airtime for the PAC on Sean Hannity and Rush Limbaugh's shows.
The real money, though, is being spent on fundraising.
The PAC is spending heavily on direct mail companies, including Omega List, which also provided services for Americans for Sheriff Joe, Herman Cain for President, Ken Cuccinelli for Governor, and other conservative campaigns and PACs. Omega List shares an address in McLean, Virginia, with another major beneficiary of the PAC's largesse: Campaign Funding Direct. Both firms are at the same listed address as Eberle Associates, which lists among its clients Americans for Tax Reform and ProEnglish. Campaign Funding Direct has made an eye-popping $1,594,532, according to numbers crunched by the Center for Responsive Politics; the firm MDI Imaging and Mail has made $1,584,206; and Omega List has raked in $1,550,681.
That's not to say the Carson PAC isn't using newer online techniques to organize activists and solicit donations. According to Robinson, they are using NationBuilder, the campaign platform founded by John Kerry's 2004 campaign field director that is similar to the technology used in Obama's 2008 campaign. Robinson described NationBuilder as "parking a Ferrari in everybody's garage."
They're a "responsive campaign," Robinson said, and compared it to Organizing for Action except that "we don't ask people how we can help you to make Marxism happen in America today."
OFA is "very powerful and we have emulated that, and we are a heck of a lot more responsive than for instance the Republican National Committee," he said. Sousa and Robinson both said the PAC has hundreds of thousands of people on its distribution lists. Nearly all of its donations are from small-dollar donors, and the largest single donation has been around $70,000, Sousa said.
Compared to its fundraising and direct mail costs, the PAC hasn't spent much — $531,788 — on independent expenditures in actual campaigns. Robinson believes, however, that they made the difference in North Carolina senator-elect Thom Tillis' winning race against Sen. Kay Hagan.
Robinson said that they will eventually be able to spend less money fundraising.
"When you start off you have to build a house file, and once you have a house file of donors who support your cause then the fundraising expenses go down," he said.
He believes that the fact that the PAC is lucrative for him is beside the point, when one thinks of all the donors who are excited to see Carson run.
"It's a lot more exciting that there's hundreds of thousands of people who are supporting Dr. Carson to run," Robinson said. "The fact that Vernon Robinson is the principal at Tzu Mahan is not that interesting."