The Answer To The Tea Party Question: They'll Fall In Line Behind Romney
The dithering over whether Tea Party supporters will vote Romney doesn't hold up. When faced with Romney vs. Obama, activists say they only have one choice.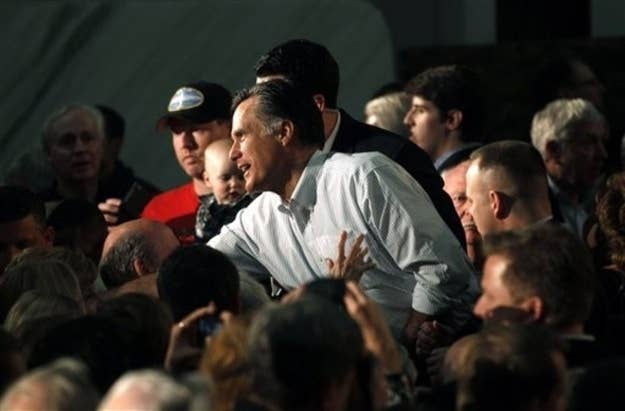 Washington, D.C. -- Mitt Romney's problem with social conservatives and Tea Party activist, is alive and well here at the Conservative Political Actional Conference, the annual movement gathering -- but it may not matter. They're voting, and they're certainly not voting Obama.
In conversations with Tea Party candidates and conservative activists at the annual conservative gathering, it's apparent that no matter how much the idea of "liberal" Romney as nominee offends them, when it comes down to a general election, they'll have to hold their noses.
Samuel J. Wurzelbacher -- better known as Joe the Plumber, a Tea Party favorite since the movement's inception -- is back in this election cycle as a candidate for the 9th Congressional District in Ohio. At a "Backing Grassroots Conservatives Against Entrenched Incumbents" event at CPAC yesterday, Wurzelbacher told BuzzFeed that "I think the biggest thing right now that everyone is thinking is that whoever gets the nomination, they will vote."
"Some will vote against Obama and some will vote for Romney, but ultimately the goal is to get these kinds of ideals and thoughts out of the White House."
Karen Harrington, another congressional candidate this year running against Debbie Wasserman Schultz in Florida, said "the pressure of the grassroots Tea Party is very important to pull the Republicans back to those conservative values. But I think ultimately once the candidate is selected, I believe the entire Tea Party will support that candidate."
They'll do so grudgingly, though, and many still hold out hope that the nominee won't be Romney -- like Brian Heitman of pro-Tea Party The New Generation PAC, who pointed out that Rick Santorum has won more states than Mitt Romney. "Wait until Super Tuesday," Heitman said. When pressed, Heitman admitted he'd have to vote Romney too in the general.
Even the one diehard old-school Tea Partier in a colonial outfit at CPAC, who introduced himself as George Washington, feels compelled to vote Mitt if it comes down to it.
James Renwich Manship (his real name, he says) told BuzzFeed that "I'll shed a tear in there somewhere."
But "certainly [Romney]'s far better than Obama."
As for whether he and his Tea Party friends might abstain from voting altogether, Manship dismissed the idea.
"I think many of us feel that the concern is who he would choose as Vice President, and who is in the House and Senate. If the right people are in Congress it would curb any of his liberal tendencies."
"There's no question I'll vote," he said.
Romney is scheduled to speak at CPAC tomorrow, four years after he dropped out of the presidential race at the conference. It's not the most receptive crowd for Romney, but it is a captive one -- and it knows it.