Ted Cruz Woos New Hampshire Libertarians, With Mixed Results
The campaign's working on endorsements and outreach to libertarians who backed Rand Paul — and now have no candidate.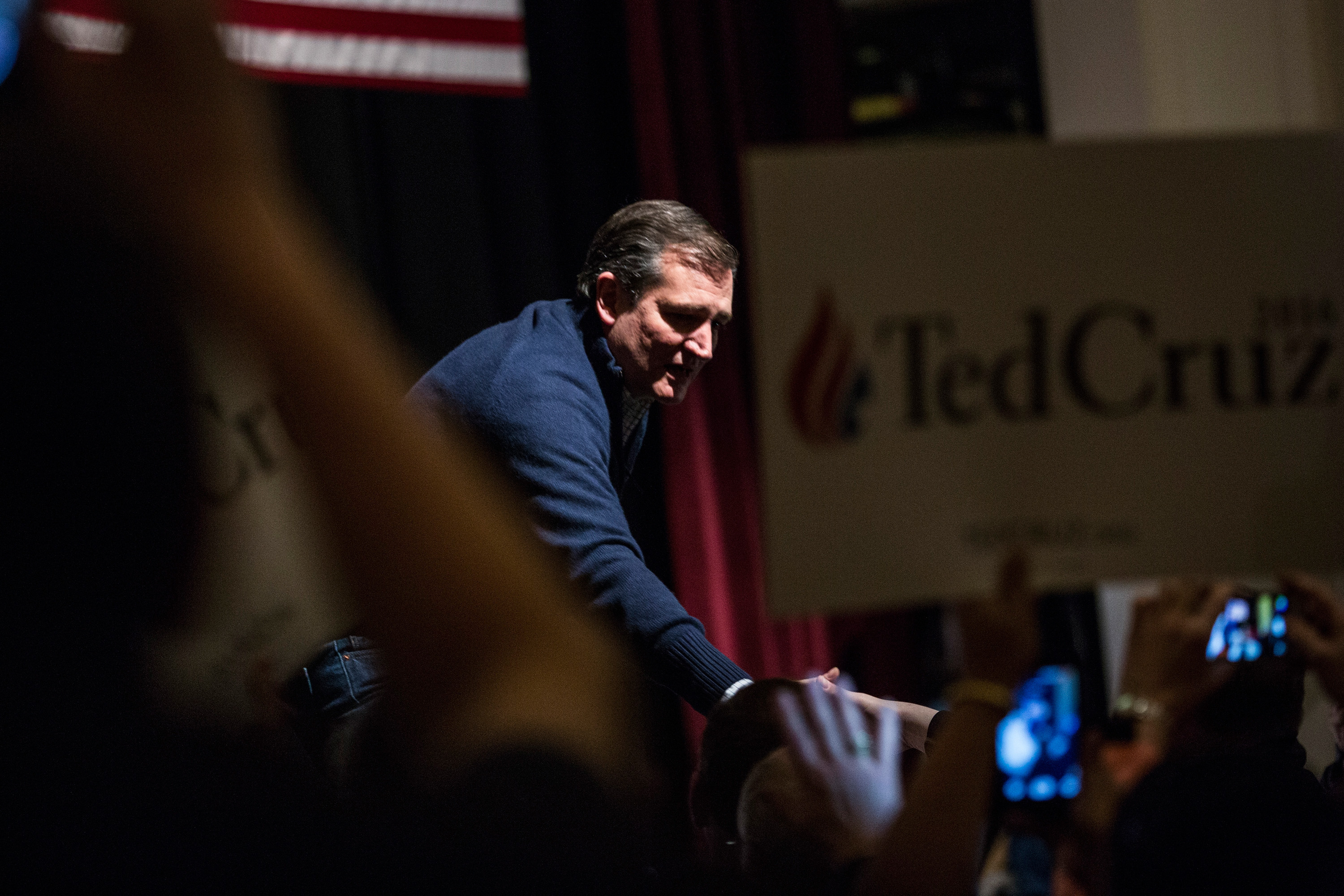 MANCHESTER, New Hampshire — When Eric Eastman learned that Rand Paul was leaving the race, he went through the "five stages of grief."
"At the time on that morning on Wednesday, I wasn't looking for my next date, I just wasn't," said Eastman, a New Hampshire state representative from Nashua, on Friday. "I was hurting."
But Eastman, unlike some other Paul loyalists here, was willing to move in a different direction: toward Ted Cruz.
So he went to a Cruz rally in Nashua earlier this week and asked to meet with the senator. He was brought on to Cruz's bus, which then started rolling to Portsmouth (an hour away) while Eastman questioned Cruz on medicaid expansion, telling him that if Cruz could stand up against it, he could offer his support and try to recruit others as well — a very "Washingtonian offer," Eastman said.
Eastman endorsed Cruz the next night at a rally in Salem. He acknowledged that Cruz wasn't his first choice and quoted the Rolling Stones' "You Can't Always Get What You Want" during his endorsement speech, though he also said Cruz's worldview was a "close cousin" ideologically to the Paulian camp.
There are many state legislators and activists like Eastman who are without a candidate after Paul's exit. But although Cruz has made efforts to reach out to libertarians and often cites libertarians among the factions of the party he hopes to unite behind his campaign, the Paul people here are notoriously resistant to political winds shifting, though the Cruz campaign has begun to have some success.
"With Rand Paul and Ron Paul, there's sort of a mission aura about what they do," said state representative Bill O'Brien, a Cruz endorser and surrogate here. There's a "messianic element to it," he said.
"They're patriotic people, they're constitutionalists, they're liberty-loving folks, and their candidate left the race, that's a very difficult decision for them to make, but many of them have joined us and we're grateful for that," said former Sen. Bob Smith, another Cruz endorser and surrogate here. "Some have not. And that's their prerogative and their right, we understand."
The Paul loyalists here divide roughly into two camps: those who are willing to settle for Cruz and those who are for Paul or no one. O'Brien mentioned people who "hang their hat on illusions" and plan to vote for Paul anyway since he merely suspended his campaign, and didn't technically end it (it's standard for candidates ending their campaigns to "suspend," which enables them to continue raising money and clear up debts). Eastman said there were some former Rand loyalists in the room at Cruz's Salem rally, some are "processing still," and "some are adamantly against it and they're not going to endorse anyone if it's not Rand or his dad."
Sometimes there have been general offers of support that have stopped short of a formal endorsement. O'Brien said they had received a "great letter" from a representative who outlined how he likes Cruz's views on the second amendment and on abortion — but won't formally endorse.
That's not to say the campaign is not racking up formal endorsements. A source close to the Cruz campaign said more state lawmakers who supported Rand Paul were likely to be endorsing Cruz this weekend, and that there was "well-founded hope" that two state senators who supported Paul would endorse soon. (After this story published, the New Hampshire Union Leader reported that Cruz had picked up six endorsements on Sunday from state representatives who were Paul supporters.)
Cruz, who talks about building a coalition of conservatives, evangelicals, libertarians, and Reagan Democrats, has some libertarian credentials from his time in the Senate; he took part in Rand Paul's 2013 drone filibuster, supported the USA Freedom Act, and opposed air strikes in Syria in 2013. His campaign has taken care to target libertarians. At events in New Hampshire, his campaign has been playing a video of libertarians talking about why they like Cruz before Cruz comes on stage.
"Cruz has made significant inroads in securing support from those in the liberty movement, both in New Hampshire and across the country," said Cruz campaign spokeswoman Catherine Frazier. "With Paul's departure from the race, Cruz is a natural second choice among his supporters with a long and proven record fighting for less government and greater respect for our constitutional liberties"
But the efforts have encountered resistance from the highest echelon of the libertarian wing of the party; Ron Paul, who came in second in New Hampshire in 2012, has come out strongly against Cruz, saying he is not a real libertarian.
"You take a guy like Cruz, people are liking the Cruz — they think he's for the free market, and he's owned by Goldman Sachs," Paul said on Fox Business on Friday. "It's hard to find anybody — since Rand is out of it — anybody that would take a libertarian position, hardcore libertarian position on privacy, on the war issue and on economic policy."
"They have a set of issues, and you meet it 100% or you don't," O'Brien said.
For people like Eastman, the choice was difficult. But he said he appreciated how the Cruz campaign handled it, giving him and others time to grieve after Paul's exit.
"What was great and graceful about the Cruz campaign was they didn't try to proselytize, in other words poach the recently disenfranchised Paulians right off the bat," Eastman said. "They gave us some breathing room, gave us some space. "
In reality, though Cruz is not a perfect match for the purist libertarians, none of the other Republican candidates have made much of an effort to appeal to that part of the electorate. The other candidates, apart from Donald Trump, have uniformly hawkish foreign policy views. And several of them have voiced support for NSA surveillance.
"I kind of wonder, if not Cruz then who?" said Scott Carlson, a voter from Manchester who was a Rand Paul supporter and attended Cruz's rally in Salem. "There's really no one else that I can think of" who comes as close to his priorities, Carlson said.
What still gives him pause is uncertainty over where Cruz stands on foreign policy.
"I want more of a feel of, is he more of an interventionist or not?" Carlson said. "I'm not sure yet."