Ted Cruz Tries To Woo Rand Paul's Libertarian Base
Speaking at the Republican Liberty Caucus in New Hampshire on Friday, Ted Cruz pitched himself to libertarians — part of his strategy to poach Rand Paul supporters.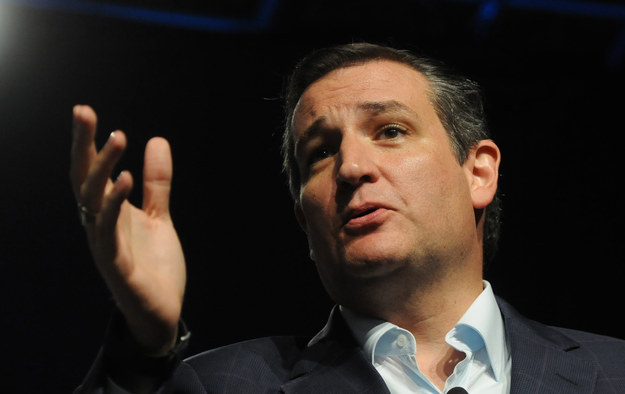 NASHUA, New Hampshire — Republican presidential candidate and Texas Sen. Ted Cruz has said that he sees himself taking Donald Trump's support after Trump eventually leaves the race. But there's another key part of Cruz's strategy to steal other people's votes out from under them, and that's to make an appeal to the libertarians who have generally been supporting Sen. Rand Paul.
Cruz made his pitch to libertarians on Friday in classic Paul territory: a Republican Liberty Caucus conference in Nashua, New Hampshire. Speaking to reporters there, Cruz said libertarians had always been an important part of his coalition.
"I was elected with tremendous support from the liberty movement," Cruz said. "The liberty movement has been integral to our campaign from day one."
"When I ran for Senate I was blessed to be endorsed by both Ron Paul and Rand Paul," Cruz said.
Cruz's comments seemed to contain an implicit criticism of Paul's wavering on some issues important to libertarians and his working relationship with Senate Majority Leader Mitch McConnell.
"In this election cycle, there are a lot of candidates who are running as outsiders, a lot of candidates who are saying they will stand up and fight Washington," Cruz said. "I think that's fantastic but it leads to the natural next question: OK, what is your record? When have you actually stood up and fought Washington?"
"When have you stood up and taken on not just Democrats, but when have you taken on leadership in your own party?" he continued.

But "I love Rand Paul," Cruz said. "I respect him, he's a friend, he's a good man, he's a good voice for liberty. I don't intend, as much as folks in the media want us to do it, I don't intend to tear anybody down."
Cruz tailored his speech to the libertarian-leaning audience, spending a couple minutes talking about National Security Agency surveillance and touting his co-sponsorship of the USA Freedom Act, which put some limits on NSA data collection but which Paul has criticized as not going far enough.
"In the modern political debate, people treat two things as if they're inconsistent," Cruz said. "That we either have to protect this country from terrorists, or defend the Bill of Rights and our civil liberties, and they treat it as if we can't do both at the same time. Well you know what, I think we can walk and chew gum at the same time."
He also touted his opposition to Obama's attempt to obtain congressional approval for air strikes against the Assad regime in Syria in 2013, saying "when President Obama proposed in 2013 a unilateral military strike against Syria, I asked how does this further our national security interest?"
"It's not the job of the military to go into other countries and turn them into democratic utopias," Cruz said. "We shouldn't engage in nation building."
Despite Cruz's maneuvers, Paul said on Friday that he feels comfortable with his base of support.
"I think it's good to have more candidates who want to be part of the libertarian wing of the party, I think that's great," Paul told reporters on Friday.
Asked if he thought Cruz's moves could impact his chances in the presidential race — which are already small, as he's been lagging in the polls and struggling with fundraising — Paul said no.
"I think we're doing very well," he said. "There'll be some evidence of that today, there'll be a straw poll and we'll see how the results of that go. Across the country, we monitor it very closely both here and in Iowa, we know where our support is, where my dad's support was, we feel comfortable that the overwhelming majority of it's with us."
Cruz also appeared serious about making a play to win the straw poll. BuzzFeed News obtained an emailed invitation from Massachusetts State Representative Jim Lyons inviting supporters to a sign-wave in support of Cruz outside the RLC conference and offering them free tickets to the event. (A day pass for the conference cost $135.)
But Cruz is simply not as libertarian as Paul. He's more hawkish on foreign policy, and this is something that could make him a second choice for some of the Paul fans he's courting, even if they otherwise like him.
In Paul's speech, he emphasized his libertarian views on foreign policy, which he has been accused of watering down in recent months, such as his opposition to the Iran deal. He argued strenuously against a no-fly zone in Syria in response to Russia's bombing campaign there and said the U.S. must keep talking to the Russians.
Paul even didn't rule out the possibility of pardoning NSA leaker Edward Snowden, saying "part of me says yes and part of me says we cannot have no rules." He said be thinks those in the Republican party who want to "execute him, shoot him, chop his head off" are "completely wrong" and that he believes the best compromise is a "reasonable" prison sentence.
Bradley Maravalli, 22, who had driven up with his friend Peter Murray, 19, from Massachusetts' North Shore for the conference, said he was "very Rand Paul," but that "Ted Cruz is definitely second choice, easily." Murray concurred.
But, Maravalli said, Cruz is "not libertarian enough."
"The USA Freedom Act was not perfect," and other Cruz proposals don't stack up to Paul's, he said.
"I don't like his policies on Syria," Murray said. "I think we should stay out of the Middle East."
Wayne Plourde, 66, said Paul was his first choice but that he likes Cruz "very much."
Asked why he supports Paul over Cruz, he cited Paul's 13-hour filibuster over drones in 2013, saying Paul had drawn attention to an important issue and "educated Americans" about it.
"He accomplished exactly what he had planned to do with the filibuster," Plourde said. "It was done in the right way. That really impressed me, that he had done that."
Though Paul family loyalists aren't fully in Cruz's corner, he has the potential to attract significant support from libertarian-ish conservatives in New Hampshire, the kind of voters who are also fans of Donald Trump.
Joseph Mottola, 68, said Ted Cruz was his favorite, but " I like the fact that Donald Trump's lighting a fire, or a Bunsen burner, underneath the Republican Party." Mottola's business card says he is an "arch-conservative" and says at the bottom, "No Rinos, Rove, or JEB."
Mottola said he also liked Rand Paul, particularly his flat tax plan. But he's a Cruz guy: "I think he'll handle foreign policy much more intelligently than the mad Kenyan."