Ted Cruz Makes Rare Mention Of Sister On Campaign Trail
Cruz does not often talk about his sister from his father's first marriage, Miriam, who died of a drug overdose, but did on Monday when asked about drug addiction.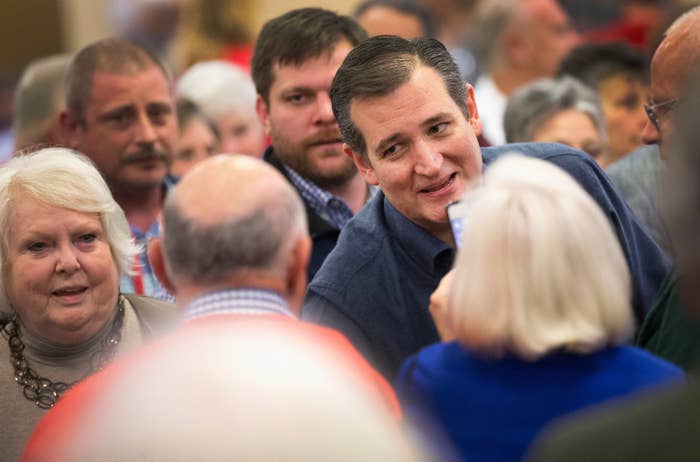 KEENE, N.H. — Republican presidential candidate Ted Cruz made a rare mention on Monday of his sister who died of a drug overdose, a topic he doesn't often bring up.
At a campaign stop at a diner here, Cruz was asked about the heroin epidemic, an issue that has been coming up on the campaign trail as New England in particular struggles with it.

"I know New Hampshire in particular has been hit hard with the heroin epidemic, it is really ugly," Cruz said. "I will note this is an issue I have more than passing experience with. My older sister Miriam died of a drug overdose. And so she was 9 years older than I am. She had a hard life. She made a lot of foolish decisions over and over and over again. And she had problems with drinking and substance abuse. One morning she didn't wake up, she had overdosed. It is a horrible scourge in our society."

Cruz rarely talks about Miriam or his other half-sister Roxana, a doctor, both the children of Cruz's father Rafael from an earlier marriage. Cruz did discuss Miriam at length in his book A Time For Truth, which came out last year. In the book, he stated how "I sometimes found it hard to reconcile the bright, fun and charismatic sister I adored with the person who would lie to me without hesitation and who stole money from her teenage brother to feed her various addictions," and described going to Philadelphia with his father to attempt to intervene in Miriam's life. She died in 2011.
In Keene this morning, Cruz quickly pivoted to immigration and border security, saying that the cartels are trafficking not only people but "drugs in vast quantities" and promising to end sanctuary cities.
New Hampshire, along with other New England states, has been hard-hit by the heroin crisis; state health officials projected a record number of opioid-related deaths for 2015. Other candidates have weighed in on the trail while campaigning in the state.
Cruz is traveling through New Hampshire on a bus tour until Thursday.