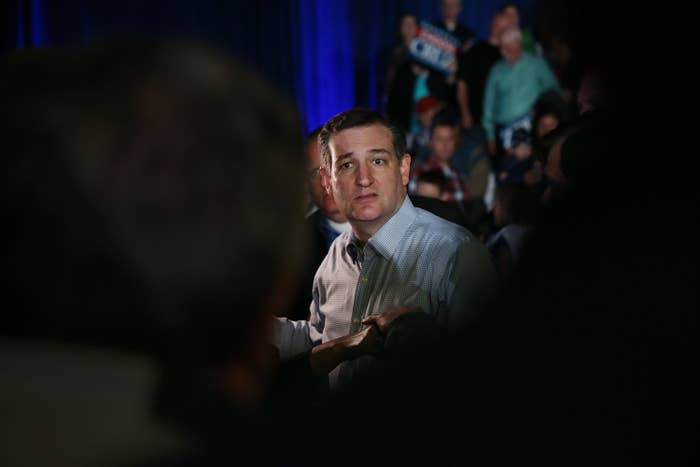 INDIANAPOLIS — Ted Cruz has almost reached the bottom of his bag of tricks.
Casting the primary as literally a battle between good and evil, Cruz has pulled out all the stops ahead of Indiana, naming Carly Fiorina as his running mate, making a non-aggression pact with John Kasich, and aggressively barnstorming the state in the final hours, much as he did in the run-up to the Iowa caucuses.
Cruz has hung on in the Republican primary longer than anyone predicted, emerging as the last viable alternative to Donald Trump and the unlikely figurehead of a movement of anti-Trump Republicans hoping to stop the billionaire's rise. But for those anti-Trump Republicans, tonight will be a reckoning — and after this, there may not be any options. Should Trump win on Tuesday night, as he is expected to do, it's very likely he will be able to clinch the nomination outright in California next month.
"I believe in the people of the Hoosier state," Cruz told an audience in La Porte on Sunday night. Cruz has repeatedly said that the primary is a pivotal moment on which the entire campaign rests, raising the stakes for himself. "I believe that the men and women gathered here and the goodness of the American people, that we will not give into evil but we will remember who we are and we will stand for our values."
Unlike Trump, who has relied on constant media attention and large stadium rallies, Cruz's team focuses on the more nuts-and-bolts building blocks of a successful presidential campaign — delegate hunting, data, get-out-the-vote organizing. Outside of Indiana, his campaign has focused — often successfully — on picking off delegates wherever they can in an effort to hold Donald Trump below the magic number of 1237. They're resourceful, even cutting a deal with Kasich to cede Oregon and New Mexico to him in exchange for Indiana after facing the reality that a contested convention was their only hope for the nomination.
But in recent days, many of Cruz's hallmarks — his carefully calibrated message against Trump, his willingness to talk about the process of winning, and his ability to pull out an incredibly effective surrogate when needed — have faded.
Cruz has elevated his rhetoric against Trump, turning toward the moral case against the frontrunner, particularly after Trump suggested that Cruz's father may have had something to do with the assassination of John F. Kennedy.
"I'm gonna tell you what I really think of Donald Trump," Cruz told reporters in extended comments on Tuesday. "This man is a pathological liar."
Cruz went on to call Trump "amoral," saying "morality does not exist for him," and said of Trump that "we are staring at the abyss." The language is jarring compared to Cruz's refusal to criticize Trump earlier on in the primary process, when his only response to Trump's questioning his eligibility for the presidency was a tweeted Happy Days video.
Crowd sizes aren't a reliable indicator of how well a campaign is doing. But it hasn't escaped notice that Cruz's rallies these past couple days in Indiana have been, well, not very full. In a civic auditorium in La Porte on Sunday night, the floor was nearly two-thirds empty, though the risers surrounding it were full. And in Cruz's election eve rally in Indianapolis, the large state fairgrounds exposition space was only half full — a stark contrast with the rallies Cruz held ahead of his win in Iowa.
Though Cruz has come this far because of his campaign's mastery of process, and is normally happy to talk process with reporters — and even in front of crowds on the stump — on Monday, he was unusually reluctant.
"I think at this point most people are tired of endless process stores," Cruz told reporters in response to a question about his delegate strategy, at a gaggle in Fort Wayne alongside Indiana governor Mike Pence, who declared his support for Cruz last week. "I recognize that's what the media wants to cover."
And Cruz was defensive about Pence's sort-of endorsement.
"Gov. Pence offered his support and yet some folks in the media confused being midwest nice with being less than enthusiastic," Cruz told reporters. He also pushed back hard in an interview alongside Pence with NBC's Hallie Jackson, who asked Pence about his praise for Trump and if it was really an endorsement of Cruz.
Yet, Pence has not been using the word "endorsement" to describe his support for Cruz, and his offer of support, delivered in a radio interview last week, was widely viewed as tepid and equivocal.
Despite painting the primary as a must-win, on Monday, Cruz insisted to reporters outside a campaign stop in Osceola on Monday that he still has a path to victory even if he loses here.
"Absolutely," Cruz said. "But we intend to do everything possible to win tomorrow. It's gonna be up to the people of Indiana, the polls have been all over the place — there's literally been a 30-point swing depending on what poll you're looking at." An NBC/Wall Street Journal poll on Sunday showed Trump 15 points ahead.
Trump himself is already gloating, telling supporters in South Bend on Monday night that the time had come to "put [Cruz] away."
Anti-Trump forces have poured millions into Indiana, with Cruz spending far more on negative ads against Trump than he did in Wisconsin, where he won handily. But some anti-Trump Republicans are privately acknowledging that their luck may have run out in Indiana, and are thinking about next steps.
Cruz often says that only he and Donald Trump have viable paths to the nomination, but for the first time this cycle, Cruz has the aura of the next should-he-drop-out candidate — especially as his favorability ratings have plunged in recent weeks.
"Until he mathematically loses, there's no reason for him to drop out," said Rick Tyler, a former Cruz spokesman, a sentiment the campaign has echoed. "I'm guessing since Trump cannot get enough delegates before June 7, Ted Cruz will stay in."
Unlike past candidates like Rick Santorum and Mike Huckabee, who stayed in long past their point of relevance in past elections, Cruz's staying in to oppose Trump despite the long odds could be viewed in the long term as a principled attempt to defend his party against the hostile takeover of a non-conservative — something that could prove to be a boon in 2020.
"I don't know that opposing Trump hurts him long term," Tyler said. "If Trump's the nominee he'll be such a failure as a presidential frontrunner that people will be wishing they had never aligned with him."
Voters at Cruz events have picked up on Cruz's increasingly vivid anti-Trump rhetoric, and loudly booed Trump multiple times at events over the last two days. Several voters at Cruz events over the past few days told BuzzFeed News they would not vote for Trump if he was the nominee. Some are holding out hope that Cruz will eke out a win here.
"This is a Christian state, always has been. And Cruz fits right in," said Gus Prathaftakis, who waited outside Bravo Café to see Cruz in Osceola on Monday.
Asked if she was concerned about Cruz's potential loss here, supporter Laurie Fox, at Cruz's rally in Indianapolis on Monday night, said "I put all my faith in God."