Ted Cruz: Establishment Is "Beginning To Support Donald Trump"
The Texas senator reacts to opposition from Iowa Gov. Terry Branstad with a sharp attack on Donald Trump.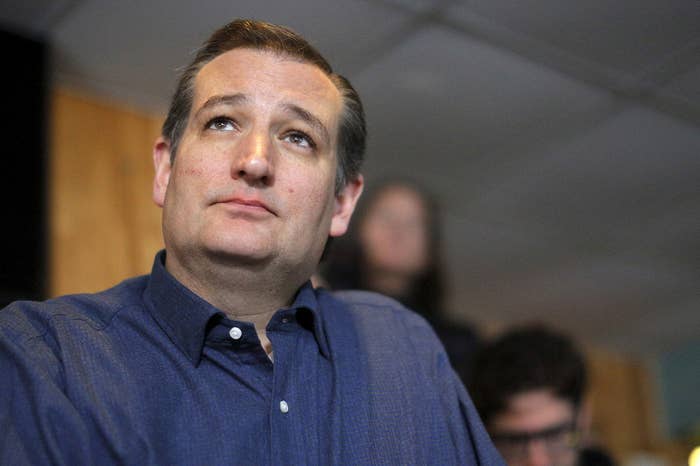 CENTER BARNSTEAD, N.H. — Ted Cruz dismissed Iowa governor Terry Branstad's opposition to his campaign on Tuesday, implying that Branstad is part of the same "cronyism" establishment as Donald Trump.
"It is not a surprise that the establishment is in full panic mode," Cruz told BuzzFeed News in an interview on his campaign bus. "We predicted from the very beginning that the Washington cartel would fire every tool in its arsenal to prevent a conservative victory in this primary."
"The cartel exists to make deals and to pick winners and losers through cronyism and corporate welfare," Cruz told BuzzFeed News. "And so it's no surprise that more and more of the establishment is beginning to support Donald Trump. Because Donald has promised to make deals and to continue the cronyism and corporate welfare of Washington. That's what the cartel does. They make deals with Democrats."
Branstad told reporters at the Iowa Renewable Fuels Summit on Tuesday that Cruz "hasn't supported renewable fuels, and I think it would be a big mistake for Iowa to support him." Cruz opposes the Renewable Fuel Standard, a government standard requiring transportation fuel to include a certain amount of ethanol, which is a touchstone of Iowa politics.
Branstad confirmed to reporters that he doesn't want Cruz to win the Iowa caucuses. He had previously said he remain neutral. Branstad, whose son works for a pro-ethanol group, has also said that Donald Trump's questions about Cruz's eligibility for the presidency because of his birth in Canada are "fair game."
Shortly after speaking to BuzzFeed News, Cruz repeated a similar version of his response to Branstad to reporters outside a campaign stop in Center Barnstead.

Iowa corn farmers are "fed up with politicians who make deals every day to grow government, expand the debt, to do things like fund Planned Parenthood, support Obamacare, give into amnesty," Cruz told reporters.
"Donald Trump said just yesterday that the problem with me is that I wouldn't go to Washington to make a deal and go along to get along with the Democrats," Cruz said. "If you're looking for someone who's a dealmaker, who'll capitulate even more to the Democrats who'll give in to Chuck Schumer, Harry Reid, and Nancy Pelosi, then perhaps Donald Trump is your man."
Over the past few days, Cruz has sharpened and intensified his criticisms of Trump both with the media and directly in front of voters. He is in the midst of a bus tour in New Hampshire, where Trump is the frontrunner.

Speaking with reporters, Cruz also addressed Sarah Palin's endorsement of Trump, saying "I love Sarah Palin. Sarah Palin is fantastic. Without her friendship and support I wouldn't be in the Senate today. Regardless of what Sarah decides to do in 2016, I will always remain a big big fan of Sarah Palin." Palin endorsed Cruz for Senate in 2012.