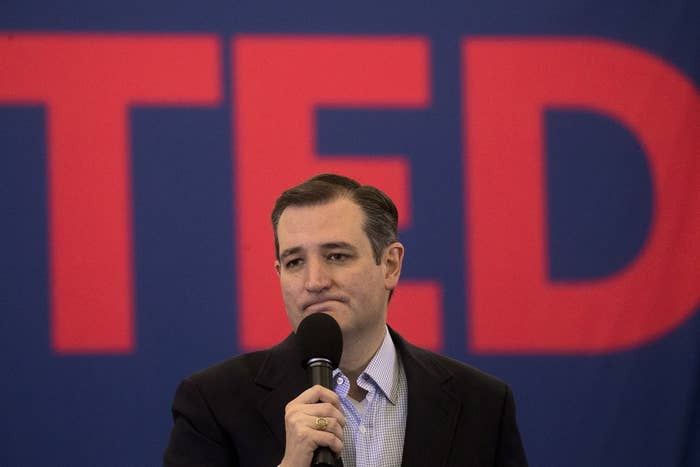 MIAMI — Ted Cruz rarely emphasizes his Cuban heritage.
But on Wednesday, campaigning in Miami, Cruz brought up his Cuban roots — Cruz's father Rafael fled Cuba in 1957 — almost right away, telling a crowd at Miami Dade college right off the bat at the beginning of his remarks, "Y'all know how to make a Cuban feel welcome."
Cruz grew up in Texas, not a Cuban-American hotbed, and he acknowledges that his Spanish isn't very good. South Florida's influential Cuban-American community is largely behind Cruz's rival Marco Rubio, who is also of Cuban heritage. But Florida presents a rare opportunity for Cruz to make political use of his heritage — which isn't the case in most of the mostly white, conservative areas where Cruz's base resides.
Cruz told reporters after the event that he expects to do well among the Hispanic community in Florida, which encompasses people from a range of backgrounds including Cuban.
"I hope to do very, very well in the Hispanic community," he said.
Cruz, who often talks about his father's trajectory on the trail, noted that his father's first stop in America was in Florida: "Obviously my family story is an integral part of who I am. It is a shared and unifying aspect in the Hispanic community, the immigrant experience, coming to America with nothing. For me, when my dad came in 1957, it was the state of Florida on which my father first set foot when he got off a ferry boat in Key West, Florida." Rafael Cruz went on to attend the University of Texas.
Cruz even threw in some rare Spanish, saying Rafael had left "his mom and dad, my abuelo and abuela, back in Cuba. He'd left his kid sister back in Cuba, he didn't know if he'd ever see them again, but at 18 he landed in America, free. The state of Florida initially welcomed him, then he ended up taking a Greyhound bus" to Texas.

Cruz went on to praise Rubio, who is struggling in the polls as the make-or-break Florida primary approaches.
"What an incredible testament to this nation. You asked about Marco. Let me take a minute to sing Marco's praises," Cruz said. "Marco is a colleague of mine, a very, very talented leader, an incredible communicator. What does it say about our nation, that the sons of two Cuban immigrants who came penniless to this country, one a bartender and a maid, and the other, his dad, a dishwasher, that right now their sons would be among the handful still running for president?"
At the end of the press gaggle, a television reporter asked Cruz if he'd like to say anything in Spanish, but Cruz left without acknowledging the query.
The fact that Cruz rarely talks about his being Cuban-American didn't bother his fans in attendance, many of whom were Cuban-Americans themselves.
"That doesn't make a difference to me," said Lilia Morraz, 57, who was there with her husband Silvio. Silvio, who is originally from Nicaragua, is supporting Cruz, while Lilia, a Cuban-America, is for Trump. "I'm not gonna vote for someone just because he's Cuban. I have friends that are voting for Rubio because he's Cuban, and I said no, you're making a mistake, you have to vote for the right person."
Eduardo Artze, 65, came to Miami from Cuba with his family at the age of 10.
He said Cruz's lack of emphasis on his background didn't bother him.
"I have two sons," Artze said. "One speaks Spanish like Ted Cruz, the other one speaks better Spanish. I love them both, my sons."
Lydia Usetegui, 61, said "I am from Miami. I am a Cuban-American from Miami. It's been very interesting we have two candidates that are [Cuban-American]."
"But that's OK, if we were in a free Cuba, we would be voting for all Cubans," she said.
Usetegui said she liked how, in her view, Cruz's roots influence his approach to politics, though they're not the centerpiece of his pitch to voters. "You know he's an American," she said. "He has those roots that make him special in terms of how much we value liberty, given what we've gone through, but he's a constitutionalist."
Cruz did one event in Miami on Wednesday ahead of Thursday's debate at the University of Miami. Cruz's campaign has said that they would make a play for Florida, Rubio's must-win state, and announced 10 field offices there earlier this week. Though Cruz is unlikely to win Florida, his contesting the state could weaken Rubio enough to bar him from winning here.