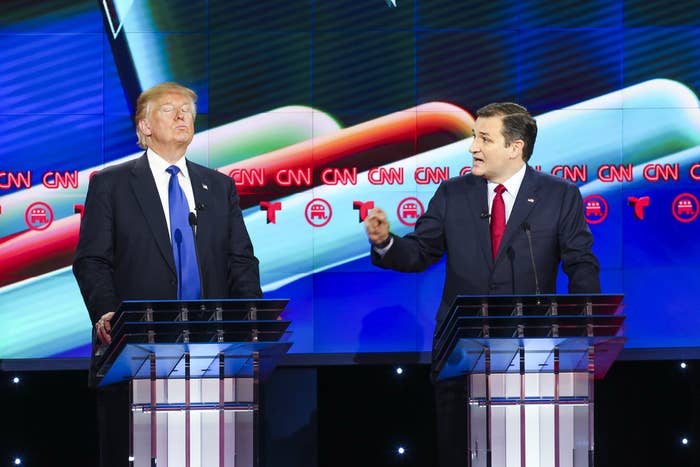 NASHVILLE, Tennessee — Ted Cruz told reporters on Friday that Chris Christie's endorsement of Donald Trump hurts Marco Rubio but doesn't hurt Cruz's Super Tuesday-focused strategy.
"I think the endorsement was no doubt troubling news for the Rubio campaign," Cruz said. "I like Chris, I don't think the endorsement is a big surprise to many observers. Our focus is real simple, uniting conservatives in the Super Tuesday states, and I don't think this endorsement has any significant impact on that."
Christie endorsed Trump while Cruz was taping an episode of the Sean Hannity show before a live audience in Nashville. Both Cruz and Rubio spent most of Thursday night's debate attacking Trump on everything from Trump University to his past stances on immigration, but it's Rubio who stood out due to its being his first time attacking Trump in any significant way. And it's Rubio who came out of the debate with a news cycle seemingly all to himself, which was amplified after he joked publicly that Trump had wet his pants and mocked him for applying makeup during a commercial break and misspelling tweets.
But it didn't last long: Christie endorsed Trump earlier today in Texas, an explosive move that neutralized Rubio's news cycle and made Trump's path to the nomination seem even more assured.
Cruz was left out of the equation entirely; Christie did not talk about Cruz in his endorsement of Trump, but instead attacked Rubio, seeming to cast Rubio as Trump's sole remaining rival. Cruz and his team are now laser-focused on Super Tuesday, where they expect to win Cruz's home state of Texas, though Trump is likely to sweep elsewhere. They hope that Cruz will rack up delegates and that the unlikelihood of Rubio winning any states that night will reinforce Cruz's argument that he is the only candidate left who can beat Trump.
Asked about whether he is concerned about the race now being viewed as a two-man contest between Rubio and Trump, Cruz, who has said many times he believes it is a two-man race between himself and Trump, said, "I don't doubt that the media will do everything they can to frame the race as anybody but the proven conservative with a conservative record."
"You know, to win the nomination, you actually have to win states, you have to win delegates," Cruz said, referring to Rubio. "There are only two candidates who have won states, and that's Donald Trump and me. And I'll tell you, on Tuesday we're going to have a very good night. We saw yesterday in my home state of Texas we've got a double digit lead n the state of Texas, the crown jewel of Super Tuesday."
"In contrast, we saw yesterday poll numbers showing Marco is behind by double digits in his home state of Florida," Cruz said. "Anyone who wants to win the nomination has to win a state somewhere."
Cruz, however, has acknowledged that Trump is the one to beat going into March 1.
"Right now, Donald Trump has enormous momentum," Cruz said earlier on Friday. "If he continues with that momentum and powers through and wins everywhere on Super Tuesday, he could easily be unstoppable."