Syrian Opposition Wary Of Russian Proposal
"We don't trust the regime or the Russians when it comes to these political initiatives," says a spokesman for a top Syrian opposition group.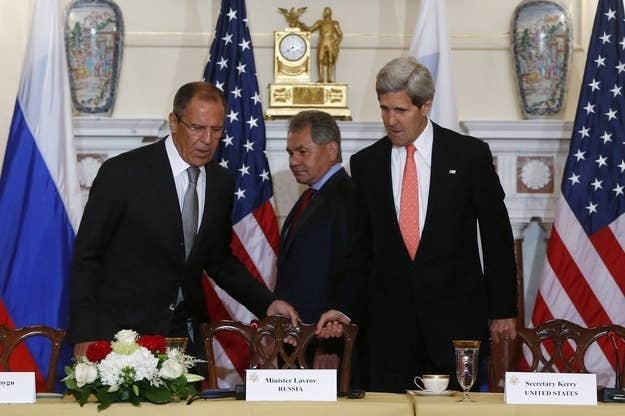 WASHINGTON — Syrian opposition activists are wary of a Russian proposal to put Syrian chemical weapons under international control because it could decrease the possibility of a hoped-for U.S. military intervention, a spokesperson for a main opposition group said on Monday.
The proposal from the Russians is complicating a fluid debate on Capitol Hill and appears to have won some level of support from President Obama himself, who indicated his openness to it during a series of television interviews on Monday.
"From our point of view, we don't trust the regime or the Russians when it comes to these political initiatives," said Dr. Najib Ghadbian, special representative of the Syrian Coalition in the U.S. The regime has not reached an actual agreement with Russia, Ghadbian noted: "They're talking proposals and ideas."
"If this was supposed to be a real proposal, it would include accountability for those who committed the crimes and killed 1400 people with chemical weapons, and that's Assad," Ghadbian said. "And it would include a comprehensive political solution along the lines of Geneva."
He said that the August 21 chemical attack was "definitely a tragedy" and added: "But remember before that Putin was giving him other weapons, including Scud missiles."
Ghadbian said he and other members of the Syrian opposition met with senior White House officials Monday evening and asked "whether they are taking this seriously or if it's just something they had to respond to."
"Actually, the administration didn't really give as much weight to it as the media is," Ghadbian said. "So it was good to hear that."
The officials "don't really believe it's a credible proposal," Ghadbian said.
But President Obama himself threw his weight behind the proposal, which originated in a seemingly off-the-cuff remark from Secretary of State John Kerry on Monday morning, during a series of interviews this evening.
"But between the statements that we saw from the Russians—the statement today from the Syrians—this represents a potentially positive development," Obama told NBC's Savannah Guthrie, and repeated the same sentiment to other interviewers. "We are going to run this to ground. John Kerry will be talking to his Russian counterpart. We're going to make sure that we see how serious these proposals are."
"The only thing that matters is the details of what and when and who, and of that we have absolutely no indication," said Carne Ross, a former British diplomat whose group, Independent Diplomat, advises the Syrian Coalition.
"The coalition would not be alone in feeling like the Assad regime has absolutely zero credibility here," he said.
He acknowledged that the proposal could offer a way for Assad to stall and delay U.S. military action, and said it was "interesting" that it came about because of the threat of U.S. military action.
"Obviously there's a risk this could serve as a diversionary tactic," Ross said. "I think the chances of Assad accepting some kind of credible international takeover of his weapons stocks in rapid order is extremely unlikely."