Syria Doves In Congress Want A Vote
"The President must come first to our own Congress for authorization," Rep. Gibson says.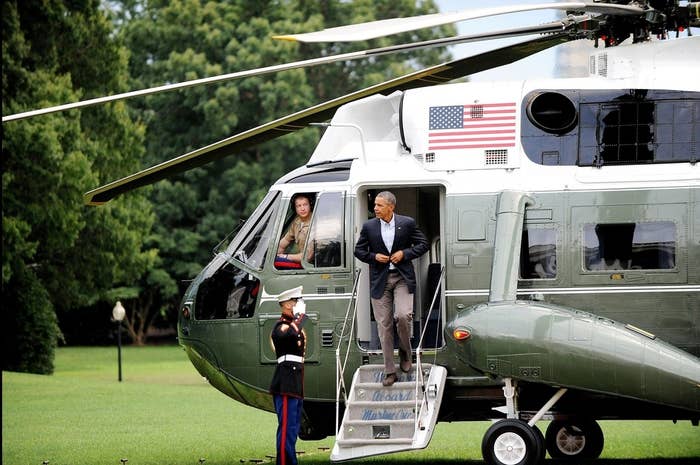 WASHINGTON — Leading Congressional opponents of military intervention in Syria said Saturday they worry the White House will deepen its involvement in the conflict without an authorization vote from Congress.
"The decision to use military force should always be one made with the utmost caution, with U.S. interests at stake, and with the consent of Congress," said Rep. Chris Gibson, a Republican veteran of the Iraq war who introduced a bill in June to block the U.S. from arming the Syrian rebels unless authorized by Congress, in a statement to BuzzFeed.
"Importantly, rather than being solely concerned with U.N. approval, the President must come first to our own Congress for authorization, and I urge him to do so. Finally, I understand the impulse to take action in Syria; however, I hope the Presidents carefully considers this matter and resists the call from some to use military force in Syria," Gibson said.
"Airstrikes are act of war," libertarian Republican Congressman Justin Amash, who co-sponsored a bill with Rep. Thomas Massie that sought to block military aid to Syria in June, tweeted on Saturday. "Constitution demands Pres get specific auth, not just 'consult' Congress, before commencing nondefensive strikes."
"As he inches dangerously closer to entangling us in the Syrian conflict, the President would do well to remember that Congress has the sole authority to declare war," Rep. Thomas Massie, another libertarian voice in the House, wrote on Facebook on Saturday. "On June 23rd, I introduced 'The War Powers Protection Act of 2013' with 9 colleagues to assert this constitutional responsibility in the context of Syria."
Though the War Powers Act requires congressional approval for acts of war, presidents have routinely bypassed Congress for military action, as Obama did in Libya. Now, the administration has shown signs of seriously considering direct military action in Syria after President Bashar al-Assad's forces reportedly used chemical weapons against civilians on Wednesday, a topic that was the focus of a National Security Council meeting on Saturday morning. Officials are looking at Kosovo as a possible precedent for such action without U.N. approval, the New York Times reported on Saturday. And President Obama will "consult" with Congress about possible air strikes, Roll Call reported, though neither House leadership nor the White House has given any indication it would wait for an authorization vote.
Some former doves in Congress have changed their minds on Syria recently, like Senator Chris Murphy, who said that if the Assad regime did use chemical weapons it would cause him to "reevaluate." But others are sticking to their position despite growing signs that the White House is considering further action and growing pressure from both the right and left for the U.S. to step up its involvement.
"2 reasons R & D leaders don't want vote on #Syria: 1.Opens door to debate on floors of House & Senate. 2.Puts Members of Congress on record," Amash said on Twitter on Saturday.
Amash called the use of force in Syria without an authorization vote in Congress "unconstitutional & illegal" Friday on Twitter.
"Intervening militarily would exacerbate — not resolve — the matter, and in the process will Americanize the Syrian civil war," Gibson said. "In my assessment, we lack a full understanding of the dynamics on the ground and the Obama Administration has not clearly stated our strategy nor objectives. Furthermore, having served in the United States Army for 24 years, leading paratroopers in combat, I have concerns that some of the same rebel forces we would be supporting in Syria engaged in combat operations against our U.S. forces in Iraq."