Stunned Reporters, Zombie Staff Reel Into Dead Spin Room
Overheard: "Did you get anything good?" "No."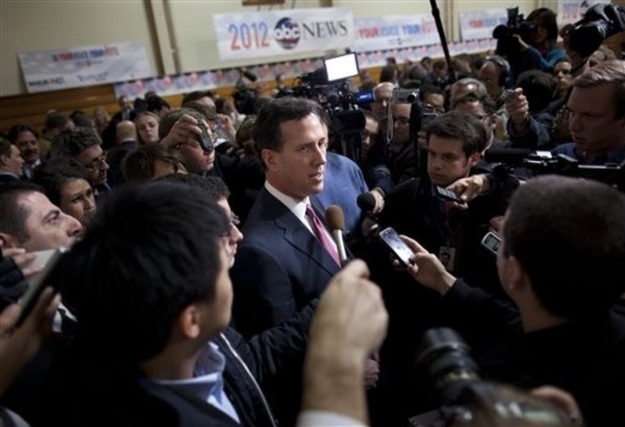 NORTH CHARLESTON, S.C. -- Reporters at tonight's Republican presidential debate staggered into the spin room after an aggressive showing from all four candidates, expecting the usual efforts of political staffers to characterize the contest. But no spin was needed after Thursday's clear, bruising debate: the room was unusually dead, with fewer surrogates than usual and a strange narrow layout that filled up to the brim with people and restricted movement.
Rick Santorum's campaign barely sent out any surrogates at all into the second floor spin room at the North Charleston Coliseum. The candidate himself briefly answered questions from reporters who formed a tight scrum around him. Santorum noted that "The last 24 hours, I think, will go down in primary history as probably one of the most tumultuous 24 hours that we've seen" -- and was then spirited out of the room.
Newt Gingrich spokesman R.C. Hammond appeared for a brief availability with reporters, then left quickly, saying nothing terribly interesting.
Ron Paul's camp stuck with their party line. "He's running to win," said campaign manager Jesse Benton. As for the Romney campaign, surrogate and South Carolina governor Nikki Haley told BuzzFeed only that the statistic she cited at the beginning of the debate -- that Charleston is the number one tourist destination in the country -- came from Condé Nast, then moved on.
It was an odd contrast with the dogfight of a debate that preceded it. Maybe, for once, the exchanges were enough to speak for themselves.