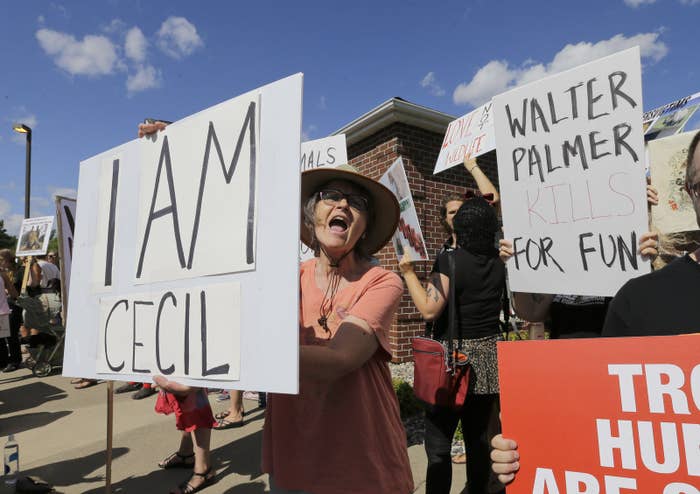 WASHINGTON — The State Department is "saddened" by the death of Cecil the Lion at the hands of an American dentist, a spokesperson said on Wednesday.
"We were saddened to learn of the death of Cecil the Lion," State Department spokesperson Julia Straker told BuzzFeed News in an email. "We are aware of reports that a U.S. citizen was involved in the death of Cecil the Lion."
Minnesota dentist Walter Palmer has admitted to killing Cecil, a male lion who was a beloved sight at Zimbabwe's Hwange National Park. He and his guides reportedly lured Cecil away from the park and shot him with an arrow. Cecil did not immediately die, and the hunters reportedly later killed him with a gun after tracking him for nearly two days. Palmer reportedly paid his guides $55,000 to help him kill Cecil.
Zimbabwean authorities say that killing Cecil was illegal and two Zimbabwean hunters were arrested in connection to the crime and have been released on bail. Palmer is now reportedly being sought by Zimbabwean authorities in connection with Cecil's death. Palmer's killing of Cecil has resulted in an outpouring of online outrage. Palmer has reportedly temporarily shuttered his dental practice, and people have placed a stuffed animal memorial to Cecil in front of the office.
Reached by email on Wednesday, a State Department spokesperson declined to comment on whether Palmer could be extradited to Zimbabwe to face prosecution. The two countries have an extradition treaty.
"Privacy considerations prevent us from commenting further on the status of the U.S. citizen allegedly involved," Straker said. "For inquiries regarding any law enforcement aspects of the case, we refer you to the Government of Zimbabwe or the Department of Justice. As a matter of policy, we do not comment on extradition requests."
"We are aware of the situation regarding the killing of Cecil the lion, and understand the U.S. Fish and Wildlife Service is currently looking into the facts," said Department of Justice spokesperson Wyn Hornbuckle. "Re extradition, as a matter of policy we generally do not comment on extradition-related matters, which would include whether a foreign country has made a request in a particular case."
A spokesperson for the U.S. Fish and Wildlife Service said in a statement that the agency was "deeply concerned" over Cecil's death.
"We are currently gathering facts about the issue and will assist Zimbabwe officials in whatever manner requested," spokesperson Laury Parramore said.