State Department Announces $5 Million Reward For Information On Joseph Kony, Other LRA Leaders
Stop Kony 2.0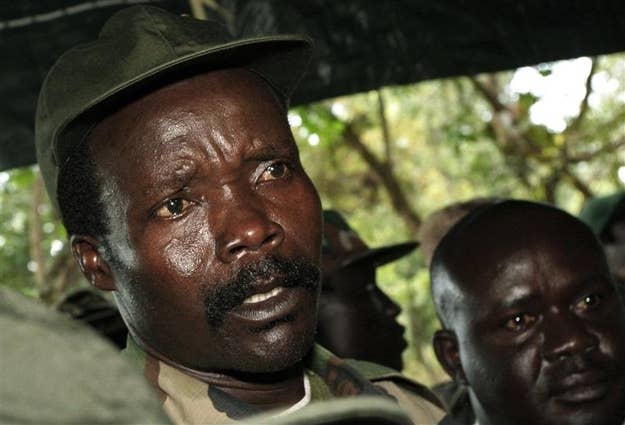 WASHINGTON — The State Department announced a new war crimes rewards initiative on Wednesday that will put a $5 million bounty on Lord's Resistance Army leader Joseph Kony as well as other African strongmen, including other LRA leaders Dominic Ongwen and Okot Odhiambo. The move highlights the unrest currently tearing apart swathes of Africa, as well as the Obama administration's failure so far to address international human rights issues in meaningful ways.
Ambassador-at-Large for War Crimes Issues Stephen J. Rapp spoke to reporters alongside Assistant Secretary for African Affairs Don Yamamoto and International Criminal Court prosecutor Fatou Bensouda, in a rare visit.
The war crimes rewards program came into effect as a result of legislation headed by Secretary of State (then Senator) John Kerry along with House Foreign Affairs Committee Chairman Ed Royce, that expands existing systems for bringing in war criminals and those suspected of genocide. The people sought "must be foreign nationals accused by any international tribunal of crimes against humanity, genocide or war crimes," Rapp said.
The State Department will offer up to $5 million for information leading to the individuals' arrest, depending on the quality of the tip and the risk taken by the informant.
The other subjects sought by the State Department include FDLR commander Sylvestre Mudacumura as well as a group of other fugitives from the Rwandan international criminal tribunal.
Rapp said the program was "strongly supported by the Pentagon and the White House" and that it is "something that could provide key intelligence" for the intelligence community. Regular civilians as well as U.S. government officials can receive the rewards.
Kony, the subject of a viral "Stop Kony" internet campaign last year, is back in the news recently because of the coup in the Central African Republic, where the LRA has waged a violent guerrilla campaign for years. The group is also active in the eastern Congo.