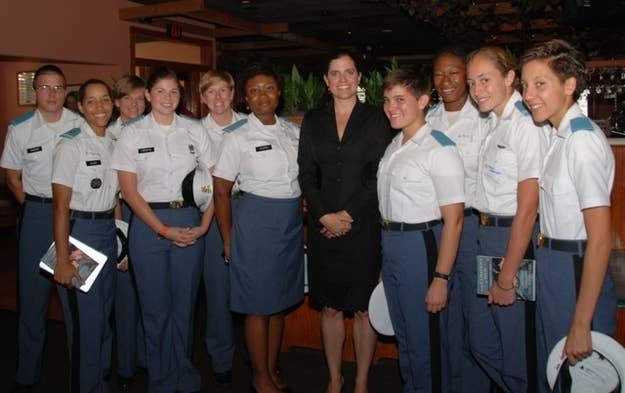 WASHINGTON — The first woman to ever graduate from the Citadel — who is also the co-owner of a controversial South Carolina political blog — is weighing a primary challenge to Senator Lindsey Graham in 2014, two Republican sources suggested Saturday.
Conservatives have long mulled a challenge to Graham, seen in some circles as too establishmentarian for the state's conservative grassroots, and allies of Senator Rand Paul — whose filibuster last week Graham denounced — hope State Senator Tom Davis, who backed Paul for president, will enter the race. But another conservative candidate could be Nancy Mace, best known in local political circles as the partial owner of FITSNews, whose name is short for "Faith In The Sound" after a George Michael lyric and which has for several years served as the center ring of the state's sometimes hallucinatory political circus.
"She's got an inspirational personal narrative, a gorgeous young family, the right ideological mooring and all sorts of political connections. Oh, and her name fits nicely on a 4X8," FITSNews founding editor Will Folks said in an email. "Obviously I'm a little biased, but there's a lot to like about her as a potential candidate in the event Tom Davis decides to stay out of it."
In a separate email, Mace didn't rule out a run, though she downplayed its likelihood.
"I would like to see someone credible step up to the plate and challenge Graham," she said.
"I'm a hard working small business owner and a mother who loves her children very much," Nancy Mace told BuzzFeed on Friday. "And when I see something that is wrong, I am not afraid to speak up. Public office may very well be something I consider one day, but the US Senate might be a bit much."
Mace wrote a book about her experiences at the Citadel, In The Company Of Men: A Woman At The Citadel and her firm publishes FITSNews, which found itself at the center of the state's politics when Folks — former Governor Mark Sanford's former press secretary — claimed during the 2010 race for governor that he'd had an affair with candidate Nikki Haley. She denied it, and the backlash helped elect her.
Graham's opposition to Rand Paul's filibuster "hurts him not only in South Carolina, but nationwide," Mace said. "He continues to illustrate just how out of touch he is with the conservative movement. A wolf can hide in sheep's clothing for only so long, but eventually you see its teeth revealing its true nature. Senator Graham's recent conservative charade, coincidentally just before his next re-election, may very well be over."
CORRECTION: Mace is FITSNews' co-owner, and FITS stands for "Faith In The Sound." An earlier version of this story misstated both points, due to an editing error. (3/9/2013).