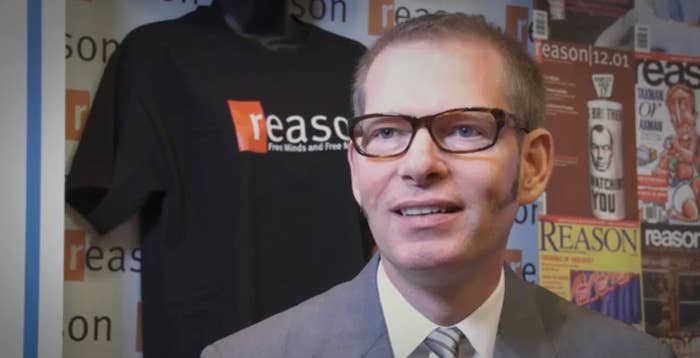 WASHINGTON — The tea party group FreedomWorks has fallen into dire financial straits, and was forced to take out a $1 million line of credit earlier this year, sources close to the organization told BuzzFeed.
The conservative nonprofit, which raised more than $40 million in 2012, has brought in less than $10 million this year, according to the sources. And former employees say the group's rank and file have grown increasingly frustrated with what they view as management's exorbitant expenditures, including a pricey craft beer bar and fancy Las Vegas hotel rooms that rack up thousands of dollars a night in charges.
FreedomWorks spokeswoman Jackie Bodnar did not deny the spending or the debt, but she broadly dismissed the claims as accusations from disgruntled former employees.
"Someone has clearly contacted you with the rumors being spread about FreedomWorks, and they are part of a series of baseless attacks from salty former employees who have decided to spend their days spreading lies rather than working to advance the movement," Bodnar said. "It's really unfortunate to watch the malice unfold from these nameless accusers who lurk in the shadows of 'deep background' interviews."
But six independent sources familiar with FreedomWorks described the organization as one with deeply mismanaged finances, an unclear mission, and what one former employee called a "toxic" work environment that has contributed to low morale and a general rush for the exits.
The disarray represents a staggering fall from power for an advocacy group that was widely credited with turning the grassroots fervor of 2010 into a wave election year for Republicans. FreedomWorks — which has been instrumental in getting dozens of federal candidates elected, including tea party darling Sen. Ted Cruz — was described by The New York Times in 2010 as having "done more than any other organization to build the Tea Party movement." Their early influence was largely manifested in identifying obscure, conservative candidates in races across the country — often in GOP primaries — and channeling volunteers and significant financial resources toward helping them win. FreedomWorks began as a Koch brothers-funded group called Citizens for a Sound Economy, which eventually split into two groups, one of which became FreedomWorks. In recent years, the organization has depended heavily on Dick Stephenson, a major donor in Illinois.
But several sources said the group has lost clout and fundraising ability since the 2012 election, and especially since FreedomWorks co-chairman Dick Armey staged a high-profile coup attempt last September, during which he attempted to wrest control away from the two top executives, Matt Kibbe and Adam Brandon. Armey agreed after a few days to leave the group in exchange for $8 million.
"This year I would say that an educated guess at where they're [for fundraising] at is on the low end $3 million and on the high end $9 or 10 million," said one former employee. Two sources with intimate knowledge of the financial situation at FreedomWorks said the organization had raised less than $2 million in the first quarter of 2013.
A drop-off in fundraising was to be expected for FreedomWorks in an off-cycle year. But insiders say the new financial woes go hand in hand with an internal spendthrift culture, and a growing divide in the organization over what FreedomWorks should be focusing on.
The new strategy has been met with skepticism by some inside FreedomWorks.
"My own view was our two big partnerships were with activists and with contributors, and the movement to the internet and away from the real grassroots was going to diminish both," said a former high-level FreedomWorks employee. "It appears that that's what's happened."
What's more, as the tea party matures and becomes a more attractive target for institutionalization, FreedomWorks is facing more competition than ever. Those upstarts include the Senate Conservatives Fund — a group that has been at the forefront of the shutdown battle, threatening to finance primary challenges to any Republican who doesn't hold the line — and Heritage Action.
The Senate Conservatives Fund is "sucking the oxygen out of the room when it comes to the primary election piece of what FreedomWorks used to do," said one former employee. "And Heritage Action has grown tremendously as far as organizing the grassroots activists goes."
Apart from that, FreedomWorks is "top heavy on management and personnel and perks," the former high-level employee said. The source cited, for example, an $8,000 hotel bill Kibbe ran up in Las Vegas. Bodnar did not deny the charge.
Some former employees also questioned the value in FreedomWorks' sponsorship of Glenn Beck's network The Blaze, which one source said cost the organization $1 million last year. (A spokesperson for Beck declined to comment on the specifics of the arrangement.)
FreedomWorks' money problems culminated in taking out a $1 million line of credit earlier this year. BuzzFeed obtained a text message between two employees confirming that the money had been borrowed, which one employee describes in the exchange as a "line of credit to have extra cash as I understand it."
Bodnar, the FreedomWorks spokesperson, declined to comment specifically on the loan or to provide fundraising figures.
"FreedomWorks is on track exactly where we anticipated being for the year," Bodnar said. "We operate on a two-year budget cycle and are far ahead of where we were at this point in 2011."
Sources close to FreedomWorks said discussion of fundraising was once a main focal point of the regular Tuesday staff meeting, but that fundraising numbers are no longer mentioned in those meetings.
"Last year, every Tuesday's staff meeting began with a report on how much money had been raised in comparison to the year before," said one former employee. "The morale was great because they had consistently doubled their funding. This year, numbers are never mentioned, other than 'now we work in two-year cycles and it would be wrong to compare numbers to last year.' That wasn't the case last year and office morale is terrible."
Since the now infamous coup attempt last year, there has been a deepening divide between Kibbe, the other executives, and a group of loyalists, and the other employees, insiders said.
The loyalists are the ones who support FreedomWorks' partnership with The Blaze, and who worked to push out Armey last year, a former employee said. The group of favored employees would regularly meet at Kibbe's house and socialize after work, "to just kind of participate in like a therapy group." Those on the outside felt alienated.
"Morale is at an all time low," the former employee said. "It's a really toxic, almost poisonous environment."
The mood further deteriorated after The Daily Caller published a story in September that was based on a leaked internal email. According to multiple sources, Executive Vice President Adam Brandon was granted access to the office email system after the story came out and began reading employees' emails.
Bodnar did not deny that Brandon read employees' emails.
Sources describe a culture where fiscal conservatism is ostensibly prized, but staff dine out at fancy restaurants on the company's dollar and a microbrew bar in the office with four kegs (Kibbe is a craft beer aficionado) is paid for with FreedomWorks money.
"At every conference they go to they stay in the best hotels, and it just doesn't seem appropriate," one former employee said.
But Bodnar shrugged off the claims, saying FreedomWorks is focused on its work.
"We're moving full steam ahead in our efforts to help grassroots conservatives keep the pressure on Congress to defund and/or delay Obamacare, and I hope that any bored former employees move on in their lives," Bodnar said. "We're kind of busy over here."