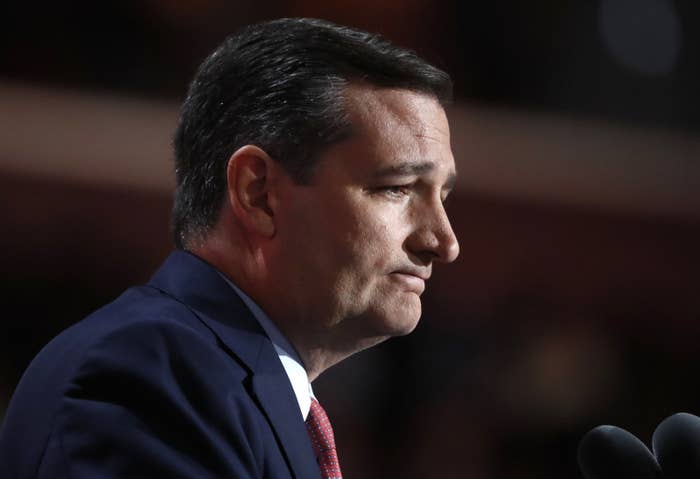 WASHINGTON — Two months after withholding his endorsement from Donald Trump at the Republican convention, Ted Cruz announced on his Facebook page on Friday that he is endorsing Trump.
"After many months of careful consideration, of prayer and searching my own conscience, I have decided that on Election Day, I will vote for the Republican nominee, Donald Trump," Cruz wrote.
Cruz specifically cited the inclusion of Sen. Mike Lee on a list of potential Supreme Court picks put out by the Trump campaign as a reason he is now supporting Trump.
"A year ago, I pledged to endorse the Republican nominee, and I am honoring that commitment," Cruz wrote, although he had said in July that the pledge was "abrogated" because of Trump's attacks on his family.
A source with direct knowledge of the situation had told BuzzFeed News earlier on Friday that Cruz would announce some kind of support of Trump sometime on Friday or Saturday.
One of Cruz's top endorsers in Iowa, radio host Steve Deace, tweeted earlier on Friday that "I hope I'm wrong, but I think a man I admire will today make the worst political miscalculation I've ever witnessed."
Cruz, who was the last man standing against Trump in the primaries, has been one of the longest-lasting holdouts among top Republican officials to refuse to endorse his party's nominee. Cruz was under pressure to do so at the convention in Cleveland, but refused, instead encouraging the audience to "vote your conscience" in November and offering a broad defense of conservatism.
The backlash to Cruz's speech was swift and severe. The day after, Cruz had a contentious visit with members of the Texas delegation to the convention, many of whom were angry with his choice. That day, Cruz said that he wouldn't be a "servile puppy dog" and endorse Trump. Soon afterwards, Republican donors Bob and Rebekah Mercer, who had been among Cruz's biggest backers during the primary, publicly rebuked Cruz, saying they were "profoundly disappointed." (The Mercers have thrown their support behind Trump.) And in the time since, Cruz's favorability numbers have taken a hit in Texas, where he is up for re-election for his Senate seat in 2018 and where he might be challenged in a primary by Rep. Michael McCaul.
During the primary, Trump attacked Cruz's wife and father, and Cruz eventually called Trump a "pathological liar" and "amoral."
Not every member of Cruz's inner circle appeared aware of the move on Friday, and there has been disagreement within his top ranks about the endorsement. One person who worked on Cruz's campaign, when asked if the endorsement was coming on Friday, responded, "I certainly hope not." The source said among those close to Cruz, not everyone is on board with the decision.
Cruz's former communications director Rick Tyler told BuzzFeed News he was "profoundly disappointed" in the endorsement and said he was taking the Cruz sticker off his car. Asked if he still considers himself a Cruz supporter, he said "I"m going to see what's going to happen."
Cruz campaign manager Jeff Roe has said since the convention speech that the door to an endorsement was still open, and hinted that an endorsement could come soon at an event on Thursday, saying Cruz thinks about endorsing Trump "every day."
Trump campaign manager Kellyanne Conway, who was the president of a Mercer-backed pro-Cruz super PAC during the primaries, told BuzzFeed News she had been in touch with Roe in the process of obtaining Cruz's endorsement.
A spokesperson for Cruz did not immediately return a request for comment.