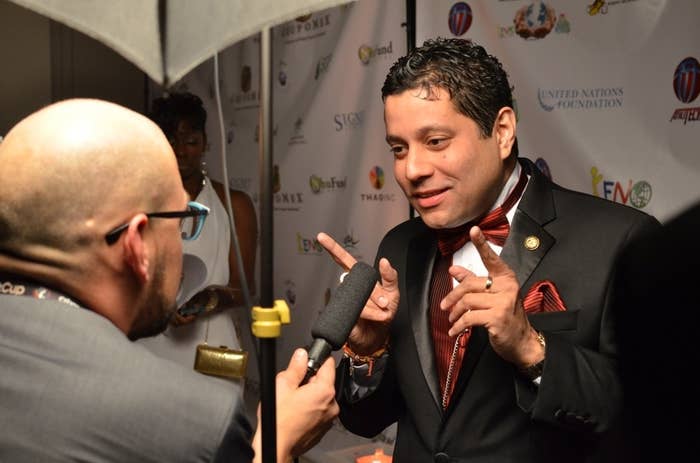 WASHINGTON — As thousands of people partied nearby at the Convention Center for the marquee official Inaugural Ball on Monday, a smaller crew gathered at the Carnegie Library for the Ambassadors Ball, a fête of Washington's diplomatic and international community and one of dozens of unofficial balls taking place on the night of the inauguration.
But the foreign policy world's heavy hitters were elsewhere; instead, most of the Ambassadors Ball's diplomats hailed from some of the world's tiniest nations, like Lichtenstein and Trinidad and Tobago, and the party's vibe was less stately and more like a prom or bar mitzvah. The main room was slightly too bright, with swirling colored lights, and people danced the Cha Cha Slide at one point. The room was filled with lots of out-of-towners looking for a ball, any ball, to attend, as well as some experienced party hoppers on their third or fourth ball of the night.
As for President Obama, their reason for being there, many of the diplomats and ambassadors either don't expect too much of him or wish he would do more for their countries. "What happens in America affects other countries in more ways than one," said Botswana's ambassador to the United States, Dr. Telebelo Seretse. She said she didn't mind that Obama's inaugural address was relatively light on foreign policy. "He has too many issues on his mind right now. We're all looking forward to whoever the next Secretary of State will be."
Asked if Obama could do more for her own country, Seretse said that Botswana needs relatively little help compared to some other African nations. "Botswana is the model democracy in the region," Seretse said. "People talk about Africa as if it's all one country."
Others were less inclined to forgive Obama for a focus on a select few foreign policy issues. Adam Ouologuem, the Washington bureau chief for the African Sun Times and former president of the Malian Association in Washington, criticized Obama for not doing more to aid the French military actions in her home country of Mali.
"We need more help from the U.S.," Ouologuem said. "Barack Obama should wake up and do something for Mali. The French alone can't do it."
Ouologuem said that the country of Chad had sent more help than the U.S., and that Malians wanted logistical assistance from the U.S. military. But most were relatively indifferent.
Bastiaan Bolt and André Hoeneveld, diplomats from the Caribbean island of St. Maarten ("Well, we have diplomatic passports"), were standing off to the side eating hors d'oeuvres.
"No," Bolt said when asked if Obama had ever visited St. Maarten.
"He was invited, but no," said Hoeneveld, the Director of the Cabinet of St. Maarten's governor.
But Obama, love him or hate him, was just an excuse for a party. A succession of diplomats — Tanzania, Panama, Guatemala — paraded down a red carpet and made remarks from the stage, including the event's chair of the host committee, Trinidad and Tobago's Neil Parsan. Parsan sported a red bow tie, red vest, and red pocket square with his tuxedo. The Washington Post noted last week that Parsan's ball was the first to do robo-calls for ticket sales; "Will they pull it off?" the Post asked.
The event also featured some more obscure celebrities, like this year's Miss USA, Nana Meriwether, as well as her younger counterpart Miss Teen USA. Biz Markie was expected to arrive, and CNN contributor Roland Martin showed up around 10:30. Martin wore a white ascot and stood for photos on the red carpet.
"Oh, this is my fifth ball in two hours," he said.
And the gala attracted a very Washington mix of minglers and hangers-on, including one middle-aged man who said he was an "ambassador-in-waiting" and assured BuzzFeed that the bigwigs would be arriving any moment now. He wouldn't give his name.
The man said he had paid $750 for his ticket. What did he do for a living, if not a real ambassador-in-waiting?
"I'm a lobbyist. What else does anyone do around here?"