Sidney Blumenthal Passed Clinton Messages From British Officials
The longtime Clinton confidant appears to have been informally offering information about more than just Libya while she was secretary of state.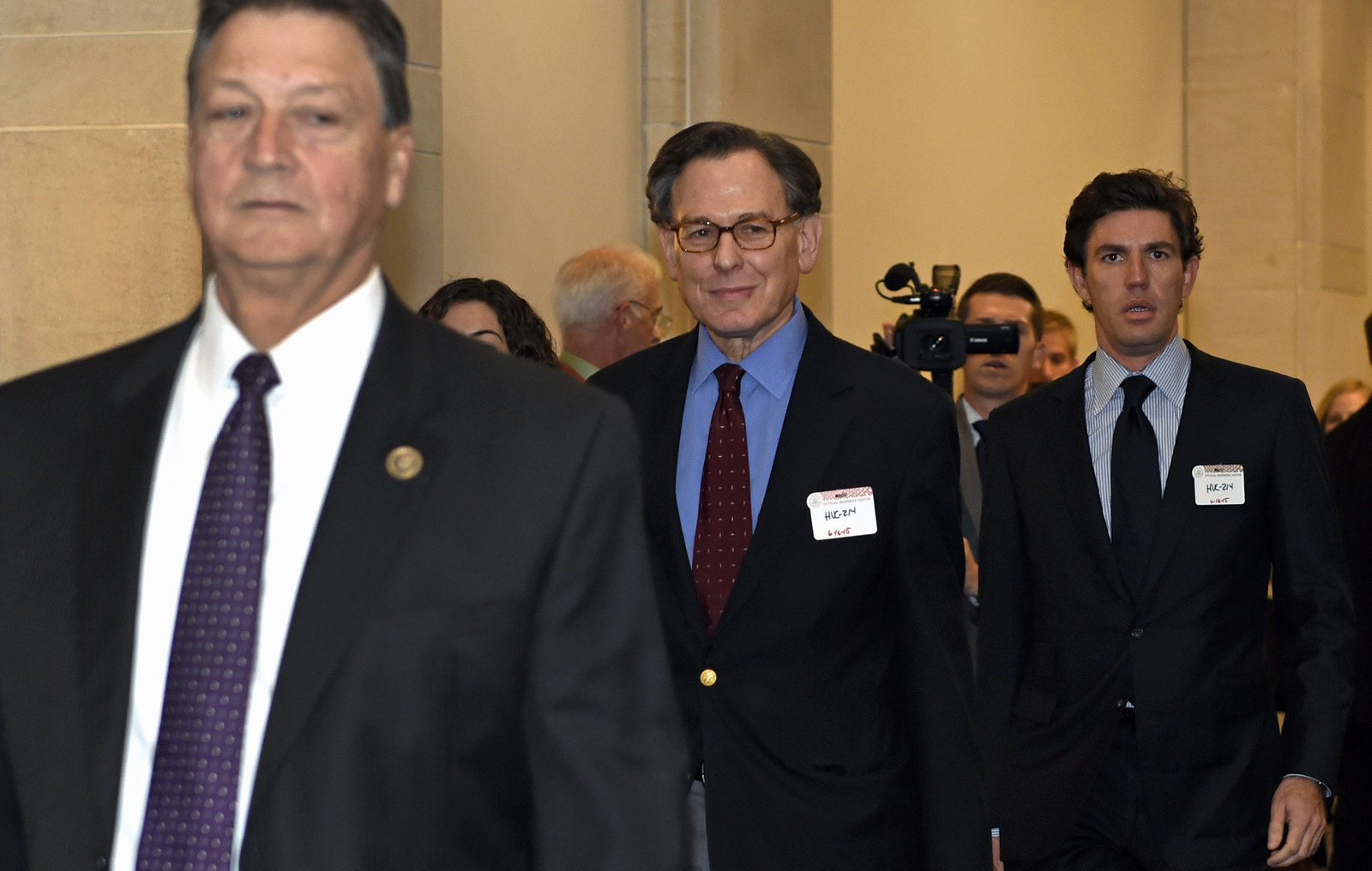 In addition to advising then-Secretary of State Hillary Clinton on Libya matters, longtime Clinton confidant Sidney Blumenthal advised her about British politics in 2009, according to emails released by the State Department on Tuesday.
In some of those messages, Blumenthal claims to be passing on information directly from British government officials.

The emails about U.K. politics, many of which are very detailed, indicate that Blumenthal's attempts to advise Clinton on diplomacy and policy began early on in her tenure at the State Department, and went beyond the country of Libya.
Clinton's responses to him also seem to cut against her claim that his memos were "unsolicited": In several of the email threads, Clinton responds by asking Blumenthal to call her or when she can call him, or asking him a follow-up question.

Blumenthal has become a renewed source of controversy in recent weeks, as his under-the-radar intelligence-gathering operation on Libya and subsequent contacts with Clinton have become a key part of the maelstrom surrounding a House committee's investigation into the Clinton State Department's handling of the Benghazi attack. The State Department released a new batch of Clinton's emails sent to and from her personal email account on Tuesday night.
On Aug. 9, 2009, Blumenthal wrote to Clinton suggesting a Northern Ireland panel at the Clinton Global Initiative, telling her that then-Secretary of State for Northern Ireland Shaun Woodward had "suggested a panel at CGI to be conducted by former President Clinton of British and Irish prime ministers, and perhaps leaders in NI, under the theme of 'Implementing Peace'" and that former President Bill Clinton had "conveyed to me his approval, contingent on approval of the State Department." Blumenthal attached a note from Woodward suggesting the panel.
Clinton forwarded the email to her close aide Huma Abedin, saying she thought it was a "good idea" and that she saw "no conflict"; Clinton also sent that email to Doug Band, a former aide to Bill Clinton.
The panel does appear to have taken place at the CGI Forum that year.
Blumenthal even passed on messages from the British prime minister himself. On June 14, 2009, Blumenthal wrote to Clinton about a conversation he had had with then-Prime Minister Gordon Brown and Woodward:
Gordon Brown called me today to convey his very best to you, etc, etc, taking the phone from Shaun, in the office they now work in together, right after Shaun briefed me that he and Gordon will be meeting with Martin McGuiness together on Wednesday and may want your help with Adams. I said that he and Gordon should let me know before Wednesday whether your involvement is essential and what they request. That is fine with them and Shaun will get back to me. Sid
(The "Adams" referred to there is likely Sinn Fein leader Gerry Adams).
Blumenthal sent several emails to Clinton during 2009 giving her what he said was inside information on how those inside the Labour Party were responding to the European Parliament elections of that summer, in which Labour suffered a major defeat.
"Hillary: Spoke with Jonathan Powell. What we heard is accurate. More: Labour will suffer a large defeat in the European elections on June 4," Blumenthal wrote on May 22, 2009. Powell is a former diplomat and advisor to Tony Blair. The rest of the email details how Blumenthal was told that Brown, in order to draw attention away from their impending loss in the EU parliament elections, was planning a cabinet reshuffle.
"Tony sees the situation as terminal," Blumenthal wrote, presumably referring to Tony Blair. "Hope to speak with him soon. He is trying to become President of Europe if and when Lisbon treaty passes. Jonathan made an interesting and ironic comment about Colin Powell, given Tony's deference to him, that Powell's flaw was being too deferential to Bush. From bitter experience, Jonathan is wishing you well, be close to the president, and advance your ideas, too. There's more for when we can talk."
"Very sorry to read this confirmation," Clinton responds. "Email if and when it would be convenient to call you."
Blumenthal then proceeded to send Clinton multiple memos detailing who was up and down in the cabinet reshuffle.
On Oct. 31, 2009, Blumenthal sent Clinton a memo about how David Cameron, then the opposition leader, had "seriously damaged his relations. with the European leaders" by sending a letter to then-Czech President Vaclav Klaus asking him not to sign the Lisbon Treaty, a set of amendments to the treaties that formed the European Union. Blumenthal suggests this could help Blair's efforts to become President of the European Council.
"That is so revealing--and wacky--but it perhaps leaves a very small oipening for Tony. What do you think? Happy Halloween from Abu Dhabi!" Clinton responded.
Blumenthal was on the payroll of the Clinton Foundation starting in 2009, according to Politico, though it is unclear to what extent that overlapped with his advising on the U.K.
Spokespeople for Clinton did not immediately return a request for comment.
"Mr. Blumenthal has covered much of this in his deposition and we are urging the Committee to release it so others can see what he said. We have nothing to say beyond what is in the deposition," said Kellie Mullins, a spokesperson for Blumenthal.