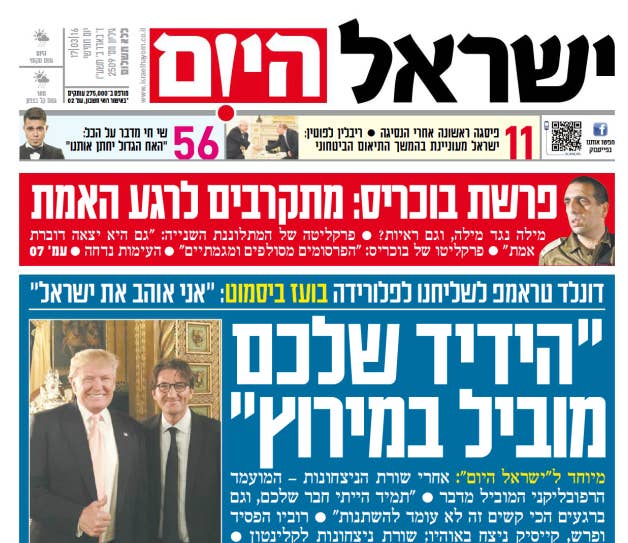 Israel Hayom, the Israeli newspaper owned by casino magnate Sheldon Adelson, has featured Donald Trump three times on its cover in the last week.
The latest example: an interview with Trump led the paper yesterday, conducted by Israel Hayom's columnist Boaz Bismuth. In the piece, Trump is interviewed at Mar-a-Lago, telling Bismuth that his candidacy is "tremendous news for Israel. Your friend is leading in the primaries. I've always been your friend."
Not only has Israel Hayom repeatedly highlighted Trump, but Adelson himself has publicly accepted the idea of Trump as the nominee. Earlier this week, Israeli reporter Tal Schneider reported that Adelson, regarding Trump's candidacy at an gala honoring Rudy Giuliani in February, responded, "Why not?"
"Trump is a businessman. I am a businessman. He employs a lot of people. I employed 50,000 people. Why not?" Adelson reportedly said.
Adelson, who spent $20 million on Newt Gingrich during the 2012 primary and went on to back Mitt Romney, has sat out this election so far. For a long time he was said to be favoring Marco Rubio, while his wife Miriam was partial to Ted Cruz, but the Adelsons didn't financially back either of those candidates, and now Rubio is out of the race.
These signals coming from Adelson-world don't necessarily mean Adelson will offer his financial support to the Trump campaign or to an entity supporting him. But they could mean that he's unwilling to oppose him, just as the Republican Party establishment is more desperate than ever to stop Trump from clinching the nomination.
What makes this strange is the fact that Trump does not align with Adelson's strong pro-Israel views. Trump has said that he's "neutral" on the Israeli-Palestinian conflict, and unlike his rivals has not promised to end the Iran nuclear deal on day one, though he has said the current one was badly negotiated.
Adelson's political adviser didn't respond to a request for comment.