Senators Half-Heartedly Predict Trouble For Brennan
Even Lindsey Graham doesn't sound that enthusiastic.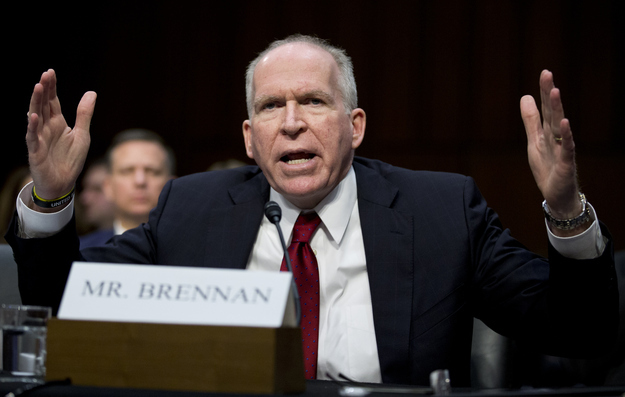 WASHINGTON — As the fight over Chuck Hagel's Secretary of Defense nomination comes to an anti-climactic close Tuesday with his likely confirmation, Republicans are suggesting they will mount a similar opposition to CIA director nominee John Brennan — but their hearts just don't seem in it.
Two of the main players in the Hagel opposition, Senators Lindsey Graham and John McCain, voiced rote disapproval of Brennan on Tuesday but offered little comment about him. Asked if he expected there to be as much furor over Brennan's nomination as there was over Hagel's, Graham said, "Eventually."
"I don't know yet" about voting for Brennan, said Graham, who has been one of Hagel's most vociferous opponents from the start. On a Sunday show a couple weeks ago, Graham threatened to hold Brennan's nomination unless the administration provides more information about the Benghazi attack.
"We should have answers to the questions we've been asking for two weeks," said John McCain, almost as an afterthought, while boarding the train under the Capitol.
But McCain predicted that the drawn-out Hagel nomination wouldn't have an effect on how Republicans handle Brennan's nomination.
"Not that I know of. They're separate issues," he said.
"I think he's well qualified, but some of our members have a lot of questions," said Tennessee Senator Bob Corker. "We'll see. Did he have his hearing yet? I want to see a transcript of that."
The most passionate opposition is coming from Rand Paul, who has threatened to hold Brennan's nomination and said at the New York Meeting on Monday, "I know people are hot and heavy on the Hagel thing — I'm more hot and heavy on the Brennan thing."
But in the same appearance, Paul acknowledged that "the president has the prerogative to determine political appointees."
The other main well of anti-Brennan feeling is coming from Oregon Senator Ron Wyden, who, as Eli Lake wrote on Tuesday, has formed a kind of anti-drone odd couple in the Senate with Paul.
The opposition to Brennan centers on two issues: Benghazi for the Republicans, and the release of documents relating to drone killings for the Democrats, said Carl Levin, chair of the Senate Armed Services Committee, after the Hagel cloture vote.
"There's an issue on the Democratic side in terms of seeing documents," Levin said. "That really kind of faded away on Hagel because every document that could be provided was provided."
The Brennan confirmation process "could get a little more complicated," Levin said. "Some of the opposition to Hagel was really over the top and I think kind of answered itself at the end, it was sort of self-defeating. I don't know if there's any of that with Brennan."
In other words, the fight over Brennan will be at the same time much quieter and much more substantive than that over Hagel.
"People may disagree, the administration may disagree whether Congress has the right to documents for instance, but that's not viewed as kind of an over the top demand the way that it was with Hagel which led to it being counterproductive to those who made it," Levin said.