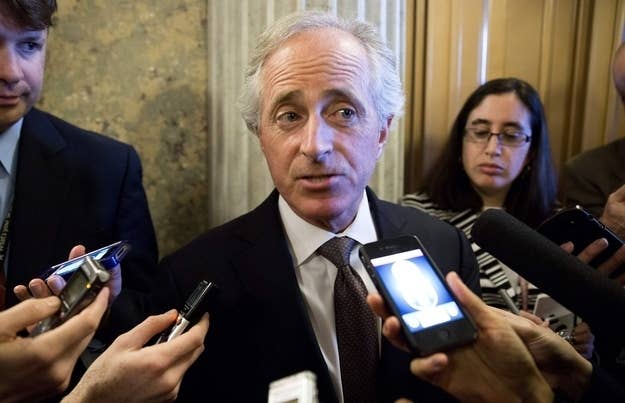 WASHINGTON — Sen. Bob Corker has proposed the idea of scheduling a vote on Iran sanctions six months from now, after the interim nuclear agreement has run its course, instead of voting on sanctions right now.
Corker said Thursday that he had suggested the idea to Senate Majority Leader Harry Reid during a closed-door briefing for senators by lead Iran negotiator Wendy Sherman on the implementation agreement with Iran that is due to kick in on Jan. 20, the text of which was released to Congress today. The Senate is mulling a new sanctions bill introduced by Sens. Mark Kirk and Bob Menendez that is currently stalled pending a vote scheduled by Reid.
"One of the things I posed to the leader was look, why don't we schedule a vote for July the 21st, that's six months after the implementation date and if they haven't reached an agreement that we believe is satisfactory, let's implement on that day," Corker, the ranking member of the Senate Foreign Relations Committee, told reporters after the briefing.
"When you think about it, we could almost have more leverage in some ways for a vote prescheduled right now for July the 21st," Corker said. "Scheduling a Senate vote the day after in some ways can put even more pressure on the situation."
Sen. Carl Levin, who was also in the briefing, said that Corker's solution "doesn't sound workable."
"There's a lot of things in that bill that wouldn't make any sense on July 21," Levin said. "By then we could vote on whether or not we wanted to not adopt it. There's another problem with that approach, which is you can extend the July 21 by up to six months with mutual consent."
Democratic senators who exited the briefing stayed mostly mum ("I'm a desert like California. No water here," said Sen. Dianne Feinstein), though Republican senators Corker and Lindsey Graham said they didn't think Sherman made a convincing case that the deal was a good deal.
"I'm more disturbed now than ever after the briefing," Graham said. "The end game being contemplated is not even in the ballpark of what I would consider an endgame."
"Nothing was said to change my mind" on sanctions, said Sen. Jim Inhofe.
"I think many of us are very concerned about the fact that the administration still has never stated what their end game is," Corker said, echoing Graham.
Corker said he believed the meeting had "built momentum towards those sanctions."
"I completely disagree," said Sen. Tim Johnson when asked if he thought the meeting had boosted support for sanctions.
"Quite the opposite," Levin said. "I think it was a very persuasive briefing that there should not be a vote while negotiations are going on because it could undermine the possibility of success."