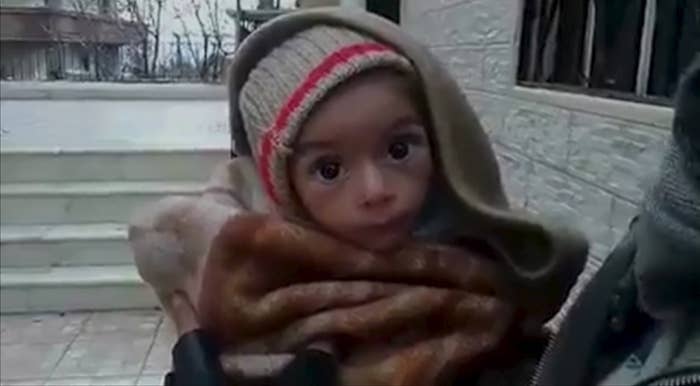 Sen. Bob Casey has told the Obama administration he is "appalled" that the United Nations allowed the regime of Syrian President Bashar al-Assad to censor parts of a humanitarian aid plan, in a letter being sent to the State Department on Thursday and obtained in advance by BuzzFeed News.
The letter follows reporting by BuzzFeed News last week that the U.N. had changed parts of a humanitarian aid plan for Syria after consulting with the Assad regime, removing the words "besieged" and "sieged," references to a de-mining program, and references to violations of international law.
The censorship came to light after revelations of extreme starvation in the Syrian town of Madaya, which has been besieged by regime forces.
Casey, a Democrat from Pennsylvania, is urging the State Department to "insist that UN-produced assessments and humanitarian aid plans accurately reflect conditions on the ground, not the political concerns of the Assad regime." Casey's letter, addressed to Secretary of State John Kerry and U.S. Ambassador to the U.N. Samantha Power, states that he is "appalled" by the reports that the Assad regime was allowed to censor parts of the document, which lays out a $3.1 billion aid plan.
U.N.-sponsored Syria peace talks are scheduled to begin in Geneva on Friday, though the Syrian opposition is balking at participating in the talks. The U.S. is encouraging the opposition to participate.
The letter reads as follows:
The Honorable John Kerry

Secretary

U.S. Department of State

2201 C Street NW

Washington, DC 20520

The Honorable Samantha Power

Ambassador

United States Mission to the United Nations

799 United Nations Plaza

New York, NY 10017

Dear Secretary Kerry and Ambassador Power:

As the fifth anniversary of the conflict in Syria rapidly approaches, it is more important than ever that the United States lead the effort to end this terrible violence and give the people of Syria an opportunity to begin rebuilding their lives and their country. I commend the work carried out under your leadership to help the people of Syria. The State Department and USAID have mobilized a remarkable humanitarian aid effort thus far.

I am particularly concerned about the profound impact that the indiscriminate attacks and sieges by the Assad regime and its supporters, like the terrorist group Hezbollah, have had on the civilian population. Bashar al-Assad and the oligarchs that surround him have long since lost any legitimacy as the leaders of Syria, but we need not accept the false choice he has presented the world: his continued rule, or the rule of ISIS.

The siege of the Damascus suburb of Madaya is a clear example of the regime's brutality. We have all seen the pictures and videos of the desperate mothers, carrying their emaciated and starving children through the streets of that town. By one estimate, more than 40,000 people have been affected as the regime and Hezbollah have cut off all commerce and humanitarian aid, in an effort to starve civilians into submission. The two shipments of humanitarian aid that finally arrived this month provide temporary relief, but the crisis continues. Madaya is not the only community experiencing this type of trauma.

I was appalled to read recent news reports indicating that United Nations consultations with the Assad regime led to revisions to a humanitarian aid document that diminish the severity of the Madaya situation and the regime's indiscriminate and violent treatment of civilians more generally. The Assad regime remains in violation of numerous UN Security Council resolutions regarding the provision of humanitarian assistance inside Syria and regarding the use of indiscriminate weapons of war, like barrel bombs and chlorine gas, against civilian targets. I urge you to insist that UN-produced assessments and humanitarian aid plans accurately reflect conditions on the ground, not the political concerns of the Assad regime, which is responsible for most of this humanitarian crisis.

A negotiated political solution that ends the rule of Bashar al-Assad, the greatest magnet for ISIS recruiting, and his inner circle, must be reached. I welcome your continued efforts to reinvigorate negotiations towards this end. With political talks scheduled to begin later this week, I strongly urge that you use this platform to make progress on humanitarian access and civilian protection issues. As Ambassador Fred Hof recently wrote, "Civilian protection is table ante for the process: even before ceasefire arrangements between combatants. Without it, good faith negotiations are impossible. Without it, ISIL will harvest many more recruits: in Syria and around the world."

Further, I urge that the State Department use the upcoming humanitarian donors' conference as an opportunity not simply to make a single, albeit generous, contribution to the effort, but to demonstrate our sustained leadership by making an enduring pledge of aid that humanitarian assistance providers can count on. I also urge that you accelerate efforts to secure contributions from non-traditional donor countries, like the Gulf States. Humanitarian organizations have struggled to work through significant shortages when donors' pledges of support have fallen short of their requirements.

As I wrote in September, the U.S. must continue to lead on the political, humanitarian, and multilateral elements of this conflict. It is in our national security interest, because we cannot expect to affect a lasting defeat of ISIS without setting Syria on path towards peace.

Thank you for your leadership during this critical time and for your consideration of my views.

Sincerely,

Robert P. Casey, Jr.

United States Senator