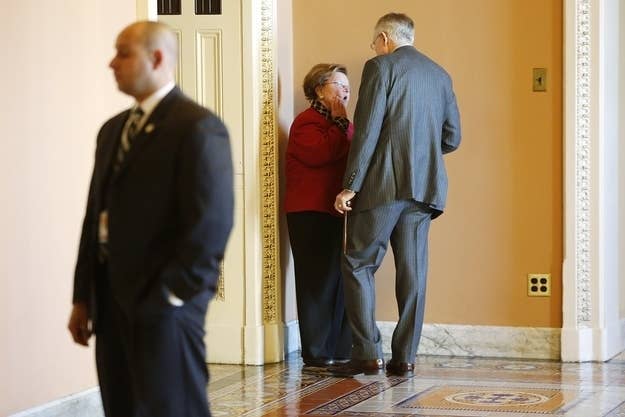 WASHINGTON — A key Democratic senator is holding out on the Iran sanctions bill despite pressure from lobby groups.
A spokeswoman for Sen. Barbara Mikulski said the senator was "skeptical" a nuclear deal with Iran could work but that the administration should be given "a limited amount of time and flexibility" to negotiate.
Mikulski "has been a staunch supporter of Israel and sanctions for 37 years," her spokeswoman, Rachel MacKnight, said late on Friday. "She believes sanctions brought Iran to the table. Now that they've come to the table, she believes the administration should have a limited amount of time and flexibility to negotiate with Iran while keeping open the options for additional sanctions."
"Senator Mikulski remains skeptical that Iran can come through," MacKnight said. "She insists that we can accept a deal only if it's good for both the US and Israel -- but believes we have to try."
Mikulski has been one of the most contested votes still up for grabs in the fight over the Iran sanctions bill introduced by Senators Kirk and Menendez. She has the target of an email campaign from the American Israel Public Affairs Committee, which sent out an action alert on Friday asking members to call her office and ask her to vote for the bill.
As passionate supporter of AIPAC and the U.S.-Israel relationship, there are times that we ask for your help – today is one of those critical moments.

Before leaving for the holiday recess, Senators Robert Menendez (D-NJ) and Mark Kirk (R-IL) introduced the Nuclear Weapon Free Iran Act of 2013 with more than two dozen of their colleagues -- you can learn more about the bill by watching this video. This important legislation will strengthen America's effort to prevent Iran from achieving nuclear weapons capability through diplomatic means. At the time of writing this email, the bill has already garnered 59 co-sponsors.

Senator Barbara Mikulski (D-MD), who has long been a friend of the pro-Israel community, has not joined as a co-sponsor yet. I am asking you to take a minute today to call the Senator's office and urge her to join her colleagues in co-sponsoring this bill. It is important that the senator hears from the pro-Israel community throughout Maryland. There is additional information about the bill in the Action Alert below.

Here is the direct line to the Senator's office: Senator Barbara Mikulski: 202-224-4654
Before you make that call take the time to read an important op-ed from today's Washington Post by Senator Robert Menendez: A diplomatic insurance policy against Iran
Thank you in advance for your support and efforts in strengthening the US-Israel relationship,
Deborah

Deborah Adler
Area Director
Sixteen Democrats have signed on to cosponsor the bill as sources close to the process say that the threshhold of 67 votes necessary for a veto-proof majority has been reached. Negotiators have moved closer to implementing an interim agreement on Iran's nuclear program reached in November, the New York Times reported.
The White House released a statement on Thursday that accused Democratic senators who support a new round of sanctions during the latest round of nuclear negotiations of angling for war.
"If Congress passes this bill, it will be proactively taking an action that will make diplomacy less likely to succeed," read the statement from Bernadette Meehan, spokesperson for the National Securit Council. "The American people have been clear that they prefer a peaceful resolution to this issue. If certain members of Congress want the United States to take military action, they should be up front with the American public and say so. Otherwise, it's not clear why any member of Congress would support a bill that possibly closes the door on diplomacy and makes it more likely that the United States will have to choose between military options or allowing Iran's nuclear program to proceed."