Scott Walker Supporter Arrested At Bill Clinton Rally
A lone Walker fan's disruptive presence at a rally for Democrat Tom Barrett landed him in handcuffs. Wisconsin is heated in the leadup to June 5's recall.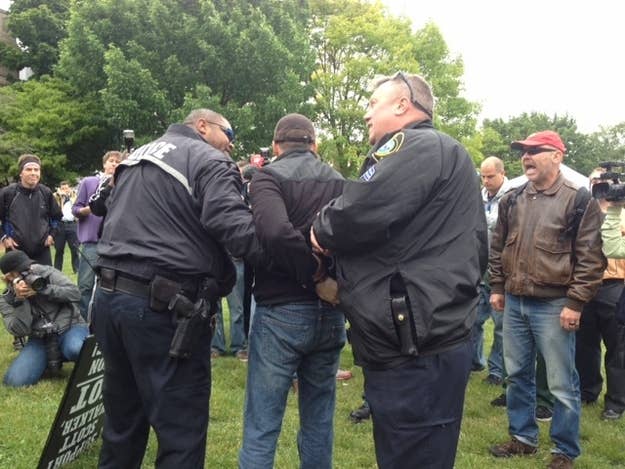 A lone Scott Walker supporter was arrested at a campaign rally for Milwaukee mayor Tom Barrett today, where Bill Clinton also spoke. The man had been arguing with rally attendees since before the rally began, and held a sign that said "Support Scott Walker, Not Union Thugs."
After the end of Clinton's speech, the man was taken away by police and taken to the corner of Pere Marquette Park in downtown Milwaukee as the police waited for their car to arrive.
The arrest was the latest in a long series of incidents in a race marked by intense, personal bitterness on both sides.
"I have no idea why I'm being handcuffed," he told the gaggle of reporters who had followed him. "They won't tell anybody what I did wrong. What rally specifically do I get to peacefully protest?"
A crowd of Barrett supporters formed around the Walker supporter, yelling "Why agitate the people?" and "Bye-bye!" as he was led into a police car.
A police officer on the scene would not say why the man had been arrested.
The man has been identified in previous news stories as David Willoughby, a swimming coach at the University of Wisconsin-Milwaukee. He stood in the middle of the crowd at the Clinton/Barrett rally holding a tall sign and was repeatedly asked by volunteers to move. One volunteer asked him to "move to the left of the press." Willoughby refused.
His presence, which was vocal, angered many in the crowd, especially when he yelled "Tell me how you're going to create jobs!" repeatedly as Barrett and Clinton spoke. He argued with Barrett supporters for the duration of the rally and even drew attention from speakers on the stage; Democratic Party of Wisconsin chairman Mike Tate mentioned him twice. One man in the crowd said he would "take him out," and a woman told him "I'm a union thug and you're ignorant as hell!"
Willoughby wouldn't give his name to BuzzFeed but said that he is a former union worker who was threatened and harrassed when he left his union.
"Unions had their time and place, a long time ago," Willoughby said. "Now they're just political pawns."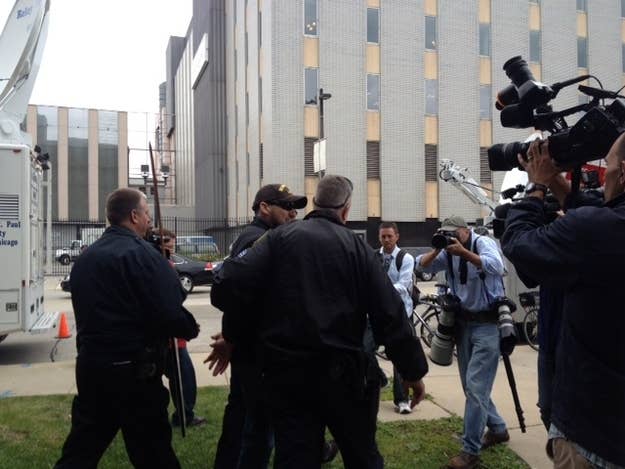 UPDATE: Weekly Standard reporter John McCormack tweets: