Scott Walker, Conservative Super-Star
The new star plans to take a day off to ride his Harley, before continuing his trajectory as conservative standard-bearer. To the convention, at least.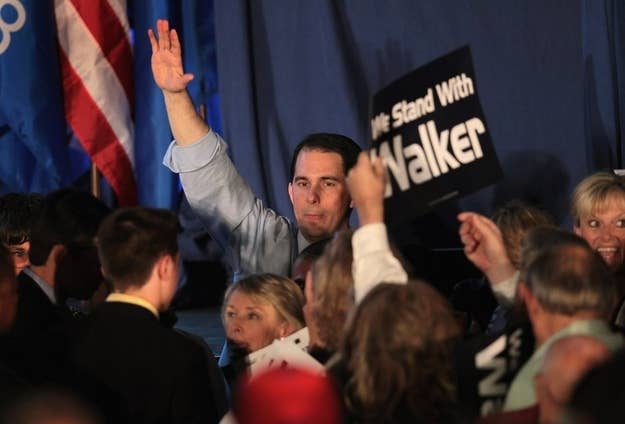 MILWAUKEE, Wisc. — Scott Walker's plans for the weekend after his big victory: attend his son's high school graduation, and ride his motorcycle.
"On Sunday I'm going to get on my Harley and I"m just gonna ride," Walker told Milwaukee conservative radio host Charlie Sykes, one of his biggest boosters, during an interview on Wednesday. "I don't care where."
Walker's convincing victory in Tuesday's recall vote has propelled him instantly to the top of his party, one of a triumvirate of GOP stars from Wisconsin that includes Republican National Committee chairman Reince Priebus and conservative budgeteer Rep. Paul Ryan. The party expects Walker's role to expand in the coming months, and some speculate that Walker will have a plum speaking role at the Republican National Convention.
And to Republicans have rushed to congratulate Walker on his win.
"This race should draw a sharp contrast in the eyes of voters," Priebus wrote in a memo last night. "On the Republican side stood Scott Walker--a man who kept his 2010 campaign promises and delivered."
"Last night was huge for the Governor," said Sean Spicer, RNC communications director. "His commonsense reforms have made him a huge leader within the party and conservative movement."
Republican presidential candidate Mitt Romney weighed in, apparently calling Walker to congratulate him. His team sent out a press release: "I look forward to working with Governor Walker to help build a better, brighter future for all Americans."
The attention has led some to chatter about Walker as a choice for Romney's running mate.
"A victory tomorrow would make Walker the instant front-runner for the GOP vice presidential nod," wrote Marc Thiessen, former Bush speechwriter, in a Washington Post op-ed on Monday. "Walker has a great story to tell."
Indeed, Walker's narrative — common-sense conservative governor who took down the "union thugs" in an epic battle — could prove irresistible to some of the conservative voters that the Romney campaign worries about.
But Walker has said he doesn't want the job, and appears to mean it: "I'm not going through a year and a half of this to then take off," he said in a Fox News interview recently. (Walker's spokeswoman didn't respond to a request for comment.)
More realistic: a prime speaking slot for Walker at the Republican National Convention, where he's sure to garner an enthusiastic reception.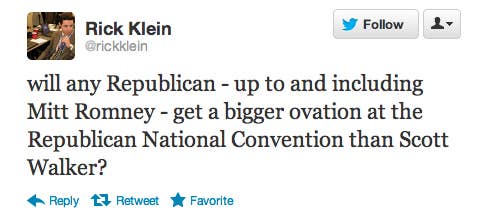 Walker's rise makes sense in the context of his story, but not as much his personality.
"This wasn't about me, it wasn't about personality," Walker said on Sykes' show Wednesday morning (the recall may not have been about personality, but it was certainly about him).
Walker is not a dynamic speaker or particularly charismatic when it comes to retail politics, but the reality of his situation has launched him into a strata where those flaws may not matter.
For the near future, he'll ride the wave of his success. Asked on Sykes' show whether this victory felt better than the one in 2010, Walker replied, "without a doubt."