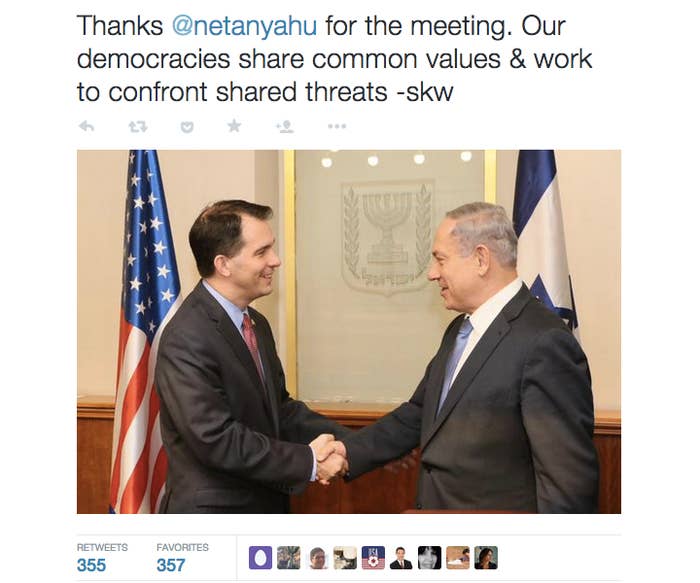 JERUSALEM — When you run for president in 2015, you have to visit Iowa a lot. You have to go to New Hampshire. And, increasingly, you have to take a trip to Israel.
The pilgrimage has become a near rite for Republican campaigns. And while the trips are really intended for domestic American consumption to signal credibility, their frequency belies a new, unspoken reality: Israel, a foreign country, is now seen as another constituency to win.
It's no secret that Israeli Prime Minister Benjamin Netanyahu and his allies would prefer a Republican in the oval office. It's a feature of American presidential politics across the board to visit Israel — Barack Obama visited in 2008 — but inside the Republican Party, where Israel has become a bedrock issue for significant constituencies, an established familiarity with Israel and its leadership carries special cachet. Already this cycle, Mike Huckabee and Ben Carson have visited — and this week, Wisconsin Gov. Scott Walker took his turn.
"There is no doubt that in the last years, the last decades that there is a kind of affinity between Likud and the GOP," said Dani Dayan, the former leader of the Yesha Council, the umbrella organization of Israeli settlements in the West Bank. "An ideological affinity."
For Dayan, who advocates for the kind of settlement expansion that has repeatedly been condemned by the Obama administration, a Republican administration could translate into less pressure to stop settlement growth in the West Bank. He cited the example of how Chris Christie had to walk back his use of the term "occupied territories" last year. "It's a fundamental incident because when a mainstream Republican candidate retracts the words 'occupied territories,' I don't care why he did it, that's a real change."
There was no such moment on Walker's trip to Israel. He played it safe — very safe.
The trip was everything you'd expect and little more: Walker visited with Netanyahu and opposition leader Isaac Herzog; he visited with other members of the Knesset; he visited Yad Vashem, the Holocaust memorial, and the Western Wall; he flew around the country in a helicopter. It's arguably the safest plan a politician's aides could dream up — mostly politically correct, uncontroversial, boring enough to keep press from even wanting to cover it, and all designed to keep him out of trouble.
Other trips to Israel by lower-tier candidates this cycle have been more adventurous: Ben Carson visited settlements in the West Bank during his Israel trip in December, according to Dayan, and Mike Huckabee visits often. Visiting settlements in the West Bank— or Judea and Samaria, the biblical terms used by Dayan and other settlers for the area — is a Rubicon not yet crossed by the major presidential candidates this cycle, though.
Even so, Walker's staff refused to tell reporters about his bland plans. Not without reason: These foreign trips as a candidate or pre-candidate can be full of minefields, especially for governors like Walker with no foreign policy experience. Small bits of information were instead meted out on Twitter: either Walker's feed or that of Matt Brooks, the director of the Sheldon Adelson-funded Republican Jewish Coalition, which co-funded the trip with Walker's PAC. The decision did not protect him from bad press about the trip.
If the coverage was fairly sparse, Walker seem to have made an equally sparse impression in Israel. Though Netanyahu normally puts out some kind of press release or statement after meeting with American politicians, as noted by Walla News, there was no such acknowledgement of the Walker visit.
The people who met with Walker were largely positive about him, if vague.
Walker seemed "very much engaged on the issues relating to Israel and its security," said Kory Bardash, the head of Republicans Abroad Israel, who attended a two-hour dinner with the governor on Tuesday night to discuss energy issues in his capacity as an executive with Genie Energy.
But did Walker appear to know much about Israel? "He seemed to have a pretty solid knowledge base," Bardash said. "First of all, the land — he's very familiar with the Bible."
Uzi Dayan, a major general in the Israel Defense Forces and the nephew of legendary Israeli general Moshe Dayan, spent Tuesday with Walker on the helicopter jaunt. They started in Jerusalem, saw the Jordan Valley, flew to the Golan Heights, and then toured the south of the country, including areas affected by rocket attacks from Hamas. Dayan explained to Walker some of the security challenges Israel faces.
"It's his first visit in Israel, so it was very clear that he came to learn," Dayan told BuzzFeed News. "He came to learn and that's what he did very seriously."
In addition to information about Israel and its geopolitical situation, he said, the "learning tour" highlighted important Christian sites in Israel (Walker is a Christian).
If Israel is part of the campaign now, too, Israelis know it. While in the Negev, they met some heads of regional municipalities who pressed Walker for information about his campaign.
Walker dodged.
They "asked him who's his main rivals," Dayan said. "He said that if he will run for (the) presidency, he's not running against anybody but he's running for being, you know, to be the president of the United States and not against something."
"He was very careful, and they were very Israeli," Dayan said.
Walker was so careful on his trip that his team turned down an offer from a Republican activist to put him in touch with a potential donor while he was in Israel, according to the activist. Instead, he rounded out the trip by meeting with Naftali Bennett, the leader of the hard-right Jewish Home party who finally agreed to join Netanyahu's coalition after holding out for weeks, and who opposes Palestinian statehood. He also met with Intelligence Minister Yuval Steinitz, a Likud politician who will be the energy minister in the new government — and in one of the only moments of color from his entire trip, gave him a tie.
The trip wasn't bad for Walker. The trip wasn't impressive. It was simply a necessary checking of the box, a means for boosting his credentials at home and for at least introducing himself to the Israeli political establishment, which follows U.S. politics closely.
"The United States is huge for Israelis. It's the sun out there, you can't ignore it for better or for worse," said Gerald Steinberg, an American-born political science professor at Bar-Ilan University and head of the pro-Israel group NGO Monitor. He is seen as sympathetic to Netanyahu's thinking.
"There's a real division in terms of Netanyahu's embrace of Romney and how deeply Israeli officials should get involved in the American political process," Steinberg said. "There's a strong view that Netanyahu got too close to Romney, and Romney didn't win...There is a tendency to say, 'Let's pull back on this.'"
Both Steinberg and Dani Dayan, the settler leader, said that the flap over James Baker, the former secretary of state under George H.W. Bush who has advised Jeb, wasn't much of a story in Israel; it only registered "in a very minor way," Steinberg said. Dayan said people on the right in Israel feel favorable toward Rubio and, to a certain extent, Bush.
"This generation, Obama in particular and people around him, most of the Democrats in Congress are seen here as isolationists or naive or both," Steinberg said. "The view of the world is hopelessly unrealistic. And Republicans tend to be more realists. They understand power."
"[Secretary of State John] Kerry certainly has no grasp of how the world works, is completely lost in the Middle East — you can quote me on that," Steinberg said. "That is the general Israeli view, even among Israelis who are center-left."
Skepticism over the Iran deal specifically is widely shared in Israel, between both the government and the opposition. However, some on the left in Israel are uncomfortable with what they see as Netanyahu's fanning the flames of increasing partisanship over Israel in the United States.
"I think it's perfectly OK and acceptable and I would even support part of the positions," said Erel Margalit, a Labour MK who was educated partly in America, "that the Prime Minister of Israel would make it clear to the American president and the Secretary of State and the Secretary of Defense and whoever it is that we need to speak to in Congress and the Senate that Iran as a threshold nuclear state is detrimental to the region and to our own interests and U.S. interests, in our view. That's legitimate."
"I don't like the way that Israel is used in the partisan politics in the United States," Margalit said, adding that the "showdown" between Obama and Netanyahu is bad for Israel.
"It's dangerous for Israel to allow one party or the other to be seen as the party that's legitimately supporting Israel, and the other not," Margalit said.
Dani Dayan, too, doesn't like the fact that Israel is becoming a partisan issue in the United States, he says, and on his trips there he reaches out to both moderate Republicans and Democrats — with more success among the Republicans.
There is some doubt that the 2016 election will look exactly like the 2012 contest, though, even if every candidate visits. It's not as foregone a conclusion that Netanyahu will openly support any of the Republicans to the extent that he did Romney.
"We do know that there might be a very big difference between different candidates,' Uzi Dayan said. "It's not a big national secret that people in Israel are not thrilled by Obama and by the American policy in this region."
Romney was "a special case," Steinberg noted, because of his personal relationship with Netanyahu — and the poor relationship with Obama. "There wasn't much to lose. That's not going to happen again."
And then there's the reality that Clinton is flat out viewed more favorably than Obama.
"We can live with a Clinton administration," Dani Dayan said. "We definitely can live with a Clinton administration."
In the meantime, expect to see more candidates coming to Israel in the months ahead. Rubio, for example, is said to be coming in the summer.
"We Israelis, we are sure that we're the center of the world," Uzi Dayan said with a laugh. "From our point of view, it's natural that candidates are coming to Israel. And we like it because we think it's very important for us and in a way we think that Israel is a strategic asset. The relations between the United States and Israel are a strategic asset for both sides."