Scott Brown Fundraising Off Elizabeth Warren's Native American Controversy
Email makes it about trust and accountability.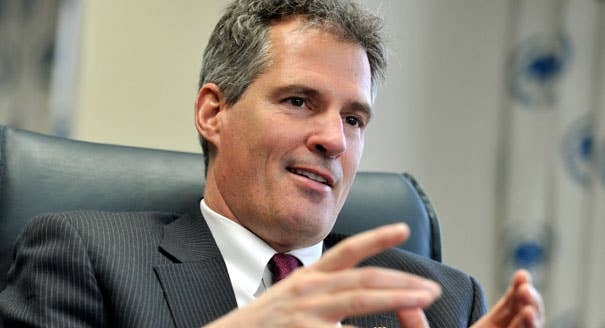 The Scott Brown campaign sent out a fundraising email today using the controversy over Elizabeth Warren's Native American flap as a linchpin for raising cash.
The email contrasts Brown — a "regular guy and a straight shooter" — with Warren, who "hems and haws, scrambles and backtracks, contradicts herself and insults the voters." For over two weeks now, the Brown-Warren race has been consumed by the controversy over the fact that Warren was listed as a Native American in the Harvard Law School directory.
The full email:
Friends,

There are many questions about why Professor Elizabeth Warren claimed to be a minority-questions that she has allowed to linger unanswered, or for which she has given misleading and contradictory responses.

Frankly, all of this debate has nothing to do with Elizabeth Warren's credentials to be a Harvard Professor. It's about whether or not she has the credentials to be a United States Senator. And that starts with being honest with the people that you're seeking to represent . . . and right now voters have every reason to believe Professor Warren's not telling them the truth.

In the academic world, when you fabricate a fictitious background for yourself, the consequences are serious - especially when the university you work for uses that false information to misrepresent the diversity of its faculty. Yet, what do we hear from Harvard and Professor Warren? Silence.

If the truth were on Warren's side, she would have released her personnel records a long time ago. The only reason to continue to endure the constant drumbeat of negative and embarrassing stories is because the only thing worse for her right now is if the truth came out. After three full weeks of "drip, drip, drip," bizarre excuses, and hollow denials, Bay Staters are coming to the conclusion that she's hiding something very serious.

With Senator Brown, what you see is what you get. Scott's a regular guy and a straight shooter. He's direct, honest and forthright, in contrast to Professor Warren and her alibis, stalling and stonewalling. Will you help us deliver our truthful and commonsense message by contributing $20 or more today?

Every single day I look at polls, grassroots reports, TV ad scripts and the bottom line is that this race will be very close. Scott considers himself the underdog and so do I. But we have a deep faith in the voters and the more Professor Warren hems and haws, scrambles and backtracks, contradicts herself and insults the voters, the more citizens will come to the conclusion that she hasn't earned our trust and she certainly hasn't earned our vote.

Professor Warren likes to talk about holding others accountable, but how can she demand accountability from others when she so brazenly refuses to hold herself accountable?

Please help Senator Brown right now with your online contribution for $20, $50, $100 or some other amount.

Sincerely,

Jim Barnett
Campaign Manager
Brown for Senate