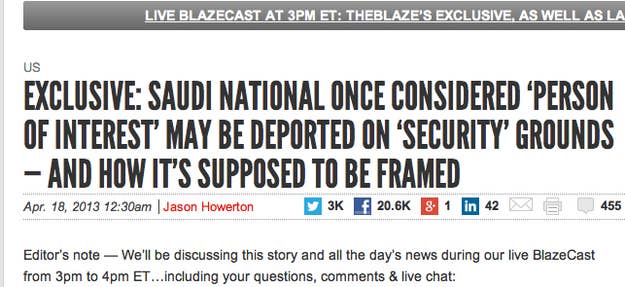 WASHINGTON — The rumor that a 20-year-old Saudi Arabian national on a student visa who was questioned after the Boston bombing has been deported is false, a senior law enforcement official said on Thursday.
"The rumor is one hundred percent false," the official said. "One hundred percent false. Just like [the report of] the suspect in custody yesterday."
The official said that the confusion stemmed from another, entirely different Saudi man who is actually in Immigrations and Customs Enforcement custody.
"We do have a Saudi in ICE custody," the official said. "He is not related in any way to the investigation into the bombing. He's not in any way related to this investigation."
The official declined to give more details about the Saudi national who is in custody, or about whether this has anything to do with President Obama and Secretary of State John Kerry's meetings with the Saudi Foreign Minister on Wednesday.
The Saudi man who was questioned after the bombings was questioned as a witness by police and was never a suspect in the crime.
Glenn Beck's news network The Blaze has reported the false rumor, citing its own sources, and the conservative host has been urging his radio listeners to spread it on social media. In an appearance on Beck's radio show Thursday, Senator Rand Paul said he would "look into" the alleged deportation.