Santorum Says Glitter Bombers Are The "Radical Left"
The real intolerance, Santorum says, comes from the glitter-bombers.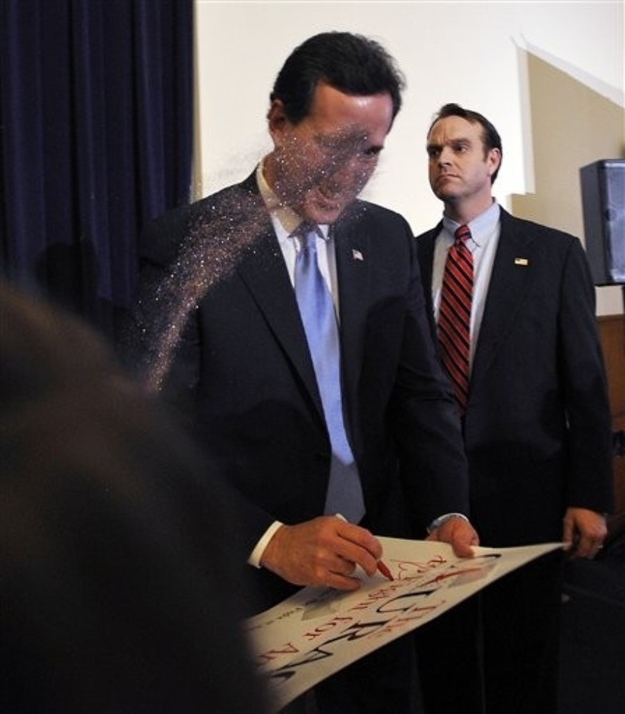 Rick Santorum called the people who have glitter-bombed him during his campaigns "the radical left" and associated them with the Occupy Wall Street movement in a Fox News interview today.
Megyn Kelly asked Santorum to comment on the glitter bombings, prompting Santorum to reply:
All the people who have done that so far at least in events I've been involved in have part of the Occupy Wall Street folks. This is about the radical left, who of course, it is not about tolerance. It's about trying to shut down free speech, anybody who disagrees with them. Look, I'm not intimidated by this kind of stuff. This is exactly what I'm fighting for, making sure all voices are heard legitimately and respected.
Kelly asked Santorum how long it takes to pluck the glitter out of his sweater vests. "They haven't hit me yet," he said, meaning he hasn't yet been targeted while wearing a vest. "As far as I'm concerned this just shows how intolerant they really are."
In the same interview, Santorum did not rule out a potential vice-presidential run: "I'm not running for Vice President," he said. But "I would serve if I thought I could be helpful with any administration."
The former senator is leaving the campaign trail in Florida this weekend to print out his tax returns in Pennsylvania, he said.