Santorum Reaches The Limits Of Nostalgia
The Santorum campaign's last stand feels less like a Tea Party rally than a Tea Party reunion.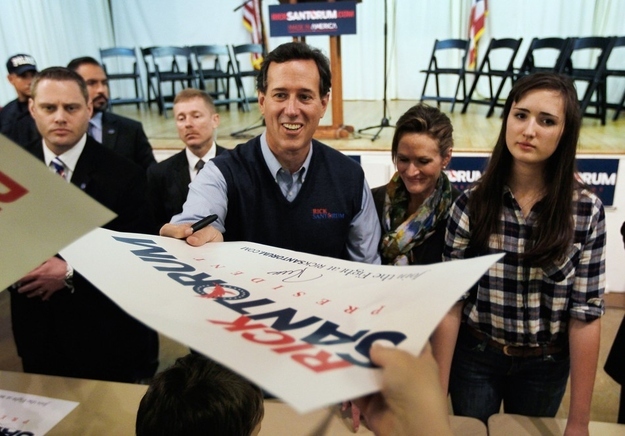 CUYAHOGA FALLS, Ohio — Rick Santorum campaigned on a diagonal across Ohio yesterday, from Miamisburg in the Southeast to this Northern city, drawing crowds of a modest and respectable size, occasional, approving applause, and the true esteem of the Republican Party's Christian conservative base.
This was not, however, the roiling, swelling insurgency of 2009 and 2010, not a Tea Party gathering but a kind of Tea Party reunion. The crowds at a Christian school, an American Legion post, and a banquet hall seemed to represent the limits of a conservative grassroots that has failed to ignite in this crucial season, and the candidate matched the moment. The emotion Santorum evokes most poignantly isn't hope, anger, or fear: It's nostalgia.
Tuesday's primary election, Santorum told the crowd at the Dayton Christian School in one of several tangents involving the British Empire, is about "the flame that our founders lit in writing that document in 1776 in the face of impossible odds."
He compared himself and his supporters to the American revolutionaries, "A group of rag-tag people who believed in themselves, who were willing to fight and sacrifice and put everything on the line against the most powerful army in the world."
The enemy — whether Romney or Obama — is "the red coats, with their spiffy uniforms, and the elite, the noble class that governed them."
For weeks after his strong showing in Iowa, Santorum showed surprising promise and resiliency. He won three states a few weeks ago and gave Romney a serious challenge in his home state of Michigan. But he has been unable to turn a certain corner. And as Santorum's campaign gradually lost altitude in Michigan and Ohio, the candidate showed his limits. One is a certain preference for looking back, not forward. At the core of his support are older voters, defending traditions and values, and also holding on to what they have, voters like Joan Grube, 70, of Granville, who told BuzzFeed she was impressed with Santorum's promise to "renew the American spirit" and that, above all, "I don't want, as a senior citizen, to be hung out to dry."
As Santorum drops in the Ohio polls in the days before Super Tuesday, his campaign seemed at times to flail. Monday, reporters were alerted to a conference call with the candidate around lunchtime to "discuss the multiple smoking gunS [sic] that former Massachusetts Governor Mitt Romney supported federal healthcare mandates."
But there was no discussion: Santorum held forth for about 10 minutes, squeezing as many Romney attacks as he could into his speech. Romney "is simply not a genuine article," Santorum said, before rushing back to the trail, refusing to take questions and producing little interest from a flummoxed press corps.
And Santorum has been unable at times to escape his passionate but narrow base of conservatives for whom social issues are paramount, people like Arch Grieve, 52, a former government worker showed up in at the Christian school outside Dayton because he "thought [Santorum] was closest to me on the values that are most important."
Santorum was, however, badly burned last week by the intense and damaging debate over contraception, and in Ohio in the home stretch took the pundits advice. He shied away from talking about the social issues he's famous for, instead focusing on manufacturing jobs and health care. His discursions drew friendly applause, but they didn't light a fire under voters who aren't social conservatives looking to put the most godly man in office.
A healthy crowd showed up at the former senator's rally in Cuyahoga Falls on Monday night. The room was full, but not too full; the applause loud, but never very loud. In a shorter speech than usual, Santorum, who sounded as though he'd caught a cold, focused solely on the economy and Obamacare. This was not the firebrand who argues with radio hosts; and this was not the scene surrounding a frontrunner. In Dayton, the candidate worried publicly about spending down in savings. In Cuyahoga Falls, outside Akron, he indulged in a bout of nostalgia for even the recent past, reminiscing about the joys of crossing Iowa in a pickup truck.
And some voters who support Santorum told BuzzFeed that it's less about the man himself and more about a space in American politics for which he, for better or for worse, stands this primary season.
Meghan Wilkinson of Cuyahoga Falls, the mother of twin boys with Down Syndrome, said she Santorum for his conservative values and commitment to his own daughter with disabilities.
But when asked if she could pick any politician, candidate or no, to be president, Wilkinson didn't hesitate.
"Can't we bring Ronald back?"