Santorum Glitter-Bombed At South Carolina Primary Night Speech
Chants of "bigot, bigot!" from Occupy Charleston. Things got physical.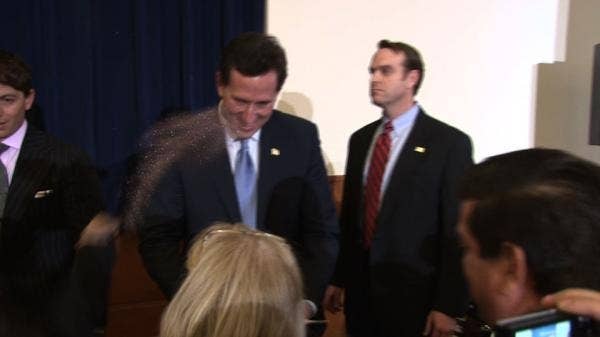 CHARLESTON, S.C. -- Members of Occupy Charleston "glitter-bombed" Rick Santorum at the tail end of his speech here at the Citadel tonight.
The occupiers, mostly College of Charleston students, shouted "Occupy!" and threw green glitter in the direction of the podium. One of the students told BuzzFeed afterwards that "I got him in the face!"
Men in the audience tried to contain the group of about 10 protesters -- including an elder son of the reality-TV Duggar family -- getting hit with glitter themselves in the process. Police removed the protesters from the event as they yelled "Bigot! Bigot!" and "Occupy is everywhere!" An attendee of the speech hit one of them in the face on their way out the door.
The protesters gathered outside the event, where they told BuzzFeed they'd planned the action two hours beforehand and wore professional clothes to blend in with the crowd.
Before being able to get a picture of the protesters or even ask for their names, BuzzFeed was ordered to leave the Citadel campus -- which is public -- by police officers. The officers pushed and shoved this reporter and ripped away an iPhone, saying "No cameras!" as occupiers chanted "She is press!"
No glitter was visible on Rick Santorum when he appeared on Fox News directly afterwards.
UPDATE: An earlier version of this story suggested the officers involved were Charleston police officers. A spokesman for the Charleston Police Department said it had no officers on the scene, and BuzzFeed is inquiring with Citadel's own, separate police department as to the incident.
UPDATE 1/23: The Citadel's police department issued BuzzFeed an apology for what happened on Saturday night. "I understand and appreciate how hard reporters must work to get the story, and I'm very sorry that Rosie Gray had a negative experience on Saturday night," wrote L. Jeffrey Perez, the Citadel's Vice President of External Affairs.
"As a result of what happened our Public Safety officers are receiving further training in order to help members of the public and representatives of the press understand the actions officers are taking so that their experiences on campus can be positive."