Santorum Camp Gives Press The Runaround
On primary day, the campaign's disorganization has reporters running across the state for naught.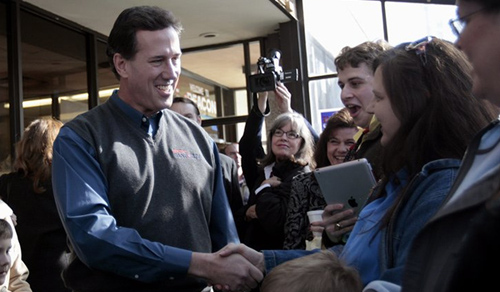 CHAPIN, South Carolina--Reporters planning to follow Rick Santorum were
frustrated today as the campaign changed his schedule not once but
twice and less than three hours before events were supposed to begin, the
second time without any warning.
Santorum's first event was supposed to be at 11:30 a.m., a visit to a
polling station in Chapin. Two hours beforehand -- when reporters
coming from, say, Charleston in the eastern part of the state were
already well en route -- the campaign sent out an email saying that
the first stop had been moved to 12:15 in Greenville.
BuzzFeed switched gears and arrived at the Baptist church where
Santorum was supposed to be in Greenville a few minutes before 12:15.
No sign of Santorum. According to a small crew of confused journalists
on the scene, the candidate had already been and gone.
"I arrived at 12:10 and he was already gone. He had left the
building," said Patrick Collard, a Greenville News photographer.
Fenfen Wang of China's Xinhua News Agency was confused by Santorum's
promptness. "Usually they're late," he said.
Santorum press secretary Hogan Gidley was apologetic about the mix-up.
"It's our bad," he told BuzzFeed. He said the mistake -- and the
failure to update the schedules in a timely manner -- was due to a
miscommunication between the team traveling with Santorum and the
press team. They got the candidate to the first polling station almost
an hour early by mistake.
"Rick is never early," Gidley said.
The next stop was in Chapin at 1:30 (the schedule said 2:30). BuzzFeed
could not arrive in time to catch the candidate after an hour and 20
minute drive from Greenville.
"He wasn't here for very long," another reporter at the polling
station in Chapin said by way of assurance.