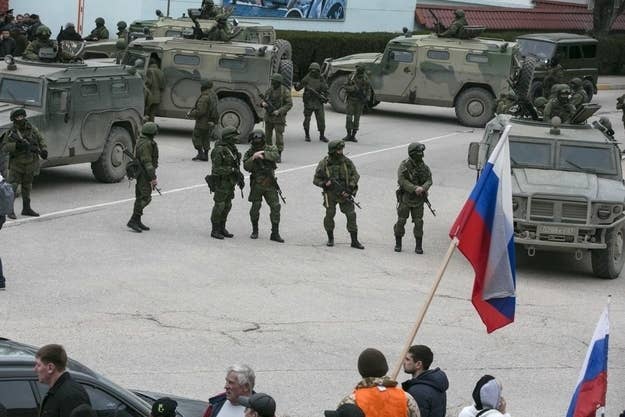 WASHINGTON — Members of Congress are calling for economic sanctions on Russia similar to those levied against Iran as well as an expansion of the Magnitsky List in response to Russia's invasion of the Crimea region of Ukraine.
Sen. Chris Murphy Saturday warned that it has become clear Russia's incursion is "part of a broader strategy" to reassert Russia's Cold War-era control of eastern Europe.
"We have to go eyes wide open into this," Murphy said, adding that it now appears the United States will need to "level some clear economic sanctions" against Russia.
Murphy said he expects President Barack Obama will have to address the situation in Ukraine again in the coming days and hoped that he would "start to set a direction for what these consequences will be … it's clear the Russians didn't hear his message." Obama addressed the situation on Friday, saying that there would be "costs" for a Russian invasion of Crimea but not specifying what the costs would be.
Sen. Bob Corker, the ranking member on the Senate Foreign Relations Committee, also called for sanctions in a statement issued Saturday.
"The United States and our European allies should immediately bring to bear all elements of our collective economic strength to stop Russian advances in Ukraine," Corker said. "Congress will consider targeted sanctions against Russian persons and entities that undermine the sovereignty and territorial integrity of Ukraine."
But Murphy warned that the economic sanctions he's proposing would likely have only a modest impact on Russia and its president, Vladmir Putin, and insisted Europe, not the United States, should lead the way.
"Our economic relationship with Russia is rather small compared to the Europeans … [so] the real question is whether we can build real support for those economic sanctions in Europe," the Connecticut Democrat said.
A clearly frustrated Murphy also argued Ukraine's neighbors need to take a much more active role in addressing the invasion. "It's unfortunate that the United States has made the strongest statement on this … Europeans should be worrying about which former independent satellite state will be next."
The EU's foreign policy chief Catherine Ashton put out a relatively mild statement on Saturday condemning Russia's provocations but not offering any consequences.
Europe "needs to be much more exercised about what's happening," Murphy added.
Another possibility being discussed: expanding the Magnitsky list of Russian officials banned from entry to the U.S. because of human rights abuses, according to a Congressional source familiar with conversations on the subject.
Senator Marco Rubio, a member of the Senate Foreign Relations Committee, also mentioned expanding the Magnitsky list in an op-ed in Politico Magazine.
"The Obama administration should immediately add more Russian officials to the Magnitsky list, which places travel bans and other sanctions on them — something President Obama failed to do in December," Rubio wrote. "Living in Miami, I have seen in recent years the wave of Russian tourists coming to our city and state to spend money and buy property. Many are government officials or allies whose wealth stems from allegiance to Putin, and we should limit their ability to travel here."
David Kramer, the head of Freedom House, said that banking sanctions similar to those imposed on Iran are "a possibility."
Kramer said he had suggested the following ideas to the administration: "announce an end to the stupid trade deal negotiations between us and Moscow, apply immediate and wider application of Magnitsky, call an emergency NATO meeting, push for a resolution in UNSC (which Russia will obviously veto), push for kicking Russia out of the G8 on top of announcing Obama isn't going to Sochi in June."
But some analysts think that sanctions of this kind would be ineffectual.
"Can you imagine if at the beginning of the Bosnia crisis, or the Balkans war, if everybody was saying that's what's gong to stop Slobodan Milosevic — taking away their visas so they can't go to Miami?" said Andrew Weiss, vice president for studies at the Carnegie Endowment and former Clinton administration expert on Russia and Ukraine.
"I don't really think that sanctions talk is necessarily going to be connected to sanctions action," Weiss said. "It sounds to me like a classic situation where the toolkit is limited so 'let's go sanction somebody.'"
However, the White House itself is hinting at some kind of economic punishment for Russia. A readout released after a 90-minute phone call between Putin and President Obama described the conversation: "President Obama made clear that Russia's continued violation of Ukraine's sovereignty and territorial integrity would negatively impact Russia's standing in the international community. In the coming hours and days, the United States will urgently consult with allies and partners in the UN Security Council, the North Atlantic Council, the Organization for Security and Cooperation in Europe, and with the signatories of the Budapest Memorandum. The United States will suspend upcoming participation in preparatory meetings for the G-8. Going forward, Russia's continued violation of international law will lead to greater political and economic isolation."
CORRECTION: Murphy said, "Europeans should be worrying about which former independent satellite state will be next." An earlier version of this story misquoted him.