Russian State Radio Tried To Buy Air Time From Radio Free Iraq
Kremlin radio approached the U.S.-funded broadcaster about collaborating, as the Russian media giant seeks to grow its reach.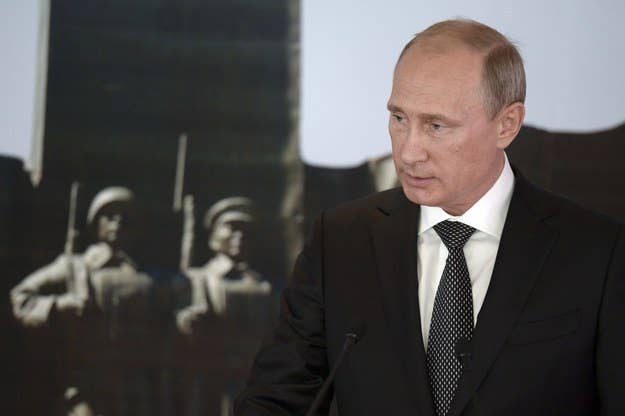 WASHINGTON — A representative from Russian state media conglomerate Rossiya Segodnya reached out to Radio Free Europe/Radio Liberty's Iraq affiliate earlier this summer to ask about broadcasting on the station's transmitters, seemingly either unaware or unconcerned that the station is funded by the U.S. government.
The email, with the subject line "A collaboration," sent to Radio Free Iraq and provided to BuzzFeed on Friday appears to be a generic form letter and asks about pricing for sharing FM spectrum space for 2015:
From: XXXX@ruvr.ru
To: iraq@rferl.org,
Date: 08/04/2014 03:01 PM
Subject: A collaboration



To Radio station

Dear Sirs,
I am greeting you on behalf of FEDERAL STATE UNITARY ENTERPRISE ROSSIYA SEGODNYA INTERNATIONAL INFORMATION AGENCY (Rossiya Segodnya). Our company is the largest Russian radio broadcaster.
Today our company explores the market with a view to extend broadcasting area. Our aim is to increase the «Rossiya Segodnya» audience in your country, in this connection, we are interested in transmission radio programs from the territory of the Irak in FM range.
In this case you are kindly asked to provide us with the prices for one hour of broadcasting on your transmitters in the period from 01.01.2015 to 31.12.2015.
Please e-mail us at: XXXX@ruvr.ru
Telephone: +7(XXX) XXX XX XX
Thank you in advance!
Hope for soon reply!

Sincerely yours,

Fokina Lubov
Head of Distribution
Rossiya Segodnya is the conglomerate formed last year when Russian President Vladimir Putin "liquidated" the RIA-Novosti news agency to form a new agency and merge it with Voice of Russia radio. The email sent to Radio Free Iraq comes from a Voice of Russia email address.
"It appeared to be a kind of general email, they were probably searching on the Internet and finding possible affiliate partners," said Mardo Soghom, the Regional Director for Iran and Iraq at RFE/RL.
Soghom said he doesn't believe that the Rossiya Segodnya representative knew that Radio Free Iraq is a U.S. government funded station, part of the Radio Free Europe/Radio Liberty family of broadcasters which are overseen by the Broadcasting Board of Governors, which itself is overseen by the U.S. Congress. The history of Radio Free Europe/Radio Liberty dates back to the Soviet era, when the stations were explicitly designed to counter communism in Europe. Voice of America, another Broadcasting Board of Governors broadcaster, had been operating in Russia until Rossiya Segodnya's director Dmitry Kiselyov canceled their contract in March.
"I think they didn't know, and they didn't mention any names — it was a generic kind of email," he said.
Soghom said this wasn't the first incident he had recently heard of Russian state media attempting to increase its broadcasting reach outside of Russia.
"The Russians have contacted former Soviet country media companies looking into buying or leasing any kind of asset they can find," Soghom said, including "radio stations or owners of powerful transmitter." Soghom said he had heard from contacts in the radio business in the Caucasus region that "definitely [the Russians] have made inquiries" during the Crimea crisis.
"What they do is that these are not intended for these countries, in these countries already Russian television dominates," Soghom said. "They need these transmitters to transmit programs into Arab countries, into Iran, and even further down - let's say China, India — on shortwave. So the purpose is not only local but the purpose is to use those assets to broadcast further away."
Spokespeople for Rossiya Segodnya did not immediately return requests for comment. Nor did Lubov Fokina, who sent the email.