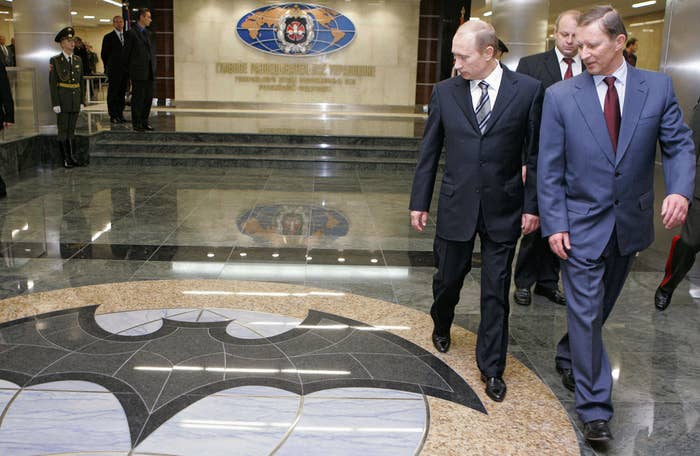 WASHINGTON — A Russian state-owned news organization was involved in the spy ring busted this week by the FBI, according to the criminal complaint against the spies.
The complaint, which describes the activities of three Russian nationals in New York who have been charged with spying for Russia, says the defendants came up with questions for an unnamed Russian news organization in 2013.
One of the defendants, Igor Sporyshev, a Russian trade representative, contacted Evgeny Buryakov, a banker and another defendant in the case, to ask for his help in coming up with questions "to be used for intelligence-gathering purposes" for a Russian news outlet.
The news organization in question, according to the complaint, is known to have assisted in intelligence-gathering efforts before.
"From my training and experience, I know that the News Organization has been publicly identified by former SVR agents as an organization that is sometimes used by Russian intelligence to gain access to and gather intelligence under cover of the news media," the FBI agent who wrote the complaint writes.
Sporyshev told Buryakov that the news organization had asked for three questions on the topic of the New York Stock Exchange, according to a call intercepted by the FBI.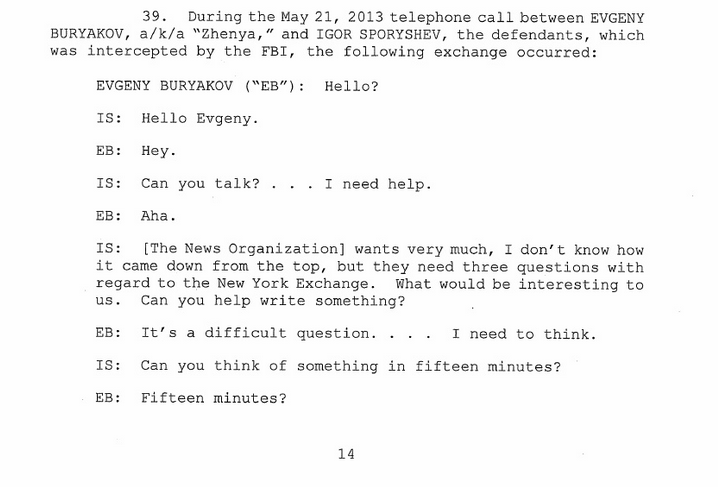 The complaint states that the probable reason Buryakov and Sporyshev had this conversation over the phone was because they were under time constraints and didn't have the time to meet in person as they normally would.
The complaint does not name the news organization in question. Russian government-owned news outlets active in the U.S. include RT, which has a Washington-based RT America branch that employs American journalists, RIA-Novosti, and Tass, formerly known as ITAR-TASS, which appointed a former top official at the SVR, Russia's foreign intelligence agency, to an executive position in 1999. Voice of Russia used to have a bureau in Washington, until it shut down in June 2014. A 2005 book, The KGB's Poison Factory, by a former officer of the Russian intelligence agency GRU, asserts that RIA-Novosti and Tass have continued providing cover to spies since the fall of the Soviet Union.
A spokesperson for RT told BuzzFeed News that the outlet in question is "definitely not RT."
A spokesman for the FBI's New York field office declined to name the news organization in the complaint, saying he could not go beyond what is in the complaint and press release.