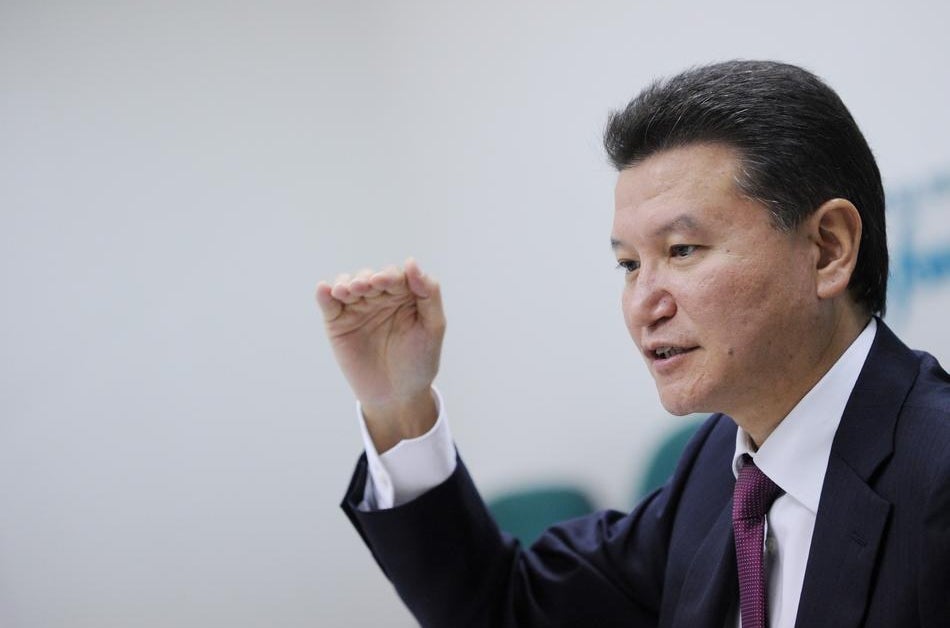 FIDE president Kirsan Ilyumzhinov and Russian opposition activist Garry Kasparov.
WASHINGTON — Russia has been using its embassies around the world to convince countries to vote against opposition activist Garry Kasparov in the international chess federation's upcoming presidential election.
Chess federation chapters from Jamaica to Singapore say they have been contacted by local Russian embassies and asked whether they will support the incumbent Kirsan Ilyumzhinov, a former Russian governor who believes in alien abductions, over Kasparov, a political activist and former chess world champion who has made himself a frequent thorn in Vladimir Putin's side.
The two men are running for leadership of FIDE (Fédération Internationale des Échecs), the chess equivalent to soccer's governing body FIFA, which Ilyumzhinov has led since 1995. The contest will be decided in an August election that is pitting one of Putin's most outspoken nemeses against one of the more eccentric autocrats of the post-Soviet era, a mysteriously wealthy man who built a huge "Chess City" in his impoverished Russian republic of Kalmykia when he was head of it and has frequently expounded on his thoughts about aliens and claimed to have boarded an alien spaceship.
At least five local chess chapters around the world say they have been contacted by their local Russian embassy or by their own foreign ministries on behalf of the Russians, including Norway, Kenya and Myanmar, among others. Each country's federation has one vote in the election, which will take place this August in Norway.
Ian Wilkinson, president of the Jamaican chapter of FIDE who is also running on Kasparov's ticket to join his administration if elected, said the Russian embassy wrote the Jamaican foreign ministry in February "seeking our support." Wilkinson said an official from the Jamaican prime minister's office forwarded him a copy of the letter and then made a follow-up phone call. He met the Russian ambassador to Jamaica on May 26. Wilkinson said that the ambassador accompanied Ilyumzhinov to a dinner with executive members of Jamaica's chess federation. "At that dinner Kirsan et al encouraged me to leave Garry's ticket," Wilkinson told BuzzFeed in an email.
The president of Singapore's chapter — who is currently FIDE's general secretary under Ilyumzhinov but has joined Kasparov's ticket for the upcoming election — said the Russian embassy had written to see who the chapter would be supporting.
"Our federation didn't reply and the Russian embassy called my federation and asked our executive director, who answered the phone, whether we are supporting Kirsan," the chapter president, Ignatius Leong, said. "Our executive director told him that Singapore is a democratic country and we decide ourselves."
Leong forwarded an email the Russian embassy sent to Thomas Hoe, the executive director:
Subject: Mr. Ilyumzhinov's bid for re-eletion as FIDE president
Date: 2014-04-15 12:03
From: Dmitri Riakhovski
To:
Dear Mr. Hoe,

We would greatly appreciate if Singapore Chess Federation could inform us of Singapore's position regarding Mr. Kirsan Ilyumzhinov's bid for re-election as FIDE president? Will Singapore support him?

Best regards,

Dmitry Ryakhovskiy
First Secretary
Embassy of Russia in Singapore
mob.: XXXXXXXX
Leong said that Cambodia had also been targeted — and successfully so. According to Leong, the Russian embassy and Ilyumzhinov met with Cambodia's prime minister about the election, who then called the chess president and asked him to support Ilyumzhinov. "My friend had no choice in the face of prime minister," Leong said.
Githinji Hinga, president of Kenya's chess federation, said he sent a letter to several dozen chess officials in Africa to fight back against the pressure, after Zambia's top chess official, Lewis Ncube, disseminated a letter calling on his peers to vote for Ilyumzhinov. He said he had also received a call from the Russian embassy in Nairobi.
"Up to now, I am sorry to say, I have not heard a manifesto or a blueprint for the future from the other side," Hinga wrote. "Sadly the only campaign I have heard is, 'Garry is bad' along with an intimidating phone call from the local Russian Embassy requesting us to support your candidate Lewis Ncube. Really?"
Spokespeople for Russia's foreign ministry did not return requests for comment.
In a statement to BuzzFeed, Ilyumzhinov said that the only contact he knew of with Singapore was a letter he sent to Singapore's president in May alleging corruption by Leong.
"I am also thrilled that this election generates so much attention for chess," Ilyumzhinov said. "My friends tell me that BuzzFeed is very popular and that chess rarely makes it to your front page. So I wanted to thank you for giving chess a prominent place on your site, even if the story about the election. However, chess always was about politics and proxy for national pride, so it's okay!"
Kasparov, who has also been accused of ethics problems in the election (the New York Times reported that he and Leong had struck a deal for $500,000 in exchange for Leong's support), said in a statement to BuzzFeed that he had anticipated Kremlin involvement.
"I assumed from the beginning that the Kremlin would get involved in this election," Kasparov said. "[T]he Kremlin does not want to see my hated face as the leader of this international organization, especially by beating their guy."
Kasparov fled Russia in 2013 because, he said at the time, he was afraid he would be subjected to politically-motivated prosecution.
Kasparov also accused the Kremlin of using Ilyumzhinov's chess links for other goals. Ilyumzhinov remains close to Vladimir Putin, though he stepped down as president of Kalmykia in 2010, and was photographed with the Russian president in Sochi on Monday.
"Ilyumzhinov is useful to [the Russians] and FIDE is useful to them while under his control," Kasparov said. He said "there is little doubt he does Kremlin business when he visits guys like Bashar al Assad, or when he meets with energy officials in Jamaica. They aren't talking about chess promotion!" Ilyumzhinov visited Assad in Damascus in May 2012, as Syria spiralled into civil war.
Wilkinson, the president of Jamaica's FIDE chapter, said Ilyumzhinov also met Jamaica's energy minister on his recent visit to the country.
"I don't like calling it a proxy war between me and the Kremlin because I've said many times this is about saving and reforming FIDE, strengthening FIDE, and bringing legitimate sponsorship to the world's federations instead of bleeding them dry," Kasparov said. "It's about chess!"
"This is actually symbolic of the relationship between Putin's Russia and the free world in many ways," Kasparov said. "He fights for things they don't care enough about to invest in or sacrifice for, whether it's Syria or Crimea or the chess world. It's a shame, but I don't think it will be a decisive factor."
Updated with comment from Kirsan Ilyumzhinov.